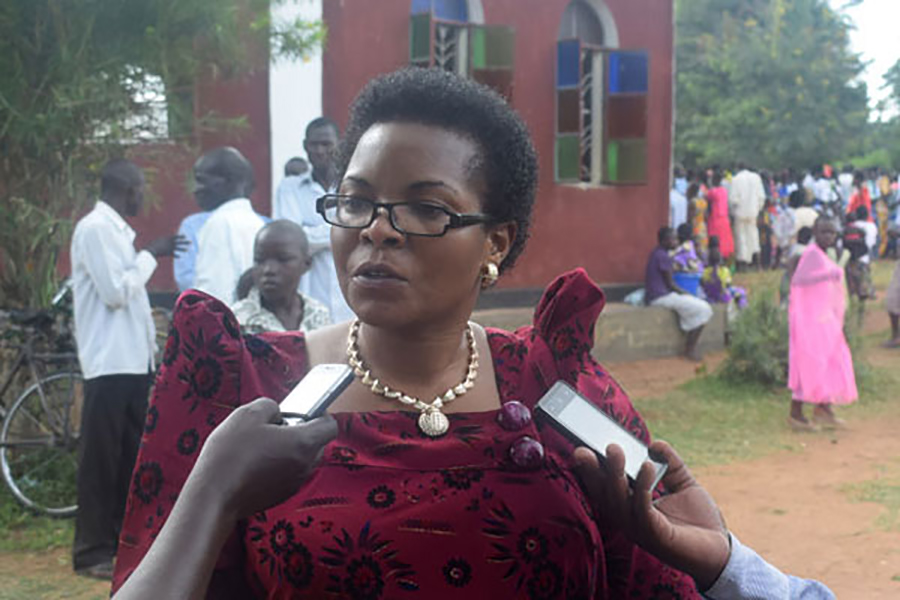 The Busoga Parliamentary Caucus has resolved to institute criminal proceedings against the Minister of State for Lands, Persis Namuganza.
Namuganza, the Member of Parliament for Bukono County, is faulted for bad-mouthing leaders from the region, belittling the Kyabazinga of Busoga William Gabula Nadiope IV, threatening to kill the Speaker of Parliament Rebecca Kadaga and insulting constituents.
Namuganza has on several occasions allegedly thrown insults at Kadaga referring to her as unqualified and unfit to hold the office of a Member of Parliament. According to Namuganza, Kadaga, the woman MP for Kamuli and Speaker of Parliament, has outlived her usefulness.
She is also reported to have urged her constituents to pelt stones at the Kyabazinga of Busoga if he ever sets foot in Bukono County saying he is illiterate and incapable of leading the people of Busoga. The latest attack was during her address to residents of Ivukula Sub-county in Namutumba District.
The statements against the Kyabazinga have since sparked demonstrations from the Kingdom's subjects. In one of the protests subjects marched from the Kingdom headquarters in Bugembe to Busoga Square in Jinja town, a distance of about ten kilometres, holding placards calling for Namuganza's apology.
On Friday, a team of legislators were due to meet Namuganza who had been summoned to clarify her comments and respond to concerns raised by fellow legislators in relation to her sentiments. However, she shunned the meeting.
Bukhooli County MP Gaster Mugoya says the meeting resolved to institute criminal proceedings against Namuganza whose utterances were described as unbecoming.
Although the caucus boasts of over 30 MPs, only 13 of them took part in the proceedings against Namuganza. These included Gaster Mugoya, Robert Musoke, Mariam Naigaga, Robert Ntende, Rehema Watongola, Nelson Lufafa, Julie Mukoda, Andrew Kiiza, Paul Akamba, Fred Bwino Kyakulaga, Dhamuzungu Geoffrey, Margaret Mbeiza and Walyomu Moses.
The group resolved to communicate their resolution to the President as the appointing authority as well as Prime Minister Dr Ruhakana Rugunda.
Born on October 5, 1984, Namuganza is a first-term legislator who came to Parliament in May 2016. She trained as an accountant at Makerere Business Institute where she obtained a Diploma in 2009 before she enrolled for a degree in social work at Kyambogo University. She later did a Masters degree in International Relations at Cavendish University.
Comments
comments