By Fatuma Nakiwala
Bugoma central forest reserve is a pristine, lush tropical forest found in the districts of Kikuube and Hoima.
It measures 41,142 hectares (158 square miles) and it is among the five biggest tropical rain forests in Uganda by size and importance.
This natural forest is however now under threat of being wiped out as a result of encroachment of farmland, illegal logging and charcoal burning among others.
The most outstanding and emerging threat accelerating the degradation process of the forest reserve is from big business firms; Hoima Sugar Limited and MZ Agencies Limited.
This threat began when the Kingdom of Bunyoro leased part of the forest land they owned to investors namely; Hoima Sugar Limited and Mustafa Zayed.
Background
Before colonial times, all land in Uganda belonged to traditional kings. These traditional kings included Kabaka of Buganda in the central region of Uganda, Omukama of Bunyoro Kitara in the Albertine region, Omukama of Tooro in the Tooro sub-region and Kyabazinga of Busoga in the Eastern region.
During colonization, Uganda became a British colony, and land was divided by colonial masters into private mailo titles, freehold titles, leasehold title, and customary titles.
In 1932, Bugoma forest was gazetted as forest land, this meant that it was owned by the government but part of the Bugoma forest in Kyangwali was still owned by the Bunyoro Kitara kingdom because it was considered a cultural site.
However, this changed in 1966 when the then President Milton Obote banned traditional kingdoms in Uganda and took all their property as government-owned. This was later reversed in the 1993 restitution act, where the government of Uganda returned the lost property to Bunyoro kingdom inclusive of the land in Kyangwali which is part of Bugoma Forest.
The kingdom acquired a title for the forest land in Kyangwali but shortly leased it to Hoima Sugar Limited in 2016.
As a result, Hoima Sugar Limited, a relatively newcomer in sugar production in Uganda was allocated 22 square miles in the Kyangwali sub-county, part of Bugoma forest and began clearing 5779.7 hectares of the forest for sugar cane growing.
Another forest encroacher with a title on another side of Bugoma central forest reserve is MZ Agencies Limited, a local company owned by businessman Mustapha Zayed who acquired 2,000 hectares of land at Kisaru, Kabwoya sub-county for farming.
The manner in which MZ Agencies Limited acquired the land is still in question. On January 6, 2007, a letter presented to the court stated that Solomon Gafabusa, the Omukama of Bunyoro granted customary interest of 2,000 hectares of land in Kisaru, Kabwoya sub-county to MZ Agencies for farming.
However, after some time, Andrew Byakutaaga, the Bunyoro kingdom prime minister came out to deny selling land to MZ Agencies.
In spite of the kingdom prime minister's protest, MZ Agencies Limited on September 20, 2018 was issued a land title by the Uganda Land Commission (Ministry of Lands).
NFA in court against forest encroachers
The two companies are currently embroiled in a legal battle with the government agency, National Forest Authority (NFA) that is mandated with the protection of all government central forest reserves in the country.
In the case against Hoima Sugar Limited, NFA's woes were worsened when the Commission of Surveys and Mappings in the lands ministry that issued the disputed land titles, testified against them in the high court presenting evidence that Kyangwali is not part of Bugoma forest land but instead a private land owned by the kingdom, this led NFA to lose the case, therefore, giving Hoima Sugar mandate access to the land as they pleased.
Due to this win, on August 14, 2020, NEMA issued an Environment and Social Impact Assessment certificate (ESIA) to Hoima Sugar Limited for mixed land use on 21.54sq miles, valid for five years, to be revised upon request or when the project area conditions change.
Impact of the ESIA
This decision by NEMA paved the way for Hoima Sugar Limited to kick off their work of clearing the land for sugarcane plantations.
This had a ripple effect as it encouraged illegal logging activities by locals and private companies. Community members of Nyairongo village reported seeing a large number of people clearing parts of the forest in Nyairongo and Rwembaho with motorized power saws for timber and charcoal burning. They also noted that there has been no action taken to stop the illegal loggers.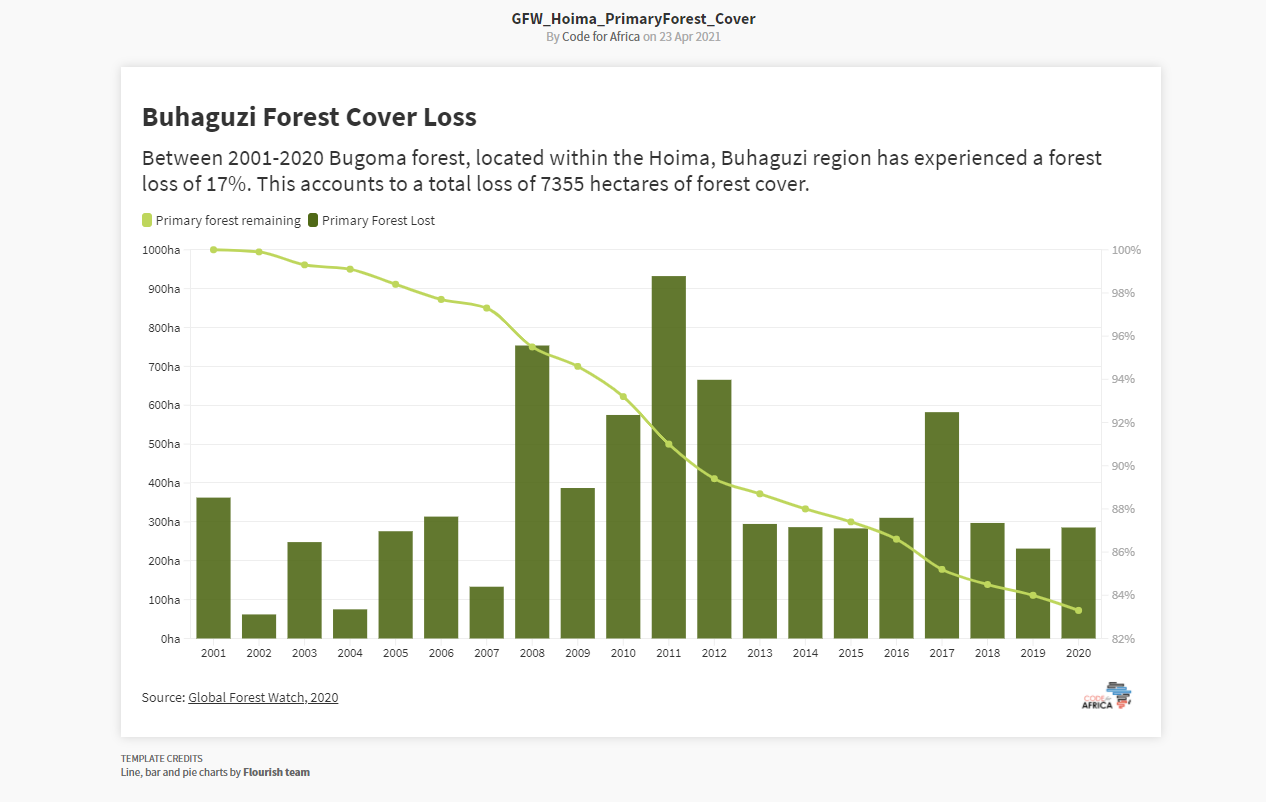 According to Global Forest Watch findings, between 2001-2020 Bugoma forest, located within the Hoima, Buhaguzi region has experienced a forest loss of 17%.
This accounts for a total loss of 7355 hectares of forest cover.
Wildlife left without a habitat
Bugoma Forest spans along the northern tip of the Albertine Rift Valley, which divides Uganda and the Democratic Republic of Congo. It is home to around 500 chimpanzees, baboons, foxes, primates, home to the red-flagged Nahant francolin birds and the forest elephants among other animals that have been sighted here.
Due to deforestation, there has been a direct loss of wildlife habitats. The removal of trees and other types of vegetation reduces available food, shelter, and breeding habitats.
Wildlife is forced to migrate to survive and in doing so, end up in surrounding homes and gardens. This leads to increased human/wildlife conflict.
From 2002 to 2020, Uganda lost 67.9kha of humid primary forest, making up 7.6% of its total tree cover loss in the same time period and the total area of humid primary forests in Uganda decreased by 13% in this period.
Bugoma Central Forest Reserve (BCFR) has not been spared in this wanton destruction and has continued to shrink as a result of adverse claims brought by various entities.
George Oweyisigire, the deputy director of Community Conservation says that Uganda Wildlife Authority registers 3,000 wildlife-human conflict cases a year, which also includes cases reported from areas surrounding Bugoma forest.
Desire Murenzi, the Chairman Nyairongo village blames Hoima district top leaders for being in cahoots with the illegal loggers and charcoal burners as well as providing heavy security to help them carry out their illegal activities.
From our investigations, we were able to identify a top government officer who has been facilitating illegal logging and charcoal burning.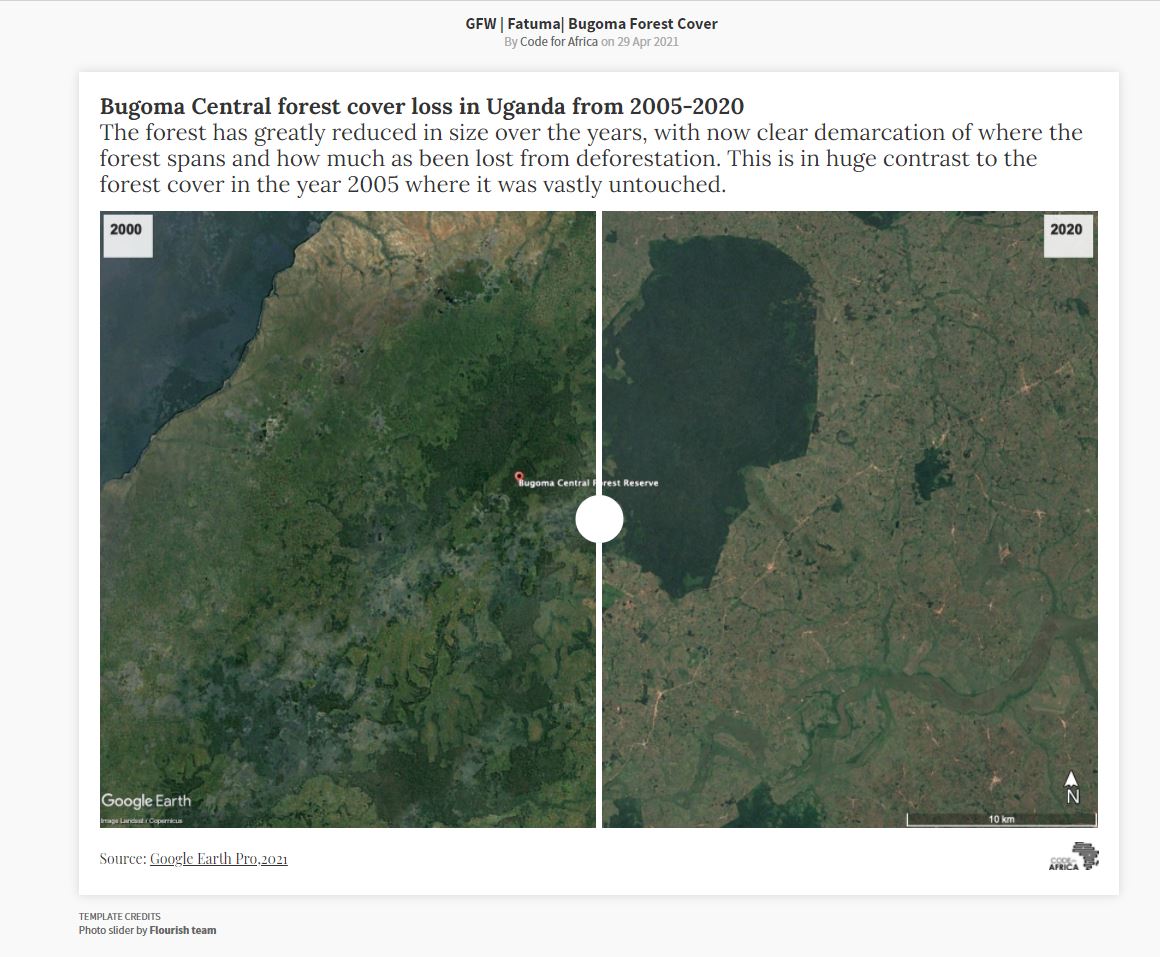 Although we cannot reveal his details, our team was able to determine that one could access the government officer by providing the name, 'network' to other security personnel and mentioning another code name that remains anonymous when referring to him.
In a conversation with our investigative journalist disguising themselves as a charcoal burner, the top government official said,
"If you have enough capital, I can give you an area to cut and do not worry no officer will disturb you, I'm in charge. But if you do not have enough capital you can as well buy finished charcoal but this will yield you less profits. The price per acre is shs10 million ($ 2778) and less"
It is estimated that six million tonnes of wood are annually transformed into 1.8 million tons of charcoal from Bugoma forest at a cost ofshs40,000 ($ 11) a sack.
Asimire Alice, a professional teacher and councilor for Kabwoya sub-county, says that the rate at which deforestation is taking place in Bugoma Forest worries the local community members, as they are complaining of the loss of natural herbs which they used to get from the special tree species in the forest.
There is also a high crime rate within the area, due to the increased number of people who were relocated from different areas of the country to help in cutting down trees, this has led to increased rape cases and defilement in the area.
Under the Land Act, forest reserves like Bugoma are held in trust for the "common good of the citizens of Uganda" and may not be leased or sold by the government.
Which brings us to the question – why has the government turned a blind eye as Bugoma Forest gets depleted?
The heavy security deployment, both invisible and visible, should be used to protect the forest rather than abet crime.
Alternatively, the government should encourage the planting of a tree for everyone that has been cut.
If this direction is not taken, projections show that Uganda is likely to lose all its forest cover in the next 50 years, starting with Bugoma Forest.
This story was supported by Code for Africa, and funded by Global Forest Watch with support from the Norwegian Ministry of Climate and Environment.
GFW supports data- driven journalism through its small Grants Fund Initiative
Fatuma Nakiwala is a freelance journalist.