The recent strikes that rocked Makerere University over the 15% tuition increment might have registered a number of negatives like suspensions, injuries and loss of property, but the strike also registered a few success stories, including that of Alex Mugasha, a finalist of Bachelors in Arts with Education at the same university.
In what seemed like mimicking NBS Television's Samson Kasumba's style of news reporting, Mugasha recorded a short video of himself narrating the situation at Makerere, while taking, Bushera'.
The video would later go viral on social media, capturing the attention of Next Media Services CEO, Kin Kariisa who later granted him a one year contract on the NBS' Apprenticeship Program, to train and learn from his idols.
The Nile Post caught up with Mugasha for a quick chit chat about his life and below are the excerpts.
In a few sentences, who is Alex Mugasha?
Alex Mugasha is a young optimistic, ambitious multi talented and versatile gentleman in the field of media with all due passion and respect, I am born to the late Peter and Edtor Mugasha of Kantojo Kyeizooba Igara East, Rwentuha town council in Bushenyi District.
I'm 22 years, a 3rd year finalist student at Makerere University pursuing a bachelors in Arts with education, Kiswahili and Geography being my disciplines of specialisation.
What inspired your passion for journalism?
Nothing else but God's will and grace as well as my instincts and desire to make people informed and smile because of what I feel am good at.
Was journalism your first course of choice at Makerere?
Yes! it was but unfortunately the university thought otherwise and gave me education perhaps launching me for a great bright future ahead of me as I get enlightenment broadly, God being above all.
Let's talk about the viral "Bushera" video, what were you up to? Did you expect it to reach that far?
Neither. It was not intended nor planned. Likewise, I had no idea about how viral it would go. For a fact, I did it for fun but because sometimes Ugandans like bantering and being funny, they did their game and now like its said, "the rest is history".
How did NBS TV contact you and what was your first reaction?
I can't deny the fact that I was extremely ecstatic and willing to believe it was real. NBS must have spotted and appreciated this young talented " boy" after I tweeted my re-do of my "bushera" clip that I had on one vision group television show interview.
I tagged Next Media employees including the CEO who immediately "ordered" the human resource to talk to me (Not just a mere talk of course) and here we are.
But before that, people had tweeted my "bushera" clip were Samson Kasumba, in his comments seemed impressed and moved. He must have catalysed the whole luck process.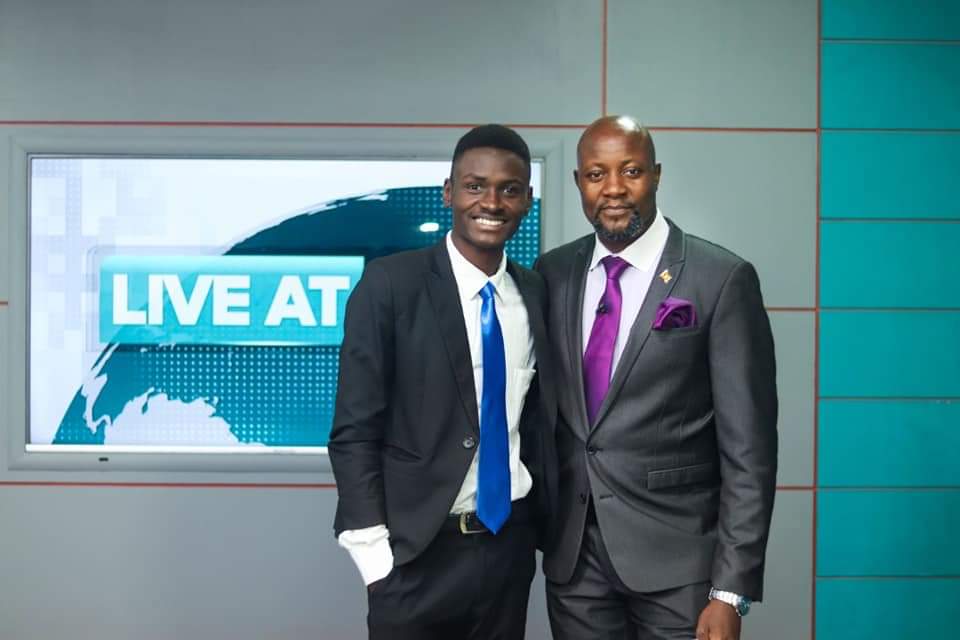 What's your biggest achievement in your growing journalism career?
So far, its having done a live report news video jokingly, it goes viral and boom!! luck befalls me to be mentored/work with not only the biggest media group in the land, but my dream station of choice, NBS television (The political command Center).
What's your biggest challenge in journalism so far?
So far, I will say this came/comes with fame that one might not have prepared for, if fame is prepared for anyway, so you can only imagine.
Then, apparently, I am not a trained journalist but just basing on my God-given gift so am quite anxious when things get ethical and professional but I can only say, just watch the space, God is in the driver's seat.
Who do you look up to at NBS TV?
I will be very honest to myself and NBS Television as a whole that I am greatly inspired by entirely almost all her TV personalities. From news, to entertainment, to sports among others. But for now, It is my 'said tv personality' that I mimic (I don't know how true this is) and I think you can guess who that is.
Any thing else that I haven't asked but you would like to comment about?
May be the camera person of my "bushera" clip, that is Aggrey Kaggwa who is my very committed, genuine, tight friend now almost like a brother.
Also, the feeling that now I am part or working 'if you may' with my dream station and media group entirely I can only say its a step closer to my dream coming true, thanks to Mr. Kin Kariisa and the entire Next Media family for this gigantic unexplainable opportunity.
Advice to a fellow passionate journalism student?
For clarity I'm not a journalism student but rather passionate and perhaps gifted so my advice goes first to those in similar category.
It's a matter of time, self-esteem, self study and realisation and above all prayer my brother/sister for as long as its time for you to "ripe and be consumed" the sky can't even think of being the limit.