The Uganda Bureau of Statistics staff Savings and Credit Cooperative Society(Sacco) deposits have grown from shs70 million in 2016 to shs4.3 billion.
On Thursday, the sacco held its Annual General Meeting in which new leadership was elected.
The meeting held at Statistics House saw Junda Nuwamanya elected chairperson of the sacco, Betty Nawoova as the vice chairperson whereas Monica Rutahanda as the treasurer.
Sam Okalang, Peter Walyomu Kasunsuni, Flavia Ouma and Ivan Mafigiri Kanyeheyo as executive committee members, whereas David Ocheng, Esther Muyisa and Roland Muhumuza as supervisory committee members.
Speaking after the elections, the UBOS Executive Director, Dr. Chris Mukiza hailed the sacco leadership for steering it forward and in a transparent manner.
"Next financial year we will be able to get a manger for the sacco. He will be competitively recruited to be able to run the day today activities of the saccos as the board makes policies, provides guidelines and makes oversight functions,"Dr. Mukiza said.
He said he would ensure UBOS contributes to the growth the sacco assets.
Sacco
The newly elected chairperson of the sacco, Junda Nuwamanya said the sacco started in 2014 as a saving scheme for UBOS drivers and that later, they managed to bring almost all the institution's staff on board.
He said in 2017, the savings scheme was registered as a sacco.
"We have managed to grow from shs70million in 2016 to now shs4.3 billion in savings. By that time loans were shs40 million in 2016 and now at shs4 billion. The total assets are now at shs5.4 billion. This has been the hard work of the committee of the board of directors and members who have supported it to pool resources through their savings,"Nuwamanya said.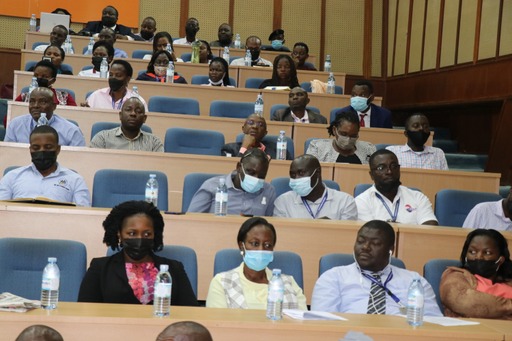 He also attributed the growth to proper management of the sacco loans given out to members and being able to recover them.
Nuwamanya however said in the next four years, they will look at an opportunity to further grow the sacco.
"We need to have our strategic plan approved and implemented. We also need to get a permanent registration status from the Ministry of Trade and Cooperatives. We also need to have an investment policy to guide us on how to invest funds and create returns," he said.
"In all this, there must be accountability, proper reporting and information dissemination to members at all times."