Sharon Namugerwa (not real name) arrived at the Entebbe International Airport on Tuesday, March 17, 2020 at 10pm and to her shock, it wasn't business as usual.
Namugerwa and all other travelers (both nationals and non-nationals) were driven away to Central Inn, a hotel in Entebbe where they were asked to pay a mandatory $100 (about shs 360,000) in order to check-in to what was going to be their quarantine center.
"They told us that we will find health workers to screen us and that we were to be released according to our health."
"We asked them where they were taking us but they arrogantly refused to tell us and drove us up to a hotel called Central inn where they asked us to pay $100. We tried to resist but some travelers had children who wanted to rest and we paid."
https://www.facebook.com/100003860448637/posts/1684342495037749/
Namugerwa said that the price of food at this place is also high and some of the travelers could not afford to buy it. Several videos and posts on social media platforms have also made similar claims about Central Inn.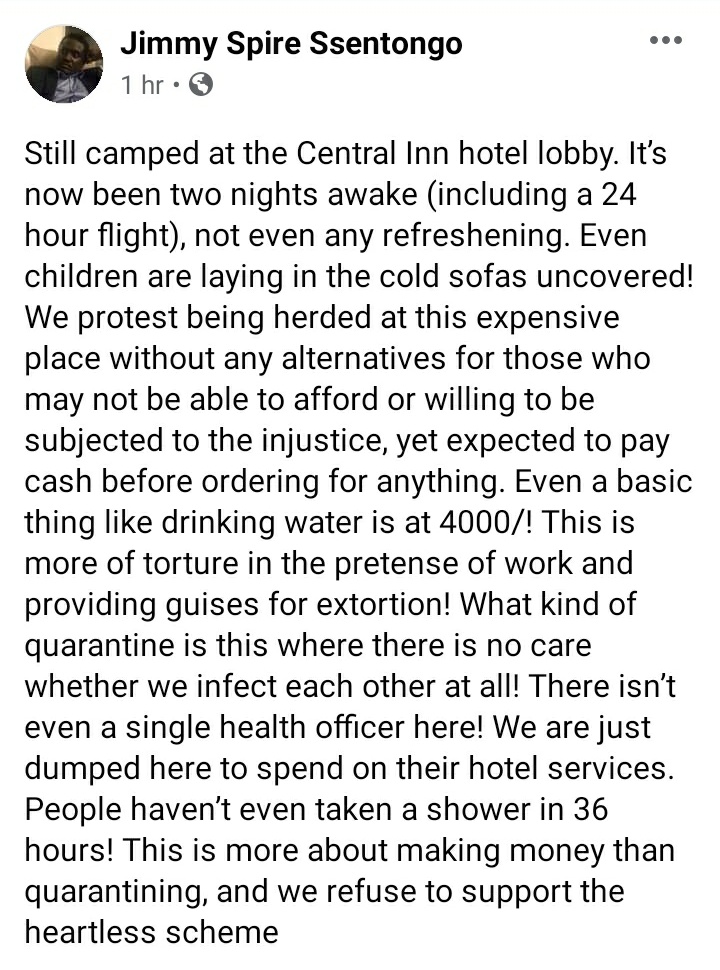 It is now public knowledge that Ugandans and permanent residents who are currently in countries that have been worst hit by the coronavirus will now have to pay a price if they are determined to come home within the next 32 days.
In his address on the COVID-19 pandemic on Wednesday, President Museveni confirmed that this will be the procedure for now and if one doesn't want to pay, then they should temporarily stay where they are.
The President said; "We cannot stop Ugandans coming back from abroad, even from the category one countries that I read above. However, such Ugandans will be put in a mandatory quarantine in a designated place but they will pay the cost for their institutional quarantine – food, etc."
"If they want to avoid that inconvenience or cost, they can sit out the storm in the country of their temporary abode."
President Museveni however did not mention the charge that travelers will have to part with for this mandatory institutional quarantine. Neither did he reveal that Central Inn would be the designated place where such travelers will be quarantined.
Emmanuel Ainebyoona, the senior public relations officer at the Ministry of Health reacted to one of the Tweets were he was tasked to say something about Central Inn in a way which showed that the Ministry of Health knew nothing about the place.
"Our teams have rushed to the said hotel to verify this information. We shall be informing you accordingly," Ainebyoona said.
Nile Post made an effort to reach Ainebyoona a comment but our messages went unreplied to despite being seen.
In a follow-up call made by this reporter, Ainebyoona told us that he was again still verifying.
"I am still verifying with our teams, yes. We are trying to verify" Ainebyoona said.
Dr Lubwama, an Epidemiologist at the Ministry of Health however confirmed to us that it is true, since the travelers who were being told to self isolate themselves abused that privilege.
"People have been told to keep in doors for 14 days when they return from the category one countries, this has been grossly abused as health inspectors ended up finding these people in markets putting a threat to the over 40M Ugandans," Dr Lubwama said.
"So starting Tuesday they will be put under institutional quarantine at their cost," he added.
President Museveni also banned, with immediate effect all outbound movement by Ugandans to or through countries that have been severely hit by the coronavirus for 32 days.
Such countries were identified as category one in terms of the epidemic and they include; Italy, France, South Korea, China, USA, United Kingdom, Netherlands, Switzerland, Sweden, Belgium, Germany, Spain, Norway, Austria, Malaysia, Pakistan and San Marino.
The President said that foreigners going to those countries can leave provided they don't plan to come back to Uganda in 32 days.
"We, with immediate effect, ban all out-bound movement by Ugandans to or through these countries, again, for 32 days. Foreigners going to those countries are free to do so provided they do not intend to come back within the prohibited time. We extend our sympathies to those countries and commend them for fighting on behalf of the human race."
Uganda according to the Ministry of Health has no confirmed case of the coronavirus as of March 19, 2020. 219,074 cases in over 120 countries have been confirmed during the same period.