Thousands of Ugandans including senior army officers are counting losses after investing in what turned out to be a fake cryptocurrency initiative.
The Internal Security Organisation on Monday night arrested Andrew Kaggwa, the Chief Executive Officer for Global Cryptocurrencies Limited opening a can of complaints from clients who have been fleeced huge sums of money amounting to billions.
According to Sheila Nassali, 27,a nurse from Namugongo in 2018, Kaggwa wedded her sister and after the function, he introduced her to a company he was soon setting up that he wanted her to be part of.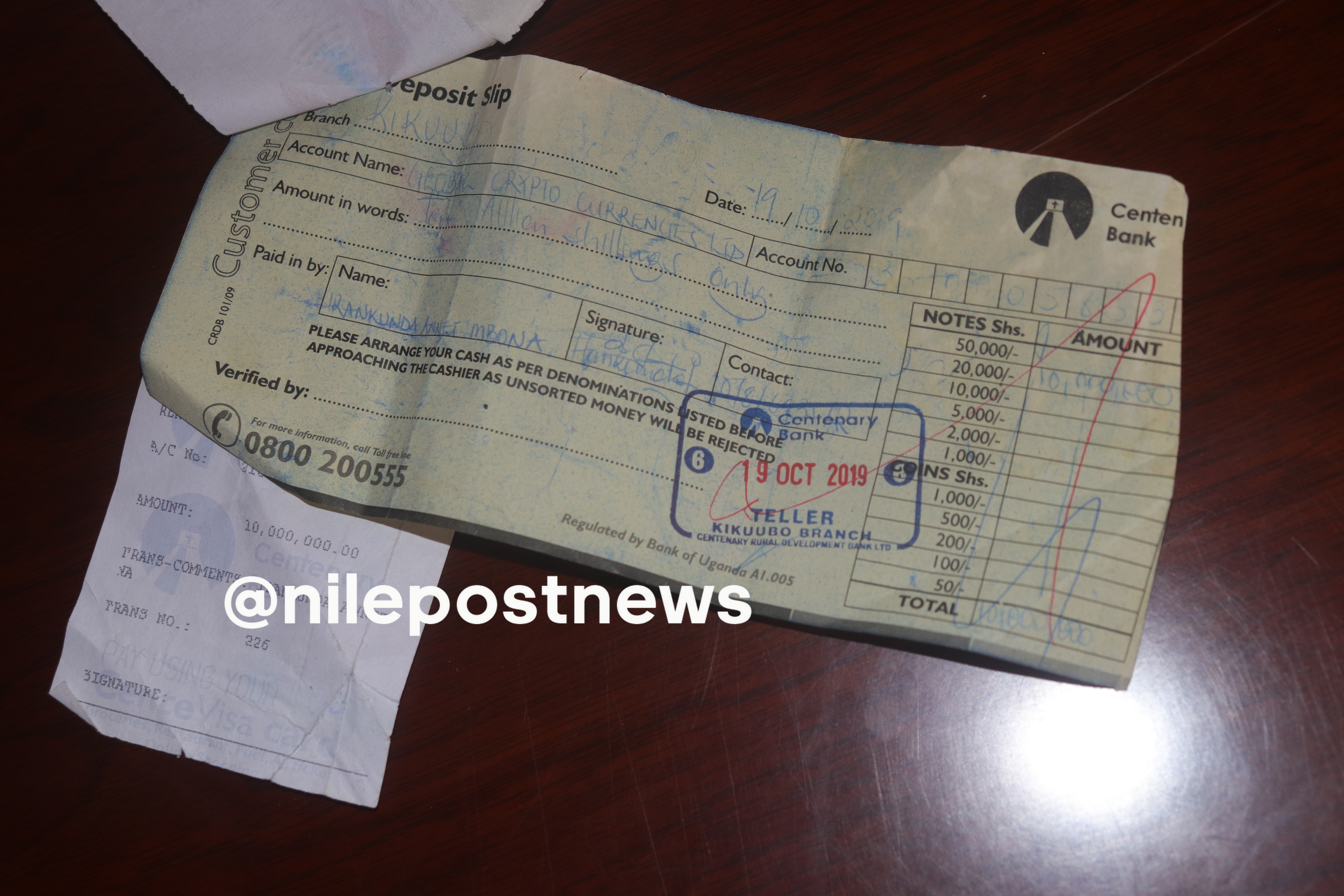 "When the company started in August last year, I was made its secretary and director. I could juggle the company work with my nursing work. When I was not doing the nursing work, I could be at the company offices,"Nassali begins his painful story.
Nassali says Hudson Ntende and Kaggwa were the main directors of the company who were signatories to the company documents.
She says that the company started small along Kampala road but business grew in a small time and after two months, they shifted headquarters to Lions Shopping centre along Namirembe road.
"People could deposit money between shs100,000 and 10million and after 30 working days, they could get an interest of 40%. The business kept on growing big day by day."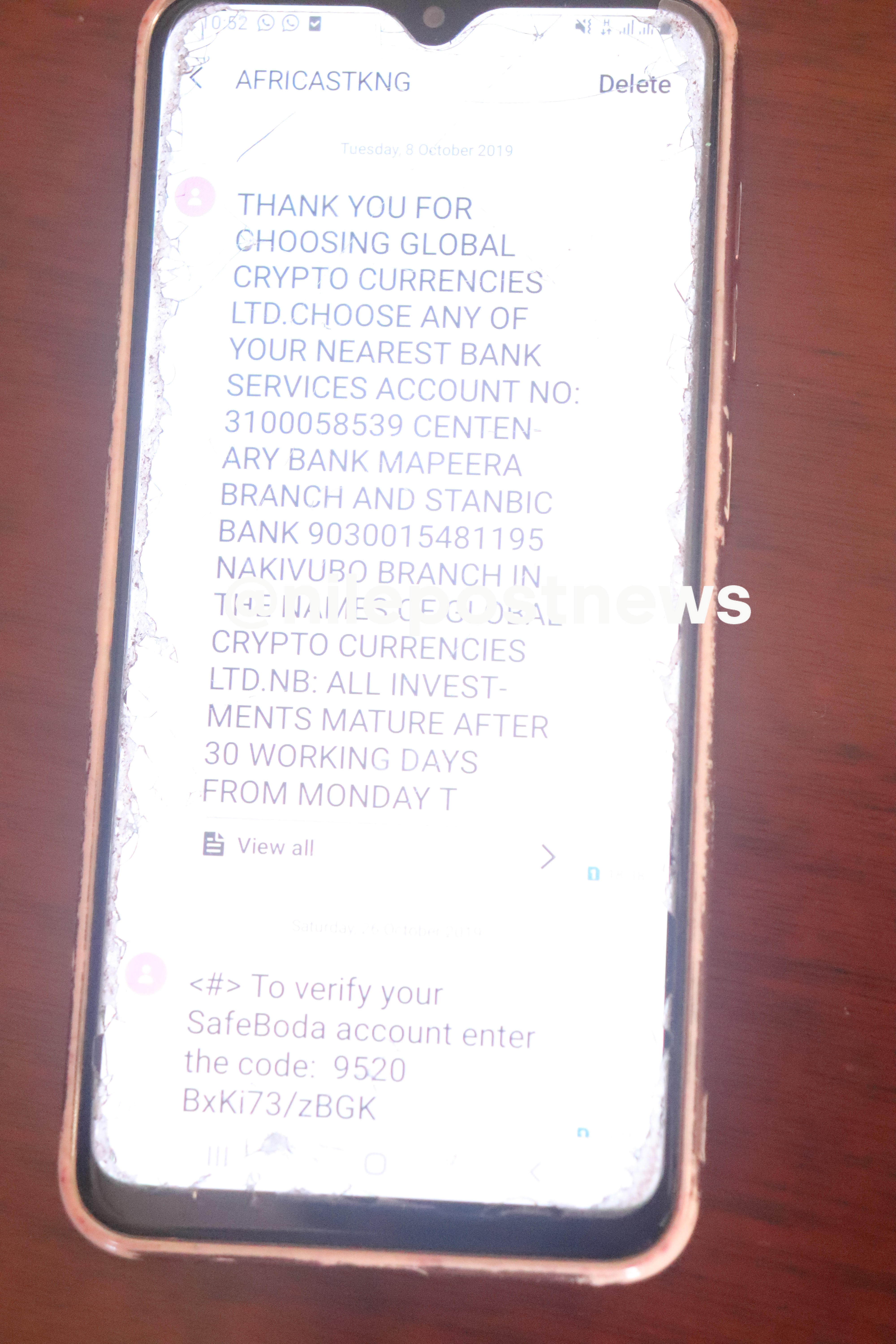 For Summaya Nakaddu, the story is similar to one by Nassali because she too was asked to join and work for the company by Kaggwa and they could earn shs400,000 per month.
"As the company grew, we were asked by the managers that we should love the work we do by investing some small money to get returns. After realizing it was genuine, we were asked to recruit our family members, relatives and villages mates to also join the budding and lucrative business,"Nakaddu begins her story.
She narrates that in the company, she was the one in charge of supervising and evaluating the works and business.
How it works
According to Nakaddu, they were asked to recruit family members who would in return also recruit other people.
The people recruited, according to victims were asked to register with the company before becoming official clients who would get paid after every 30 working days.
"They request you to register using either your national ID, driving permit , work ID or passport and after joining, they give you two bank accounts in Stanbic and Centenary banks where you deposit the money and when time comes to receive your interest, it is paid through your bank account," said Annet Irankunda, a UPDF soldier attached to Bombo Military hospital as a nurse.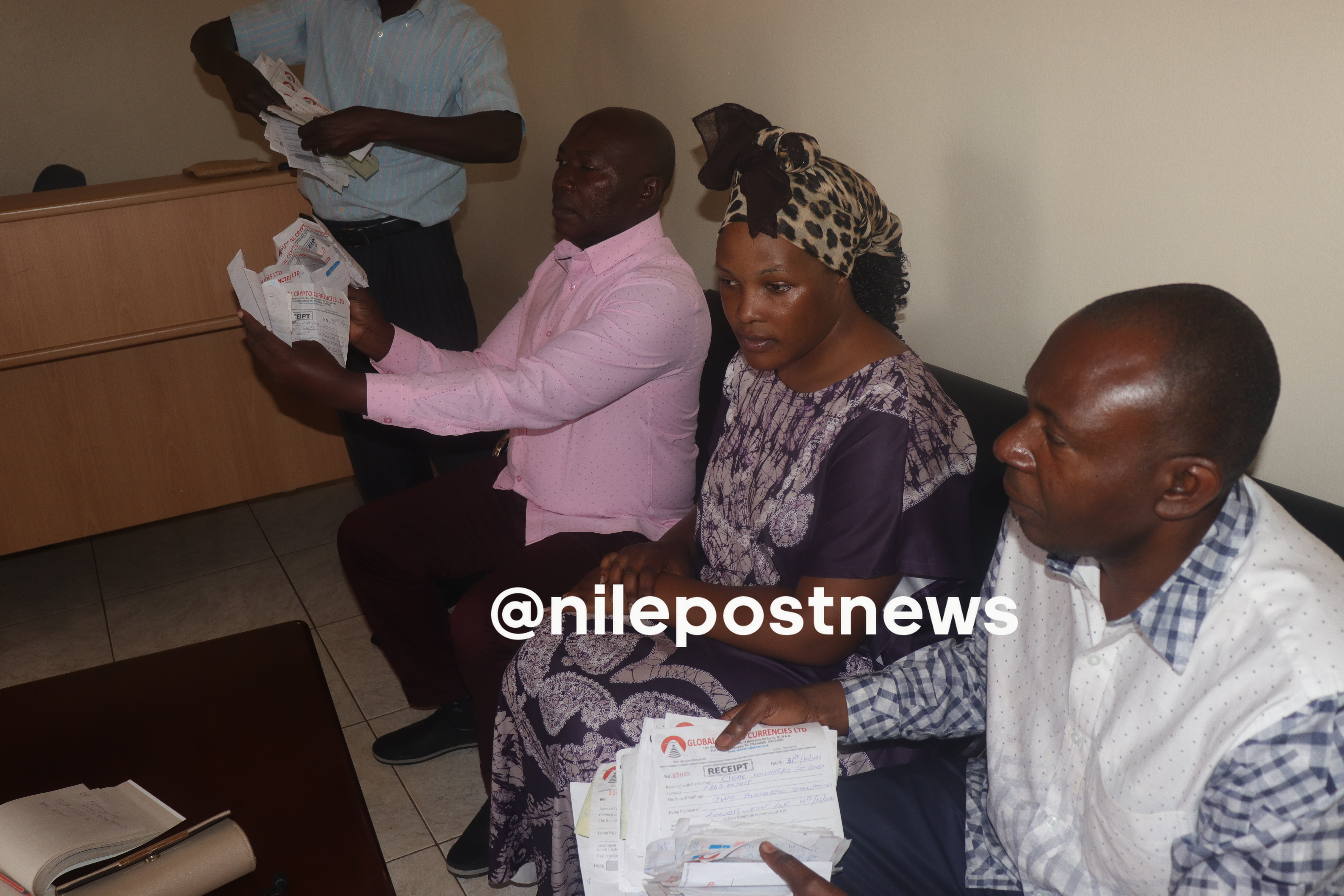 She says she was lured into the initiative by a fellow nurse at the hospital who told her about  in March this year but she resisted the temptation of joining not until September.
"When she told me about it that one gets an interest of 40% on his money, I realized it was impossible. I refused to join but it was not until when I saw her buy plots of land and vehicles out of the same that I accepted to join. I borrow shs10 million from our Wazalendo Sacco that I invested and was supposed to get interest this month," the UPDF nurse cum soldier who refused to divulge more information about her rank for fear of reprisal from her bosses narrated to this website.
According to David Mwesigwa, a pastor at Soul Touch Healing Ministries in Bbunga, he was introduced to the initiative by Kaggwa who is one of the church members.
"He convinced me to join together with my wife and later we convinced many other church members to join,"Mwesigwa who together with the wife joined the initiative with shs2.7 million narrated.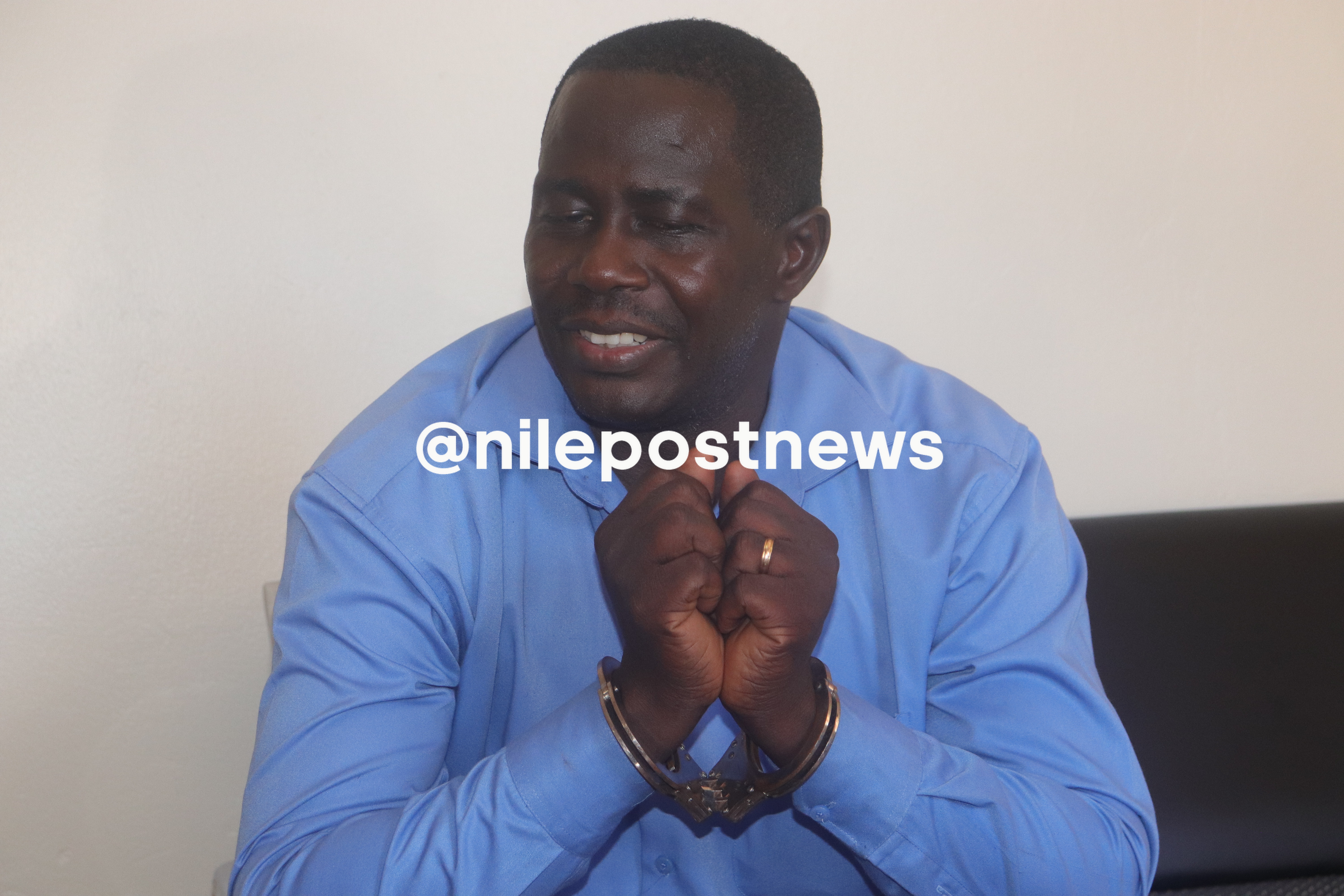 He said currently, they as a family have over shs70 million put into the scheme but says the amount is more than shs270 million for their church members.
Godfrey Walakira Kato, another pastor with a church in Kazo and Namungoona, they were tipped about the "lucrative" business by one of their followers and asked them to join.
"I first invested shs200,000 and I got profits. This encouraged me to invest in more. I then asked my followers to also invest their money," he says.
According to Richard Kisakye who is in the treasurer at one of Kato's churches, when they got to know of the initiative, they welcomed it with both hands and also encouraged other church members to join.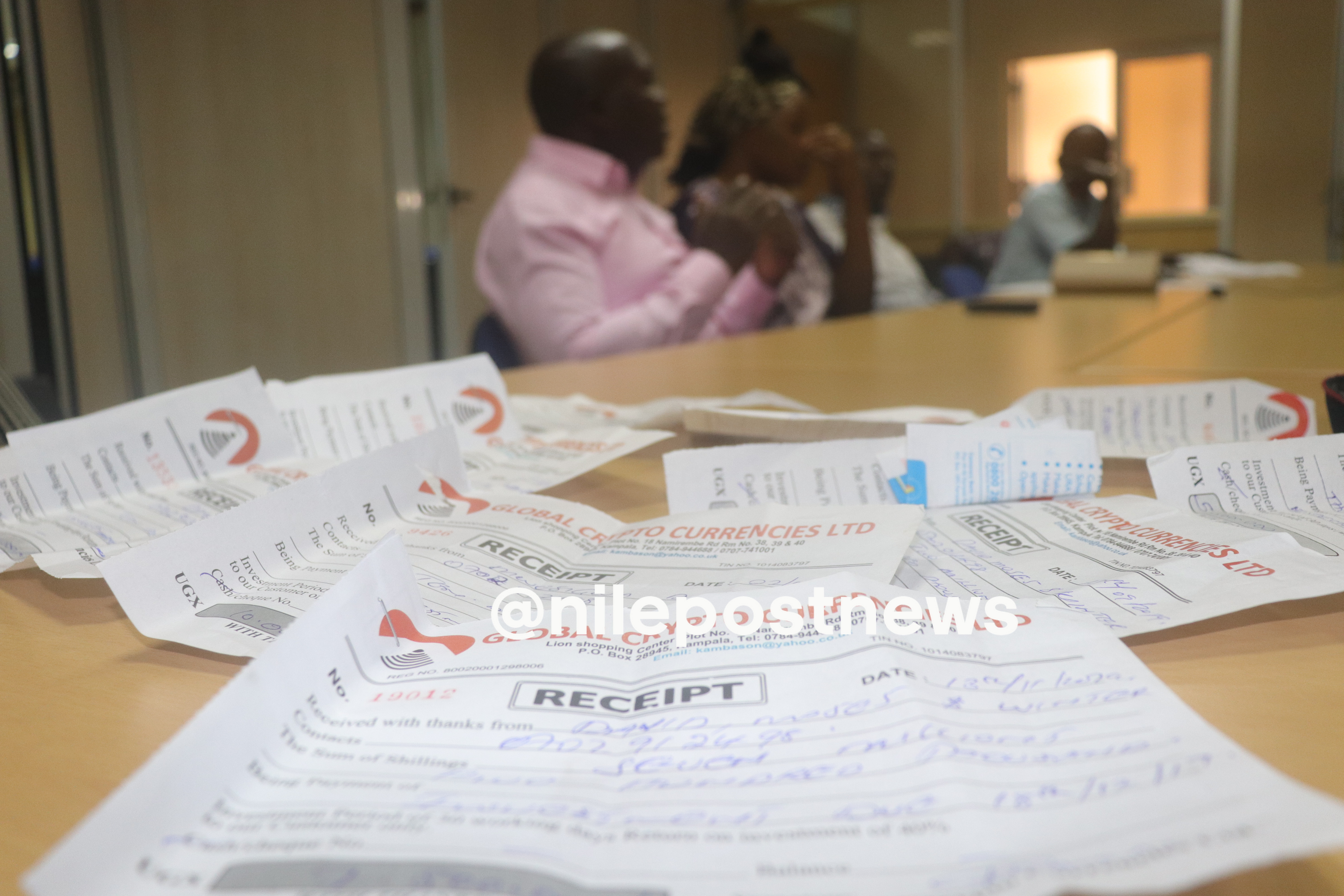 "Because we had an ongoing project of construction of the church, we thought this was a big opportunity for us to invest money meant for construction into the initiative so it could multiply. Whenever we collected funds for construction, we invested it,"Kisakye said.
Florence Bukirwa says she was asked to recruit relatives, family members and other people both from her village in Namungoona and Mityana where she was born.
It is her that lured her father, a UPDF colonel(names withheld) into the initiative where they could get some money.
"I thought it would be bad if I didn't alert my people to join and get themselves some money,"Bukirwa narrated.
Nakaddu Summaya says that many employees, especially in Centenary bank also joined the initiative after seeing that it was genuine.
"Whenever a client went to deposit money, they would be asked by the bank employees how the initiative was doing and on being told it was moving on well, they rushed to join. Many of them including managers, tellers and supervisors joined and were our clients,"Nakaddu said.
Things get worse
According to the victims of the scam, things were moving on well for the past one year and so until this month when they never received their money.
"When we demanded for our money, we were told there was a technical glitch but the money would be paid the next day. This never happened," said Jane Kyomukama.
Nassali says that when she realized many clients were demanding for their money and were not being paid, she gave a call to one of the managers, Kaggwa who assured her everything would be fine in the next few days and asked her to tell customers not to worry.
"People kept on calling me to find out the problem with their money but I had not definite answer on what had happened but only to tell them things were being sorted," the 27-year-old says.
Nakaddu says because she was the one clearing whoever was to be paid, she got over 500 calls over the same but his bosses had asked her to tell them that there was meeting at Pope Paul hotel in Ndeeba where all clients' problems would be discussed and told the way forward.
"I then received a call from one of our clients who is a manager in one of the banks that our account had been blocked with shs10 billion on it. I then called Kaggwa to explain the circumstances but he pressed busy,"Nakaddu says.
"When I called Ntende, he did the same. When I called Kaggwa again, all his known phones were off. The same happened to Ntende later."
She says that at Pope Paul, their clients converged for the meeting but had to leave at around 9pm without seeing any of the company managers.
What went wrong
Nakaddu suspects the money on the accounts for the company was withdrawn by the managers and used it for their own ventures because as time went on, the money on the account kept on reducing day by day.
"Because there was little money on the account, our clients kept on complaining because of not getting their due money."
She says that the business had grown from paying out shs200 million a day to shs900 million a day in all the 13 branches across the country.
According to Nakaddu, the company had branches in Mukono, Kayunga, Mbale, Kyotera, Lira, Gulu, Masaka, Iganga and Mubende among other parts of the country.
Some of the victims of the scam include senior army officers, one at the rank of Maj.Gen and Colonel , nurses and Centenary bank employees among others.
Problems
According to the former employees of the company, some of whom shed tears while narrating their ordeal, the scam has created problems for them with the people they had lured into it.
"When the people I had lured into this got to know that it was a scam where they had lost a lot of money, they wanted to burn my mother. They are currently looking for me but I have not slept home for two weeks for fear of being attacked,"Nassali said as tears rolled down her cheeks.
For Florence Bukirwa says she fears going back to her home and neither can she return to her village.
"I don't know how I am going to face the farmers in Mityana whom I persuaded to join this initiative after convincing them that it was lucrative,"Bukirwa says.
"If I knew it was a scam, I would not have joined because apart from losing trust among relatives and friends, I have lost my own money that I had invested into it."
For David Mwesigwa, members of his church have labeled him a traitor who sold them to Kaggwa in order to fleece them of their hard earned money into a scam.
When asked why they had easily joined the initiative, the victims said they had been told by Kaggwa that his company deals in buying and selling of dollars that it makes 100% profits, thus giving us back only 40% of it.
"Because we used to get our interest, we could not easily tell that we could be fleeced. We thought it was genuine,"Mwesigwa said.
Other victims of the scam said they were told that the company deals is buying and selling of oil and that it was lucrative that the managers used the clients' money thus paying them (clients) 40% interest.
Company manager denies
When asked why he had fleeced his clients of huge sums of money, Kaggwa who is currently in ISO detention said business didn't go as expected.
"There is no business without shortfalls. We also experienced the same," Andrew Kaggwa said.
"We deal is buying dollars at cheaper prices and when the price goes up, we sell them."
He however denied that his company had fleeced his clients of huge sums of money.
ISO director, Col. Kaka Bagyenda said it is appalling that Ugandans expect to get a lot of money by putting in a business they don't know.
"How much does the operator have that he gives away 40%,"Col.Kaka wondered.
He noted that the company targeted churches, the army and other professional bodies with big numbers of people who can recruit others.
"He targeted groups of homogenous people where there could be no leakage in order to cheat them."
Why it was easy to fleece the victims
According to the victims the company presented itself as being professional where none of their employees touches the money you invest in but rather the work of banks.
"You pay to the bank and you are given a bank slip. The slip is taken to the company offices where you are given another receipt to acknowledge your investment.  This created confidence in us that the company was genuine," Godfrey Kato Walakira , a pastor said.
The victims also say that the company had never got any problems since it began last year, a thing that gave them assurance that everything was fine.
"We got back all the money we invested in plus the interest as promised by the company," he said.
They also insist that they were assured the company is genuine and deals in buying and selling of dollars and other currencies that is lucrative.
"When you check the internet, you see that the business of buying and selling currencies is a genuine one and this comforted us. We were very sure what the company is doing was the best business,"Summaya Nakaddu said.
This website has learnt that the company's accounts were blocked with sums of money not less than shs10 billion but the same had disappeared mysteriously.
Security is still looking for Hudson Ntende, the second director for the company.
Warning
In September, the finance Minister, Matia Kasaija warned Ugandans to stay away from cryptocurrencies because government does not recognize them as legal tender in Uganda.
"This is to inform the general public that: – the government of Uganda does not recognize any crypto-currency as legal tender in Uganda. The government of Uganda has not licensed any organization in Uganda to sell crypto-currencies or to facilitate the trade in crypto-currencies and so these organizations are not regulated by the government or any of its agencies," Kasaija said.
Crypto-currencies are digital assets that are designed to effect electronic payments without the participation of a central authority or intermediary such as a Central Bank or licensed financial institution.
Crypto-currencies may therefore be bought and held for speculative purposes in the expectation that their value will rise at a future time, whereupon they could be sold for a profit.
This is the same thing that Andrew Kaggwa under his company, Global Cyrpotcurrencies Limited told his clients that it was doing but ended up fleecing Ugandans of billions of shillings they had invested into it.
According to some of the victims, the company had asked them to create dollar accounts where they invest and get interest in dollars.
"He had asked me to invest atleast $20,000 so he could construct a cryptocurrency website where I could earn 40% after 30 working days. I had not yet got the money to invest," David Mwesigwa, a pastor with a church in Bbunga.
The 18 pyramid schemes that have fleeced Ugandans of billions