Additional reporting by Aminah Nabukenya 
Uganda Young Democrats, a youth wing of the Democratic Party (DP) has indicted party Chairman Nobert Mao saying that he is compromised and cannot not be trusted 'in the cause of the liberation of the people of Uganda.'
Over the weekend, Mao convened what the UYD have termed as a 'purported UYD-Symposium' that came up with a number of resolutions which the UYD have called 'ridiculous and unfortunate'.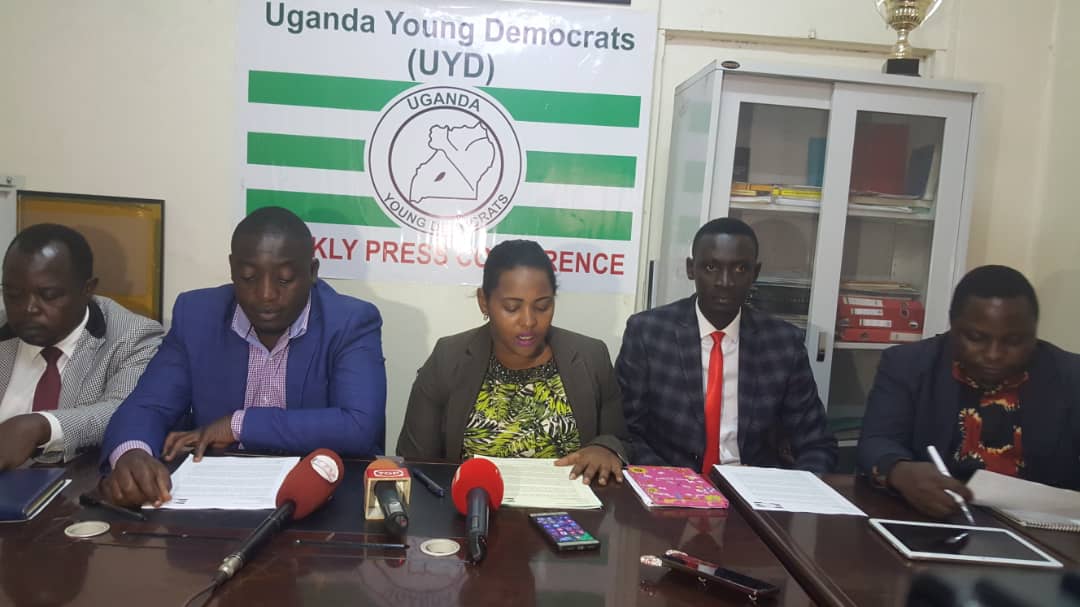 Now in a statement that has been accessed by Nile Post, UYD President Nabukenya Brenda says that they are also appalled by Mao's conduct who they blame of using state agencies and Police to suppress, torture and injure UYD members in a bid to stop their Delegates conference on three occasions In 2013, 2015 and again over the weekend when he hosted a few people at Nabinonya Beach and pronounced his UYD take over.
Nabukenya also accuses Mao of destroying the DP to its core saying that the party has no longer has a general secretary, national treasurer, national chairman, deputy women leader and its vice president is in a romantic relationship with the regime and that Mao has failed to organise a single meeting of the National Council.
Nabukenya also accuses the Mao regime of being marred by accountability issues that are always swept under the carpet. It is on these grounds that they have indicted him and stated that UYD is currently considering its working relationship with the current DP leadership.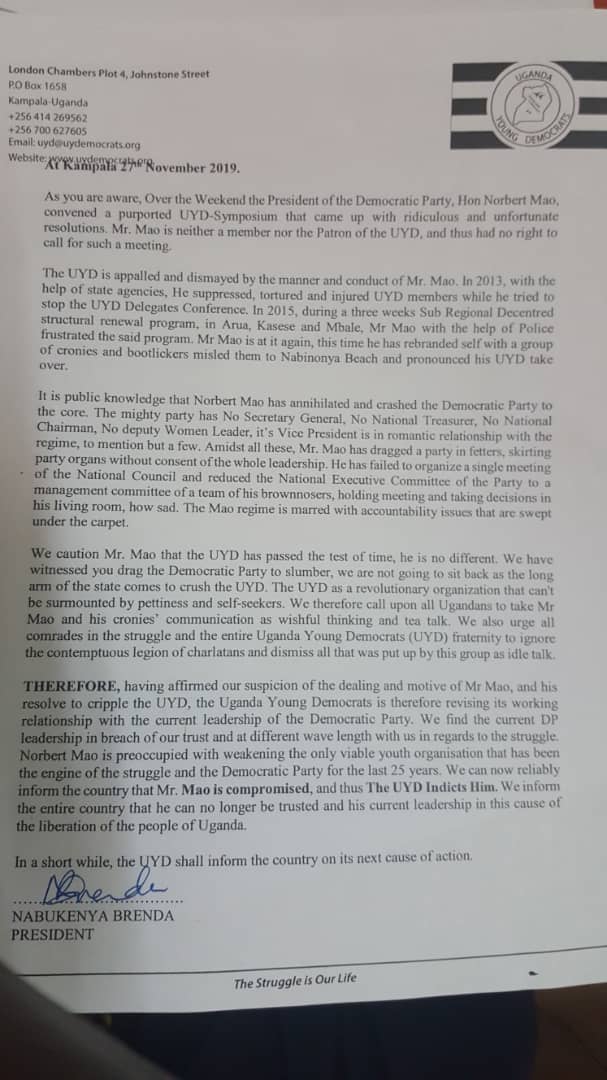 "The Uganda Young Democrats is therefore revising its working relationship with the current leadership of the Democratic Party. We find the current DP leadership in breach of our trust and at different wave length with us in regards to the struggle. Norbert Mao is preoccupied with weakening the only viable youth organization that has been the engine of the struggle and the Democratic Party for the last 25 years. We can now reliably informed the country that Mr. Mao is compromised and the UYD indicts him," the statement reads in part.
The UYD now says that they will inform the country about their next course of action but warn that Mao can't be trusted and his current leadership in the cause of the liberation.