Ruhegyera Joshua Nteireho, the man who was last night shot along the expressway together with a one Maya Florence Kamukazi lived a flamboyant and pompous life, according to close associates.
Contrary to reports that Nteireho was a bodyguard to Kamukazi, other colleagues refute the allegation and rather affirm the deceased was a friend and business partner to Museveni's younger brother Michael Nuwagira, alias Toyota Museveni, whom he called uncle.

Nteireho was also a moneylender who ran a money lending business through a firm he co-founded called, Amber Finance Limited.
According to those who know the deceased, he was not new to the corridors of State House, with some claiming his closeness to Museveni's young brother is not just it, but his mother is a distant cousin of President Museveni.
Nteireho, known closely by associates as 'ever smart' enjoyed a splashy life, and did not hide the fact that he knew so many people close to power including the First Son, Muhoozi Kainerugaba with whom he has a picture in the State House gardens.

He also posed for several pictures with bundles of cash dumped around him. In one of the moments capturing a video of himself removing several bundles of cash from his wardrobe.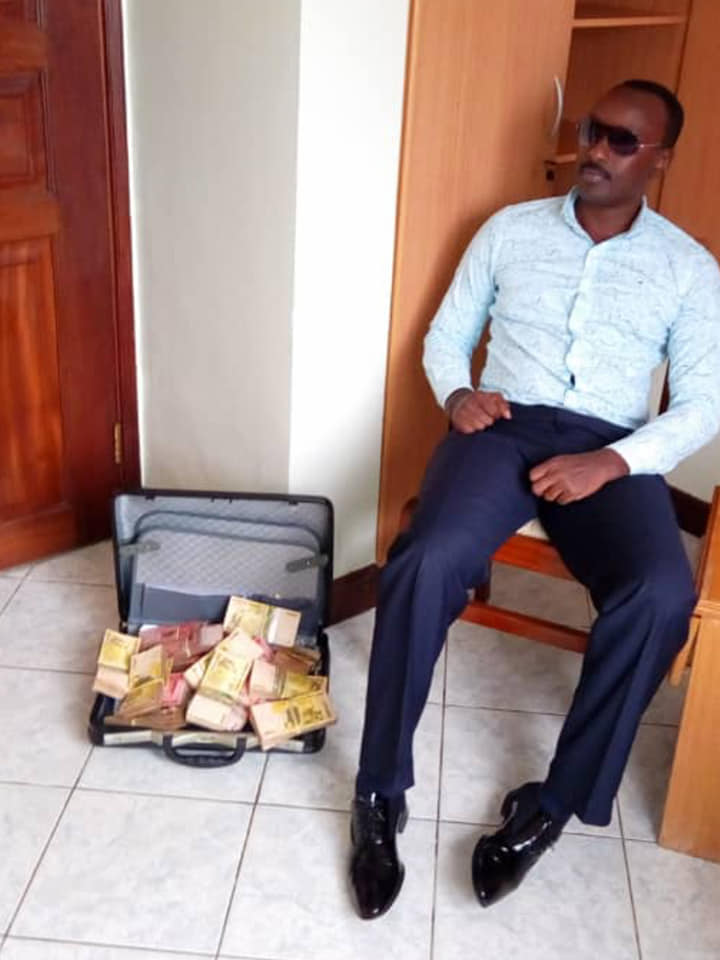 "If he wasn't showing car keys (a high-class Mercedes Benz which is also part of his expensively assembled fleet of cars), he would be showing bundles of cash," a colleague of Nteireho spoke on condition of anonymity.
Nteireho was shot together with Kamikazi along the Entebbe expressway road close to Mpala stage on Thursday night.
Female Rwandan national, bodyguard shot dead on Entebbe Expressway
According to reports, Nteireho is identified as a bodyguard to Kamikazi, however, the two have not are far away from the said bodyguard- boss relationship. Indeed, pictures of the two have been published on social media having a light moment with other unidentified colleagues.
Sources from Police told the Nile Post that they suspect whoever that carried out the shooting did it from inside the car, a black Toyota Land Cruiser registration number UAW534B which they were traveling in.
"We have identified the victims as Ruhegyera Nteireho Joshua, a bodyguard, and resident of Katabi, Mpala and Kamikazi Princess a Rwandan national. Whoever carried out the shooting was from inside the car," a source from Police told Nile Post.
Also recovered from the scene of the crime was one AK-47 rifle No.UG POL56-3100699022697 with 27 rounds of live ammunition and a Counter-Terrorism Uganda police cap.
Nteireho has been seen in the company of a counter-terrorism police officer umpteen times. On March 8, Nteireho posed with a toddler near his car, a white land cruiser TX, while a counter-terrorism guard oversaw their security in the background.

Another picture was taken of the toddler believed to be his son, while he put on a Counter-Terrorism Uganda police cap, similar to that found at the scene.