Bugweri County Legislator Abdu Katuntu has finally handed over COSASE chairperson office to Kawempe South Legislator Mubarak Munyagwa advising him to priotize government enterprises that have a big budget out of the 112 entities under his Committee.
Katuntu who first apologized to Munyagwa for handing over office late, pledged his support to the new chairperson whenever contacted.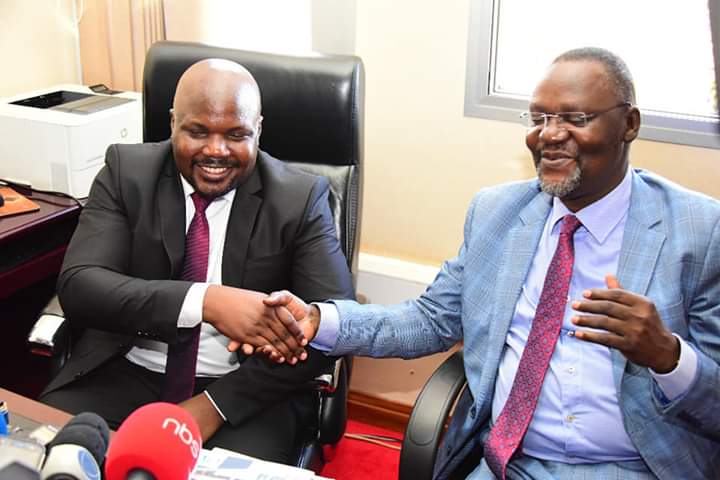 At 2pm on Monday Kawempe South Legislator Mubarak Munyagwa attired in a black suit with a red tie arrived at Parliament on the fifth floor ready to take over the keys to office of the COSASE Chairperson.
Munyagwa who went straight to the Cosase office where the outgoing chairman Abdu Katuntu was seated; the two first had a closed door meeting before letting in the journalists.
Katuntu before handing over office apologized to Munyagwa for handing over office late however, pledging his support to the new Chairperson once contacted.
Katuntu also enumerated to the new chairperson the achievements of the committee under his leadership which include the handling of the presidential handshake scandal, the return of the 42 billion shillings by the Chinese contractors, Centenary park controversy, BOU probe among others.
Katuntu also disclosed some of the challenges that are not limited to the backlog hence advising Munyagwa to priotize key government entities with big budgets.
In his remarks, the new Chairperson Mubarak Munyagwa commended Katuntu for handing over office peacefully, but admitted he had big shoes to fill in taking over from an experienced person.
Munyagwa who vowed not to favor any government accounting officer who will misappropriate public resources vowed to contact the Speaker Rebecca Kadaga and Leader of Opposition over the matter of the Deputy Chairperson. Munyagwa's preferred deputy Moses Kasibante was blocked from ascending to the office by the Speaker.