Medical interns under the Federation of Medical Interns have dragged the Minister of Health to court and also secured a court order stopping the implementation of new intern policy on rotation during practice.
The ruling was before Justice Ssekaana Musa of the High Court in the presence of the interns lawyer Farida Ikyimaana following a newly adopted intern policy recommendation.
In documents seen by the Nile Post, they state that the policy on rotations was adopted as recommendations from the Inter Ministerial Committee on Interns instituted by the Minister of Education, Janet Kataaha Museveni.
Defending the ministry's position, the Minister of Health in charge of Primary Health Care Dr Joyce Kaducu said the new rotations were made to shift from the famous 3 months training per medical discipline for pediatrics, internal medicine, surgery, and obstetrics and gynaecology. This policy was adopted in 2000.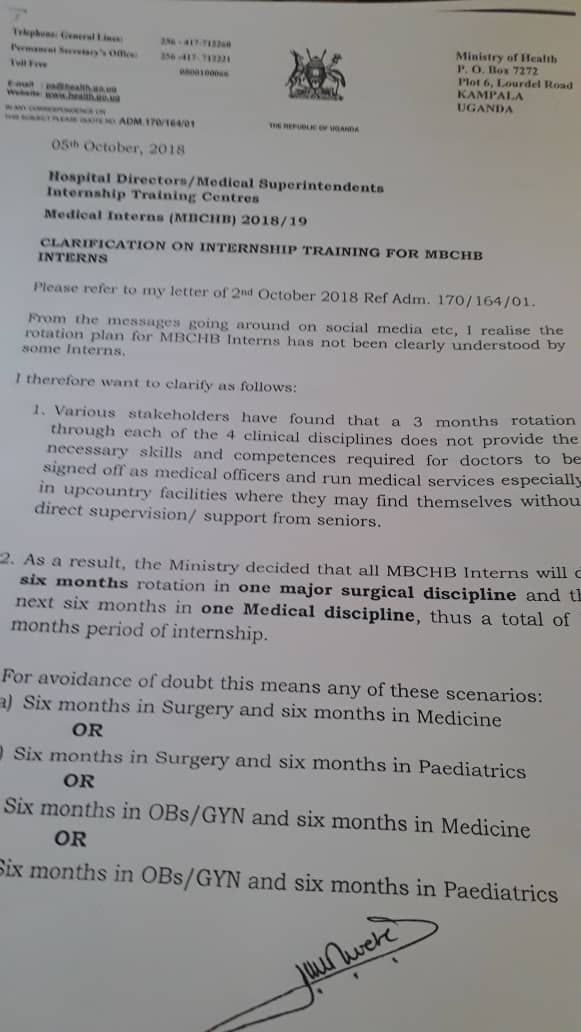 The recommendations are that, all interns train for one year instead of the three months training for each discipline for a period of one year. This means interns now have 6 months rotational cycle instead of three.
A document written by the Acting Director General Henry Mwebesa stated that interns instead had to train for six months rotation in one major surgical discipline and the next six months in another medical discipline.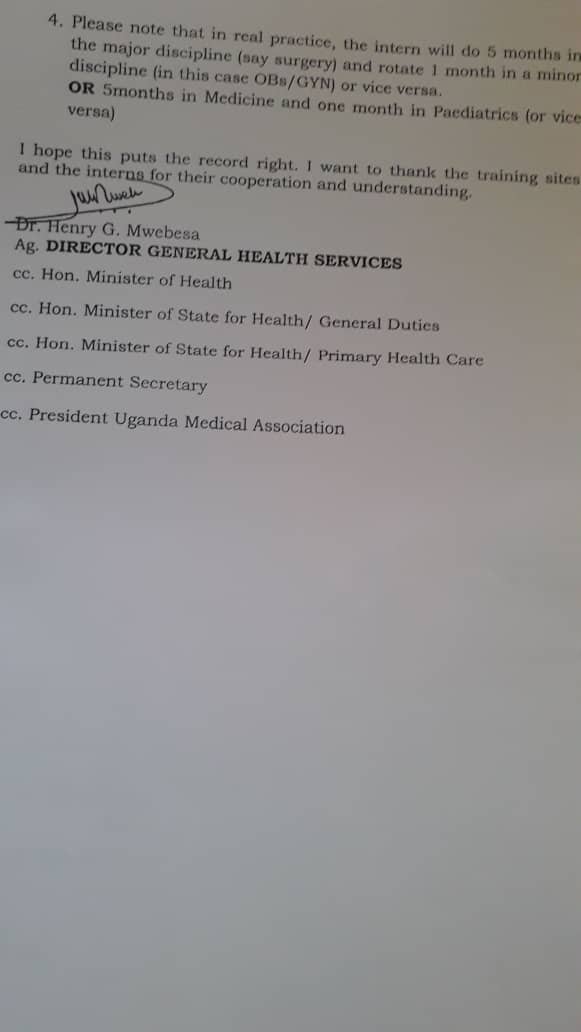 The team on the inter ministerial committee insisted that this kind of rotation equips the medical interns with skill in all fields.
Dr Kaducu explained that the ministry adopted it to ensure improved health service delivery
She added that this followed complaints on the quality of interns and doctors on the market. After this training the interns are ready to specialize in any of the fields.
The medical interns from Mulago took their protest to the Ministry of Health to express their concern about being denied the chance to practice all medical disciplines, even when there was court injuction issued.