By Ritah Tugumisirize
It was a shocking start to the second round of the Startimes Uganda Premier league as Asaph Mwebaze's Abanyakabale arrest Abdallah Mubiru's Cops.
Nyamityobora FC in arguably one of the upsets of the Startimes Uganda premier league this season eased to a 4-1 win against a feeble Police FC side at the Startimes Stadium where the Cops host their games.
The Abanyakale's third win of the season can be credited to a lot of things.
Coach Asaph Mwebaze and his new signings
Since he joined the Mbarara based club last November, replacing James Odoch, Mwebaze has struggled to get his side off the blocks but perhaps their performance in the first game of the second round against one of the best ball playing sides in the league will bring a new beginning to the side.
Just last week, Mwebaze, who for his over ten years at Maroons FC proved that he works best with young players, was at it again as he ferried in eight young stars from all sorts of lower divisions in the league. To say the least, he signed a bunch of 'no body-s' and trusted them to steer the sinking Nyamityobora ship above the redline.
The stoic coach showed even more character as he trusted three of his new signings to start in key positions away to Abdallah Mubiru's high-scoring Cops, yet some like goal keeper Denis Otim. (From Doves All Stars) had only trained with them since Saturday.
Otim started in between the sticks, his former teammate Joel Ayoku was at the center of the back three, while ex Riverside Forest Park midfielder Fred Mayindi started in midfield.
The new comers jailed in well with the rest as their side won comfortably against hosts who dominated most of the possession. Mwebaze for me takes the fair share of the credit for his boldness and tactical acumen on the evening.
Ibrahim Juma Dada
A large part of Nyamityobora's fairytale journey of over 250 Kilo metres from Mbarara should be credited to the 20-year-old number nine, Ibrahim Juma Dada.
The young man from Moyo District went against his parents to play football, and perhaps performances like yesterday's can change their negative opinion about Dada's career choice.
It was not the first time he was scoring on the road in the top flight, (Dada is credited for the consolation in their 6-1 loss to KCCA FC in the first round and a vital equalizer that handed them a two all draw against BUL FC.), but last evening was special, the senior six student netted his first hattrick in a top flight match, and only the second so far after Patrick Kaddu's against Paidha Black Angels in the first round.
Dada could have even scored more on the evening but was partly denied by Police's number one Davis Mutebi and at times his ineptness.
In this game, he showed his natural eye for goal and the goal scoring instinct that is a preserve of born goal poachers.
Police FC's ineffectiveness and lack of desire
On top of all the right things done by Nyamityobora that they should applaud themselves for, they also need to thank the man above for the many wrong things done by their opponents.
The Cops like they always do dominated the possession all throughout the game but were ineffective and they got punished.
Their star forward Juma Balinya missed a clear cut chance to put them forward early in the first half after picking a through ball from Ronald Nyanzi, laid of both avenging defenders and the goal keeper Denis Otim but sent the ball wide. This was arguably the miss of the season.
All through out the game, Police FC looked like a bunch of Cops chasing 11 thieves without a real plan of what they intend to do when they finally arrest them, and when they finally do, the thieves beat them and escape again, and the story goes on an on.
This was by far the worst defensive display from the 2005 champions this season and it once against exposed how shaky their defense has been all through out the season.
Police has a goal difference of minus two not because they don't score goals but they give away too many. The Cops have scored 26 and conceded 28 in 16 games making them the only team in the top half of the league that has let in more than they have scored.
This is a start Abdallah Mubiru needs to address 'as early as yesterday'.
League action continues today with two games both away from the city Centre. At the Kakyeeka stadium in Mbarara, Paul Mucureezi will lead his home side against his former employers in a case of first Versus third on the pile.
With all action live on Sanyuka TV, Mike Mutebi will be looking to inspire a response following a gruesome past two weeks in which the 12 time champions were knocked out of two tournaments, the CAF Confederations cup and the Uganda Cup.
Arguably their best player in the first round, Mucureezi will once again hope to lead by example like he did in their last outing against Vipers at the St. Mary's stadium.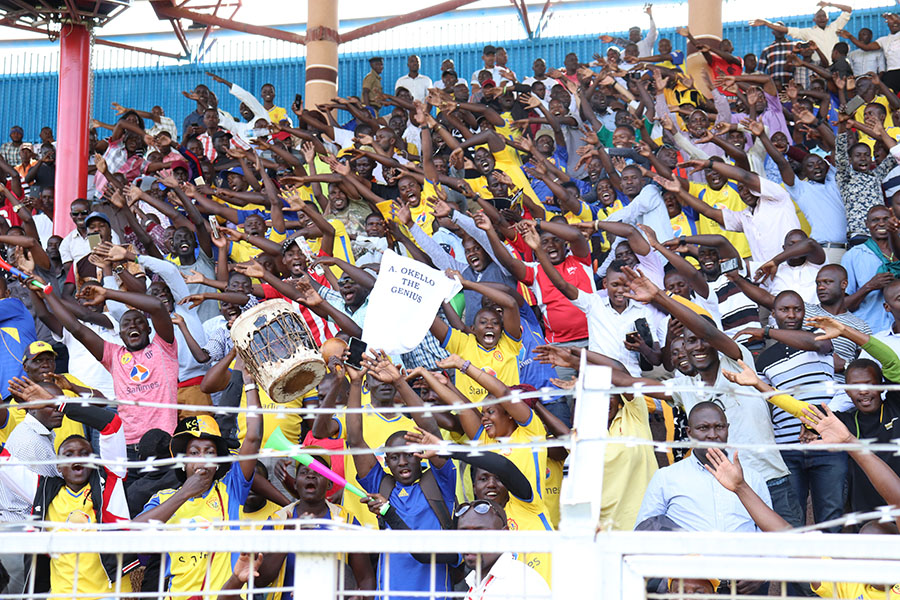 The midfielder however is aware that KCCA FC will make it even harder for them despite being at home.
In an interview with Nile Post, Mucureezi revealed how KCCA FC's past results leading to this game will make it difficult for the Ankole Lions to roar in their den, but they will do their best.
"It feels good playing against my former team at home but again it will not be an easy game because they have lost two previous games in two different tournaments and the only hope they have is to win this title so they have to come to Mbarara to collect maximum from Mbarara city which maybe the only team they are scared of," said Paul Mucurezi.
"we shall work hard against them, Mbarara city deserves respect so we shall make sure we get the best out of this game. Vipers game last week was a boost and helped us know how good our game is so we are good to go, " he added.
Mucureezi is also aware that his knowledge of his former side's playing style will be key.
I have played with KCCA FC, they must have changed their style of play but will use the little i know to help my team Mbarara city, as we hope to win the Startimes Uganda premiere league title this season," he added.
KCCA FC tops the league table with 36 points while Mbarara City is third with 28 points, the past meeting between the two at the Startimes Stadium in Lugogo on the 31st of October ended goalless.
The other game today will be between fifth placed BUL FC who host 12th placed Maroons FC at the FUFA technical Centre in Njeru.