Justine Bagyenda, the embattled former executive director in charge of Supervision at Bank of Uganda could be in deep trouble after it emerged that she had not travelled out of the country as she he told MPs hence missing the vetting process on September 17.
Bagyenda was appointed a board member of the Financial Intelligence Authority but her appointment is yet to be approved by Parliament.
She was supposed to interface with the Parliamentary Appointments Committee on September 17 but she did not show up saying she was out of the country.
It has now emerged, from leaked phone records seen by The Nile Post, that Bagyenda was at home in Mbuya and even visited Standard Chartered Bank on that day.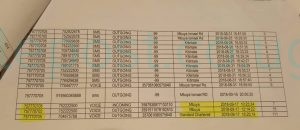 John Baptist Nambeshe, the MP for Manjiya county and a member of the African Parliamentary Network against Corruption said the new records are going to strengthen the case that she is not fit to serve on the FIA board.
"If you want to be a leader, you should not be in the habit of telling lies. How will the country entrust you with responsibility when you cannot tell the basic truth?" Nambeshe wondered.
Efforts to talk to Bagyenda were futile.
Following reports that Bagyenda had Shs19 billion on three different accounts, a whistleblower petitioned the FIA, demanding that she be investigated.
Whereas FIA executive director Sydney Asubo in March told journalists that the authority had opened inquiries into the matter, no report is yet to be produced.