The Rhyme Like A Girl hip hop collective, a cultural envoy from the United States, found a highly expectant crowd at YMCA, Wandegeya on Saturday night at the Hip Hop Explosive free concert. There was a real Ugandan hip hop vibe in the air, with attendees clad in casual attire, jeans, t-shirts and sneakers. The speakers were blazing with music, some sat on bleachers and others danced 360 degrees around the centred stage.
The concert was a celebration of hip hop and the climax of the Arts Envoy 2018 programme, a collaboration between the US Mission in Uganda and Breakdance Project Uganda to skill Ugandan artists with the artistic, marketing and business skills needed to advance their careers in the local arts and entertainment industry.
The envoy included workshops in Jinja, Masaka, Kampala and Wakiso, as well as a concert in Jinja and an Art Forum on 'Copyright and How To Earn From Your Art.' The emphasis was on hip hop and women's empowerment, involving mentorship sessions sharing knowledge about how to succeed in the entertainment business.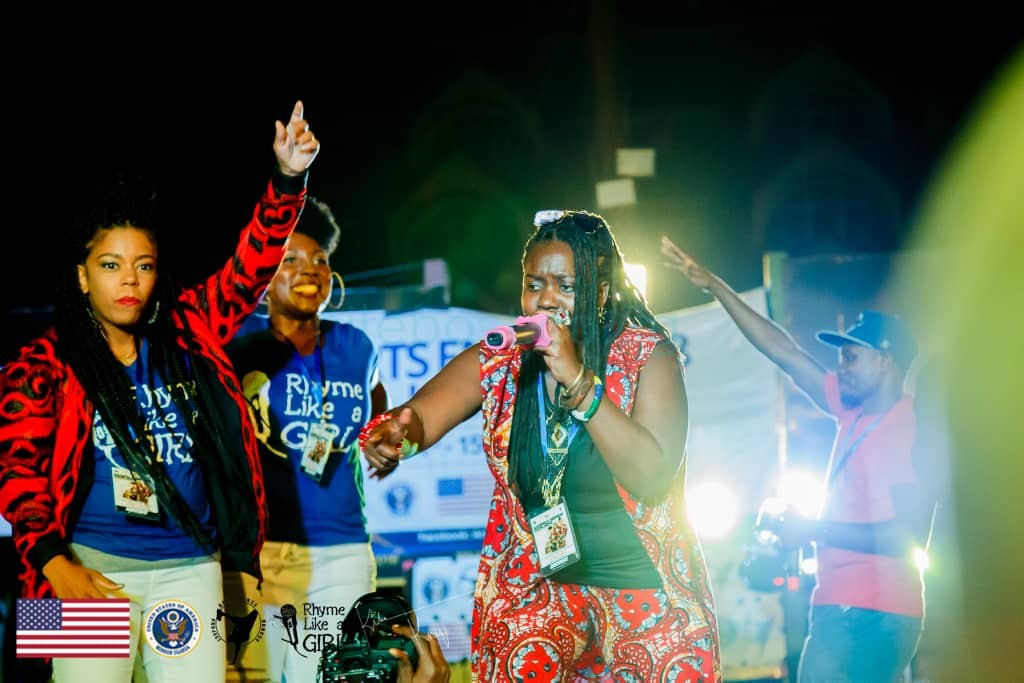 The Rhyme Like A Girl collective headlined the final explosive concert, with the trio Toni Blackman, Atlas and Sincerity representing from New York. The line-up also included plenty of Ugandan hip hop artists like: The Mith, Lady Slyke & DJ Nesta, Sylvester & Abramz, St.Nellysade, Lyrical G, Pryce Teeba, Sandra Nankoma, T-Bro and Qrea-us. Featuring The Spotlite Crew & DJ Issa, Freestyle Dance Cipher,Boys & B-Girls, Beat Boxers and Poppers.
While talking to Nile Post, Toni Blackman, the founder of Rhyme Like A Girl said the group was formed to serve as a safe space for women to build their skills and to learn how to freestyle with out the pressure of having masculine energy in the room.
" It also benefits people through coaching, performance opportunities, music business education and being incorporated into hip hop products." – Toni told our reporter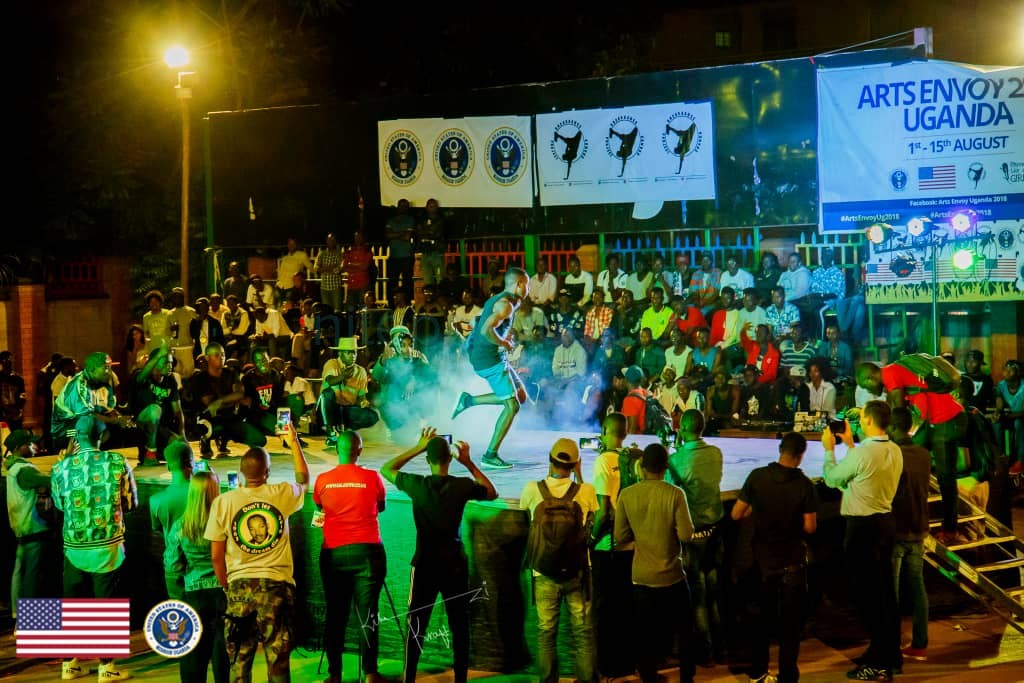 The concert commenced just before sun down with live graffiti painting, and soon rappers like Qrea-us took to the stage, along with breakdancers and beatboxers. Abamz Tekya, founder of Breakdance Project Uganda, introduced their youngest beatboxer from BPU, a b-girl known as Akiiki. Decked out in a green BPU shirt, red baggy 'Gucci' trousers and sneakers; her confidence and talent stirred up the audience with amusement and awe.
Then what is a Hip Hop Explosive concert in Kampala without some lugaflow? Pryce Teeba and St.Nelly-sade brought the Luganda rhymes. Sandra Nankoma AKA Sandy Soul later stepped on stage and the crowd roared for her unique songs, soul with a splash of rap. She sang with feeling leaving the audience hanging onto each and every word. Sandra's level of talent was met by The Spotlite Crew, who danced with a mix of storytelling and b-boy style.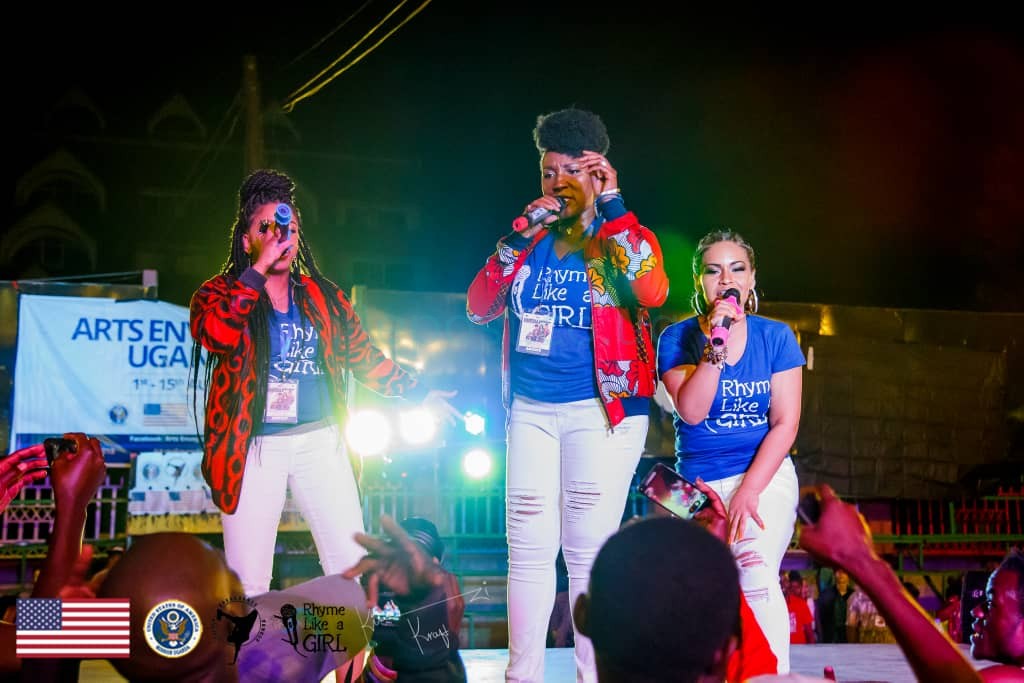 The Bakiga too had a lot to say that night, represented by the multi-lingual T-Bro.
When Uganda's well-known rapper The Mith stepped on stage, everyone started shouting out their requests. People could not get enough; they jumped from their seats, requesting for more and more. Abramz and Sylvester then both performed and the crowd went mad with excitement, dancing around the stage.
The concert came to a climax when the Rhyme Like A Girl collective took the stage, even rapping for some time together with Ugandan female MC Lady Slyke and local beat boxers.
The crowd left their seats for good at that point, as if the night had just begun.
The envoy is set to wrap up workshops later today, Tuesday 14th, August 2018 and bid farewell to Uganda – until next time!