Kolo Toure knows his way around African football. Europe(EPL) refined him into arguably one of the  best African defenders of all time. After slotting home the last penalty to confirm Ivory Coast as African Champions in 2015, he called time on his glorious international career.
In 2017, he switched to the Dugout. CHAN2018 in Morocco,Marrakesh was his first assignment- as assistant  coach of Cote d ivoire . Grace Lindsay Mbabazi engaged the former Arsenal,Liverpool, Man City star in a question and answer session.
https://www.youtube.com/watch?v=KolaHZfxVt4
Ivory coast side's last group match was against Uganda. How do you assess the encounter between both African teams?
TOURE: It was a good game it was really a tough game for both teams of course you know we lost our last previous two games it was really important for both of us not to loose the game. you know obviously for ivory coast we wanted to win that's why we went from the start and put pressure on Uganda. But to be honest your team the Uganda cranes, defended very very well as well but overall is a fair looser.
Uganda Cranes. Is it a team you have followed in the past ? Have you followed up on some of the  country's(Uganda) former or current players ?
 
To be honest you know, Uganda I think the last African cup of Nations did really, really well and I think I saw some really good players and I met them when I was with Celtic in Dubai when they were doing preparations. Of course for me Uganda has a strong team and the manager is a good manager to be honest and the players Quality is there, Power, strength and technically they are  really good."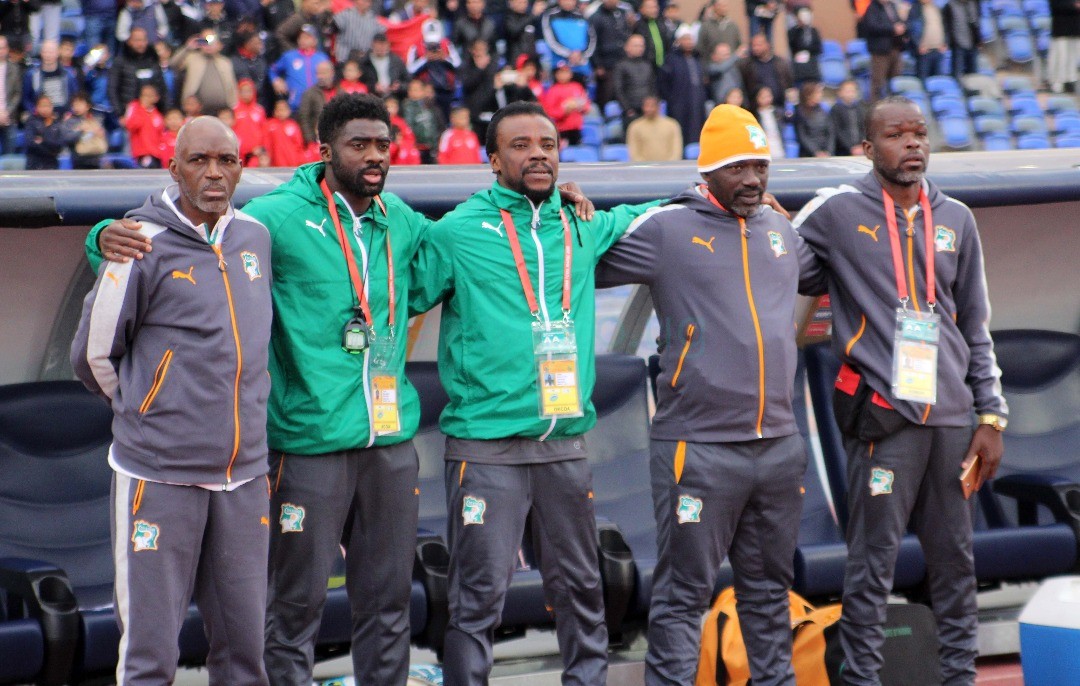 Your presence on the touchline, is a unique sight! Quite different from the man who covered lots of yards on the pitch. How different is your new role?
It's a new job, and to be honest am learning the job and am really lucky am working with Brendan Rodgers manager Celtic and Ibrahim Camara head coach of ivory coast and am learning from two really great managers. For me this is the right path for me to go because being a top player is great, but to be a top manager you know you have to go through a certain aspect of the game too and am really lucky that am learning right now with great managers.
If you are to choose between two roles; Player, and Coach. What  is the most demanding ? And what  do  you  enjoy most ?
Good question, to be honest as a player you think about your self but for me during my days as a player and most clubs I have been to, I have been appointed captain.
Not all the clubs but some of them. I was captain for Arsenal for few games, I was also appointed as captain for Manchester City as well. Each club I have been to I have, had the responsibility. You know when you have been a captain, you think more of your teammates, now it's easy as a coach because that's something I have always had in me. I like to look after people around me, because as a coach you just think about the whole team. You don't think about only your self. As a manager you have to work harder. For example, you have to prepare all the team trainings, you have to talk to the doctors, physios and find out how the players are. Its a bigger job being a manager than being a player but am really enjoying it.
Managing a National team, where you also featured as a player, does it make you feel extra special?
Its been great for me, this is what I love, I love football. i have been in football for such a long time and every second for me is amazing.
I just want to express myself and I don't feel it's just a job for me. Its something that I enjoy, that is more important.
You played for two of the most supported clubs in England; Liverpool and Arsenal. That must be a dream for Many African players ?  Tell us about your experience.
Arsenal fantastic club, I had great time there. I won the trophy there. At Arsenal I had one of the best time in my career.  And with Liverpool, fantastic club too, I nearly won the trophy as well and the Europa league as well. I really had a great time while still at both clubs and I hope that more African players will get a chance to play there.
You flourished at both; club, and National team . Any lessons picked that other footballers can borrow a leaf from?
The only thing is hard work. European football is really tough. You have to really work hard and people back in the country sometimes think it's easy when you come to Europe.
Its actually Much more difficult because there's more competition. Every place has more than 3 players fighting for the same place you are in. Hard work is there. And when you're back in your country you have to work twice harder to come back to Europe.
Besides working hard, I had a great life as well because they look after you after football. Dedication is key when it comes to football.
Most observers felt your decision to retire as a footballer was rushed. Was it a well-planned decision?
Am 36 years right now and for me, for sure football has been my job you know, but at the end of the day I think there's time where you know that you don't have the strength. I was quite a powerful player and you know when you loose the that power in space in the game, most of the time young strikers can just pass you with the ball and that is a feeling I didn't like, that's why I thought it was the right time for me to retire.
Who is your favorite player right now?
To be honest Kevin De Bruyne is my favorite player right now. he is having a great game and I really fancy him. His passing is just amazing.
You had a chance to assess the Chan tournament. Judging from what you experienced, where do you see African football?
African football is in good place to be honest. we have players that have had great talent and players that ply their football in Europe.