'Love your parents and treat them with care. For you will only know their value when you see their empty chair,' one man anonymously quoted.
While many of us have our parents to our disposal, that we could even be chocked by their ever presence, a group of children have just hours each year to get the feeling of what it means to have a parent, some have been born in their parents' absence and their few hours' annual meeting is wasted on introducing each other.
The life of having your parents very close to you, but indeed so far away. The life of having a timer on access to your parents, living in a very populated world but yet so empty.
Children of prisoners on death row and those serving long jail term sentences shared with Nile Post's Nelson Bwire Kapo and Irene Namajja on how they are coping with a life of having a parent but have to seek permission to meet them.
At a distant glance, these children seem to be happy, copping with their own lives, and budding with hope. They have ambiguous dreams just like any other child out there and one thing they do not miss at least is a smile.
However, a closer interaction with a few reveals hearts broken into smithereens, tears buried in innocence and juvenile ignorance of incidents beyond them yet an impact they cannot outlive on their own. The rhetoric of their stories and their parents' absence has not yet sunk in.
Brenda, Resty and Joseph (not real names) were so excited when told we were coming to visit them at Wells of Hope, a mission school that looks after children of prisoners on death row and maximum sentences. The animated trio, came running, beaming with smiles and could not wait to share their stories.
"Whom should we talk to first?" we asked in unison, and each one wanted to go first, but then we zeroed down on Brenda in a secret mental ballot of sorts, for she looked a little older than the rest, it was not hard starting out with her.
She started; "I came here in 2013 in primary four, I only got to know my father had been arrested when I was 10 years."
Brenda is now 14 years old and in primary seven, her father was thrown into cells before her birth and at a tender age of only three months, her mother decamped to an unknown place, leaving the little Brenda at the mercy of her grandmother, a peasant.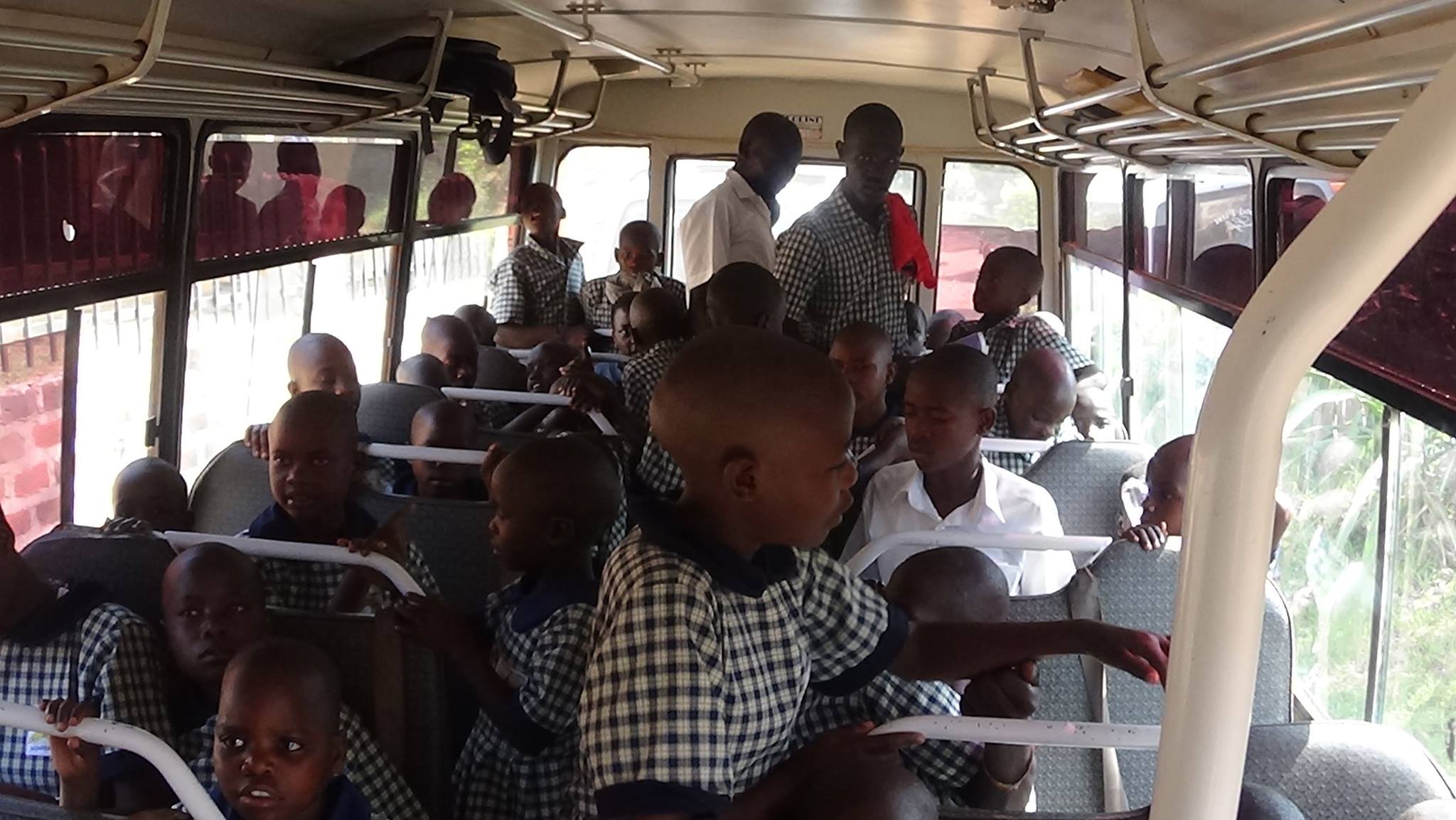 When Brenda was nine years old, she was adopted to the Wells of Hope in what she saw as a flicker of happiness. However, the light at the end of the tunnel for Brenda was switched off before she would even peep, when her father passed on in prison in 2016 just when the two had met only a couple of times.
"By the time he died, I really felt bad, up to now, it is still paining. He had told me he was supposed to come out of jail in 2019. For the few times I had met him, he would tell me to chase my dreams, to study hard, he promised me a big gift should I become number one in class," Brenda says.
She said that for the first time, she failed to be number one in class and on their second meeting she asked her father what would happen if she failed to get to the first position and her father replied; "Okay, become number two and you will have the gift."
In her innocence, she asked her father bluntly where he would get a gift yet he does not work, but the convict father answered just like any parent; "Whatever my child wants, I will fight hard to avail."
Brenda tripled efforts with the gift in mind and there she snatched the second position……but there was no gift……and there was no father, he passed on in jail, a few days before he could hand over the gift.
"They called at school and told me my dad had died, I could not believe it until I reached the body, then it all dawned on me that I would never get the gift, I felt really bad," Brenda narrates and with those words, breaks down uncontrollably.
At this time, we look at each other like we left the solution home, Brenda took minutes pouring tears and we could hear her fight hard to return to the microphone, but her heart was too weak for the comeback, the more she raised her head to start afresh, the more she was haunted by this grief she could not touch or seem to find solution for. We blamed our selves for starting the conversation and wished we could end it right there…
But Brenda has learned the hard way, she must have come to terms that there are certain things she can not change, with tissue that Irene had given her to wipe her cloud of tears, she returned to speak.
"My mum left us when my father was arrested, she left me with our grandmother who is a peasant, she could not be of help because she really needed more help than us."
"Dad had told me that he would come out of jail in 2019, I had never asked what he had done to be in prison, and no one ever told me what he did. But I have a message to the government, they should learn to forgive the prisoners," she said.
Brenda has become a child of the organisation, she has no feeling of what it means to have parents and to be accountable to them. She has no idea what it means to be born in a home and growing up with your own people. She says from her father's death, her father and mother is Wells of Hope.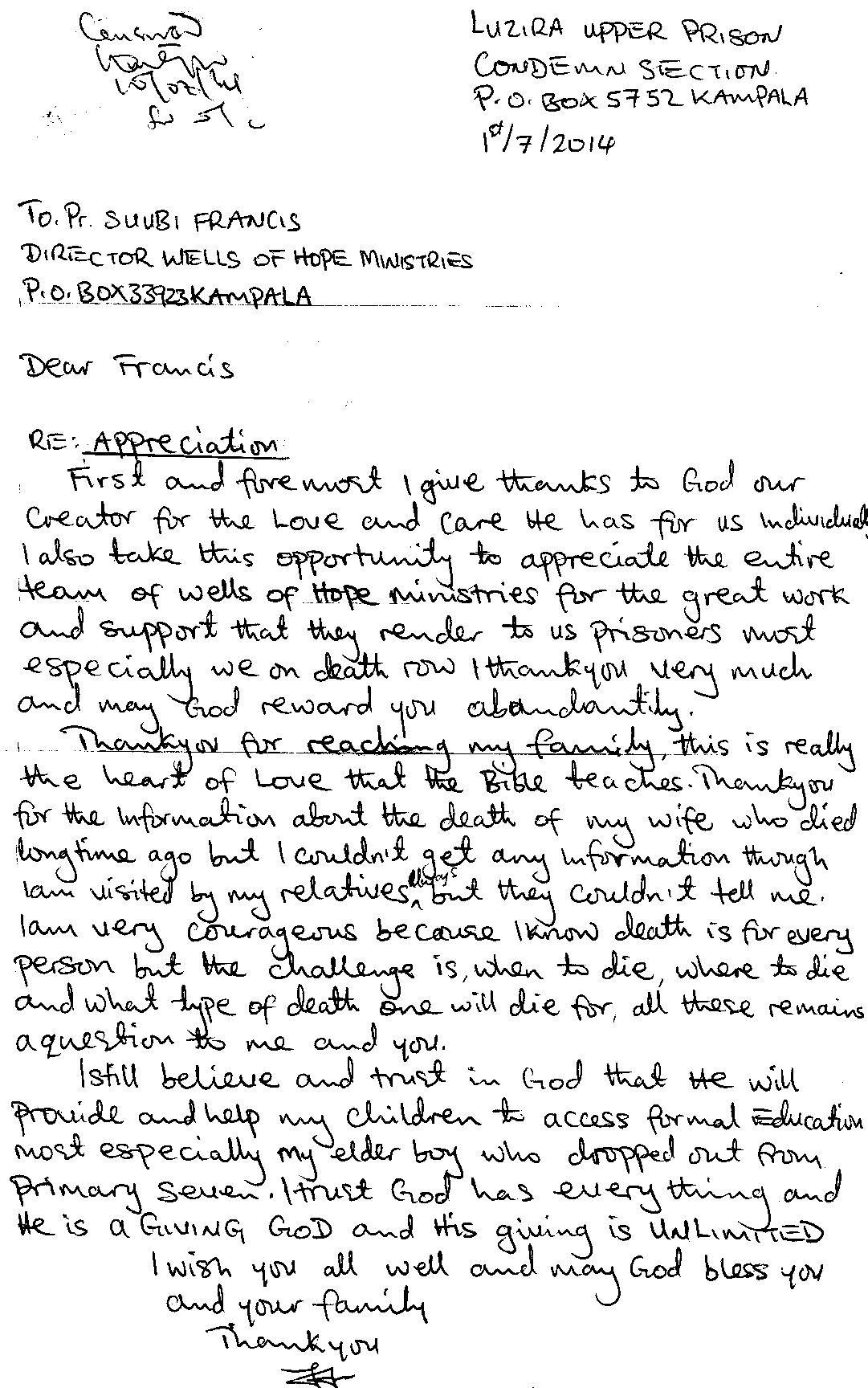 However, Brenda still wants to believe that her mother is still around and will hear her cry one day and return to scoop her from this muddle and just like her guardians today, she is hopeful that love persists and is patient.
"I ask my mother wherever she is to come back, I love her and want to have her in my life," she says with resolve.
As we wind up our interview, she stands up to leave for class, she smiles to her colleagues that we are yet to interview as if to tell them; "Forget the tears, I am fine, all is good." They also smile back and there we see her strength, for a child to find strength in her fellow children, is just not as bad, but pitiful.
She decides not to walk back to class, but wait for Resty who now takes over the seat and faces Irene for her story.
Resty's story will be published on Sunday 25th.
In case you want to help Brenda : Call 041 4661923 or email: [email protected]