A report by Forbes has ranked Ugandan prisons as the sixth crowded in the entire world with an occupancy level of 293.2 percent.
Quoting the World Prison Brief, an online database for information about prison systems throughout the world, Forbes in their report dated January 26, 2018 says Uganda's prisons have a total population of 54059 inmates, including those on remand as of October 2017.
According to the World Prison Brief, female prisoners are at 4.4 percent, whereas juveniles (below 18) are at zero percent in Ugandan prisons.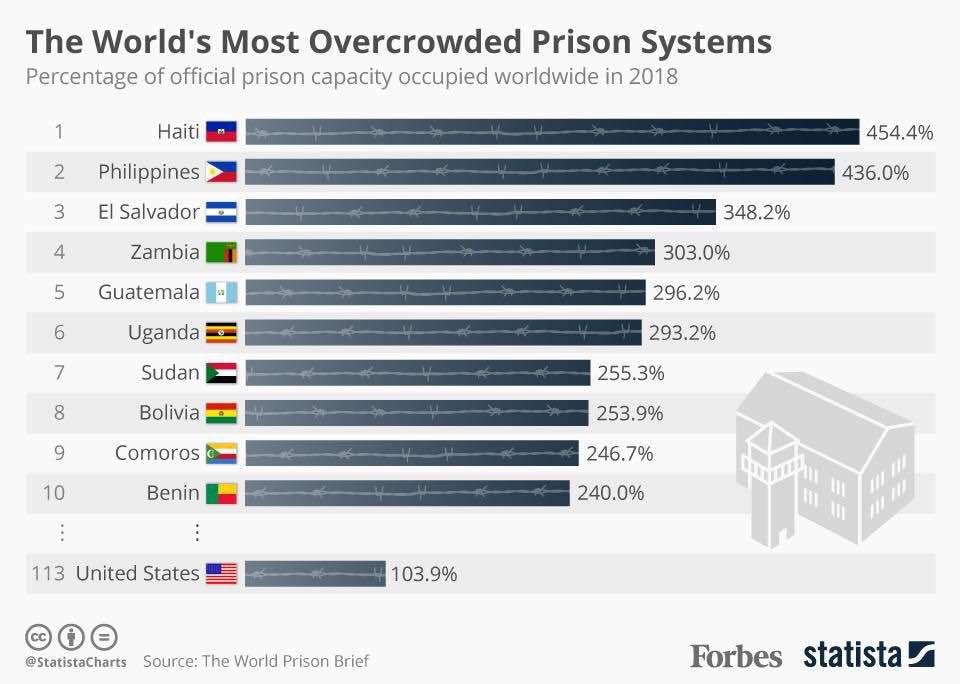 The report also says that for every 100, 000 people in Uganda, 129 are prisoners basing on the total country population of 41.99 million according to the United Nations.
Prisons in Haiti are the most crowded according to the report at 454.4% occupancy level, followed by Philippines, El Salvador.
On the African continent, Zambia's prisons rank number one at 303%, followed by Uganda, Sudan, Comoros and Benin respectively.
When contacted, Uganda Prisons spokesperson Frank Baine told this website that he could not comment on the report because he has not yet read it.
https://nilepost.co.ug/2018/01/31/kirumira-steps-down-as-dpc-exits-police-force-over-tramped-charges/
Asked on some of the possible causes of the crowded population in Uganda's prisons, Baine said that there is no direction correlation between the housing facilities and the number of prison population.
"As the housing capacity in prisons is increasing by 2.5 percent, the population growth for the inmates is on the other side increasing by 10 percent every year,"Baine told this website.
He however noted that the congestion problem is not only limited to prisons but also in schools, hospitals and other institutions.
Uganda has a total of two hundred sixty prisons countrywide and are managed by the Uganda Prisons Services.