President Yoweri Museveni, who is also the National Chairman of the National Resistance Movement (NRM) has revealed that his wife and Minister of Education, Janet Museveni almost made him hate his life while she was legislator for Ruhama County.
Museveni made the comments at political rallies in the sub-counties of Nyakyera, Rukoni East, Ruhaama and Ntungamo in Ruhaama county Ntungamo district while campaigning for the National Resistance Movement flag bearer Mr. Moses Kahima.
He reminded Movement supporters in Ruhaama that by supporting non Movement candidates to represent them in parliament in a Movement led government and a Movement dominated parliament, the people of Ruhaama will be doing themselves a disservice.
The President therefore asked the Movement people not to waste their vote by electing independents or non NRM members to parliament noting that because they will not be part of the NRM caucus where most decisions are made and the they will not be effective representatives of constituencies like Ruhaama that is dominantly Movement.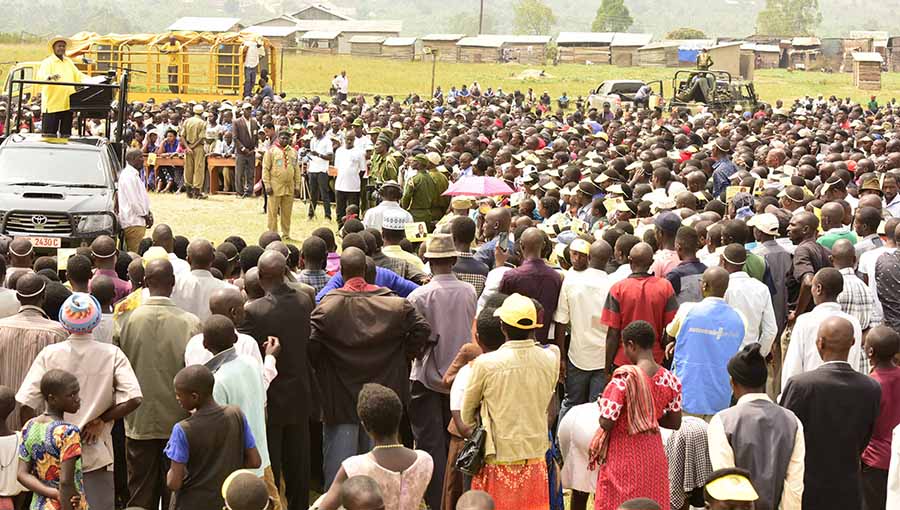 He then made revelation that Ruhama made the right decision sending him Janet Museveni as Member of Parliament in 2006.
"I don't know where you got this old woman from (referring to Janet Museveni). She now became a problem to me over Ntungamo- Mirama hills road. I almost went to Butabika over this woman. I almost went mad, she was a big problem," Museveni said.
Museveni said that his wife would even remind him about the road while they were at the dining table. He confessed that Janet used every chance they were together to remind him of services for Ruhama.
"Ruhaama county gained much more in terms of development during the tenure of Mrs. Janet Museveni because she was an NRM member of parliament and very close to the system who could easily lobby for her constituency and I want you to vote for Mr. Kahima the NRM candidate to cement the gains of the constituency and even lobby for more" he added.
He used the same opportunity to call upon residents to shun independent candidates.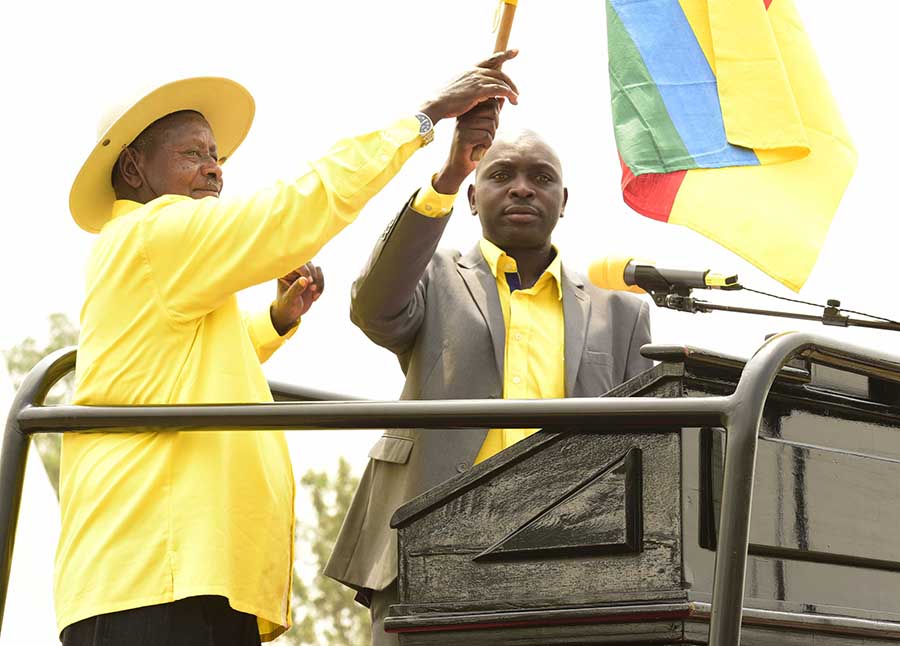 "The strength of your Member of Parliament is delivered from the party and so by electing independents you will be spoiling our party politics. I want to urge the independents to stand down because Uganda is not ending tomorrow and the Movement is still in leadership and their turn will come," he said.
On his part the Movement flag bearer Mr. Kahima Moses Mugabe promised the President and the people of Ruhaama that he will at all times stand and defend the National Resistance Movement principles and ideals. He said that he has a great historical connection with the National Resistance Movement and assured them that he was to deliver to promise. He thanked the President, Mrs. Janet Museveni who is the NRM Chairperson for Ntungamo district for the support rendered to him during the campaign period.
The seat fell vacant following the death of William Zinkuratire last year. Meanwhile only the NRM managed to field a candidate, the other three; Dr Peninah Beinomugisha Jambo, Eng Jackson Kabikire Mubangizi and Ms Vastine Orishaba, all on the independent ticket.