A group of six civil society organizations have tasked President Museveni to arrest his Sudan counterpart Omar El Bashir who is on a two –day visit to Uganda.
The International Criminal Court in 2009 and 2010 issued two arrest warrants for Bashir over five counts of crimes against humanity including murder, extermination, torture and rape allegedly committed between 2003 and 2008 in the Darfur region.
Bashir who on Monday afternoon arrived in Uganda for a two- day visit on the invitation of president Museveni was treated to a red –carpet welcome before being accorded a 21-gun salute.
However according to six CSOs including Human Rights Network Uganda, Uganda Coalition for the International Court, International Centre for Transitional Justice, Avocats Sans Frontieres, Atrocities Watch and Foundation for Justice and Development Initiative it is alarming for Uganda to host an individual wanted by the ICC to answer a number of charges in relation to human degradation.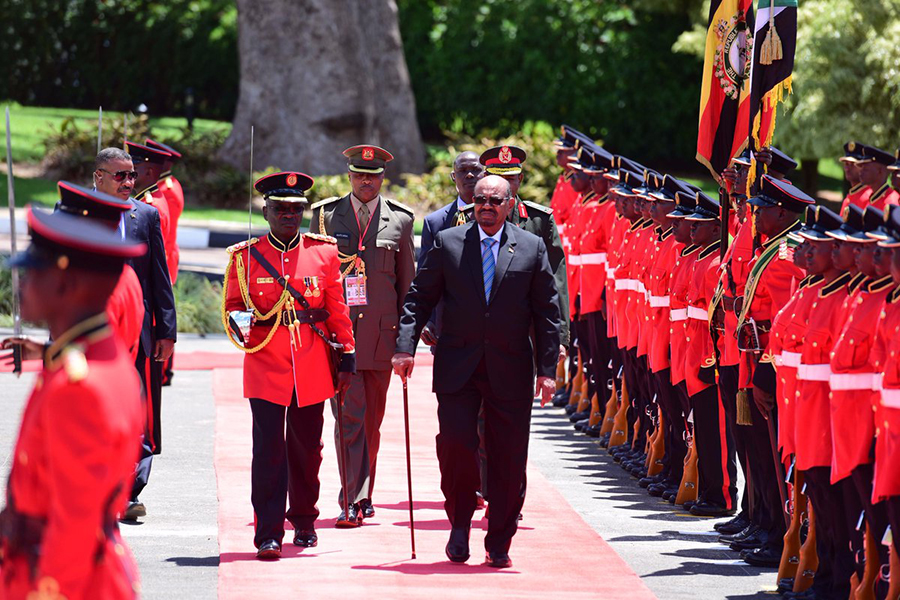 "As a party to the Rome Statute, Uganda has an unequivocal obligation to cooperate with ICC in relation to enforcement of warrants of arrest issued against Omar Bashir," Hurinet coordinator Muhammad Ndifuna told journalists on Monday afternoon in Kampala.
The Civil Society Organizations blame President Museveni for failure to cause the arrest of his Sudan counterpart when he attended the former's inauguration in May last year.
"The Pretrial chamber of the ICC found Uganda to have failed to comply with its duty to arrest and surrender Bashir in accordance to the Rome Statute."
The CSOs claim that the pretrial chamber will soon decide Uganda's fate for failure to arrest Bashir while in their territory. They claim that Uganda has an obligation under the Constitutive Act of the African Union to fight impunity on top of arresting and surrender persons who may have committed serious crimes.
"Inviting an international criminal suspect to Uganda not only undermines the fight against impunity which Uganda has for long championed but also betrays the concerns and interests of the victim of the most heinous crimes."
President Museveni last year blasted The Hague based International Criminal Court as a bunch of useless fellows.
"Our Brother El Bashir is here with us today. The ICC is none of our business. It is a useless body. We used to support the ICC thinking they were serious but they are just a bunch of useless people,"Museveni said during his inauguration ceremony at Kololo independence grounds in May last year.