On a number of occasions, the top UPDF leadership and Ministry of Defence and Veterans Affairs, had received complaints that someone in the names of Frank Gashumba was impersonating them to fleece investors huge sums of money.
He would purport to be working as the Permanent Secretary for the ministry to con various people from Uganda and foreign investors.
According to the Ministry of Defence deputy spokesperson, Lt.Col Deo Akiiki, the photo of Gashumba donning a Rwandese military fatigue would be used to fleece investors whom he duped that he was  working for UPDF.
In what was their last deal, Gashumba together with one Nasser Mukungu and Innocent Kasumba planned to fleece an investor guising as officials from Ministry of defence.
"Under the cover of a company named Flagship group purported to be contracted by MODVA for out sourcing, they had invited the investors to Golden Tulip Hotel in Nakasero for a meeting over a purported deal to supply UPDF with hundreds of Military Trucks,"Lt.Col Akiiki told journalists on Tuesday.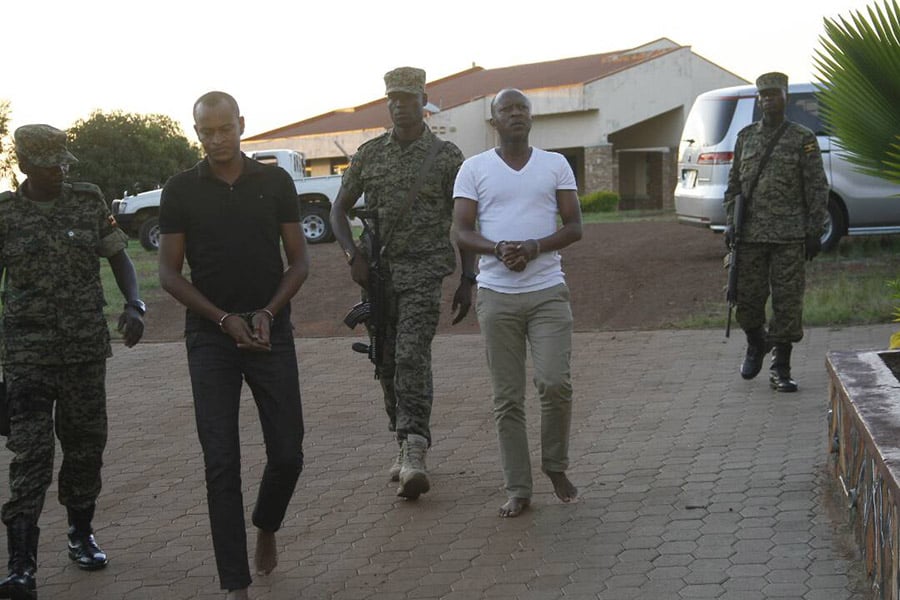 JATT operatives raided the venue for the meeting with the investors but only Mukungu and Kasumba were present. Mukungu was arrested whereas Kasumba took off prompting the Chieftaincy of Military Intelligence to mount a search for the latter.
Meanwhile, on Saturday, Innocent Kasumba was also arrested before being detained at the Special Investigations Unit in Kireka according to Lt.Col.Akiiki but would be taken to CMI headquarters in Mbuya for interrogation.
As luck would have it, Gashumba turned up to follow up on the case of his brother but he was apprehended by operatives for interrogation. On mounting searches at his home and office, a number of documents including multiple passports were discovered.
Among the documents were two passports bearing his photos but in the names of Gashumba Franco Malingumu(no B0958085) and Ssenyondo Frank Disans(no. B0892687).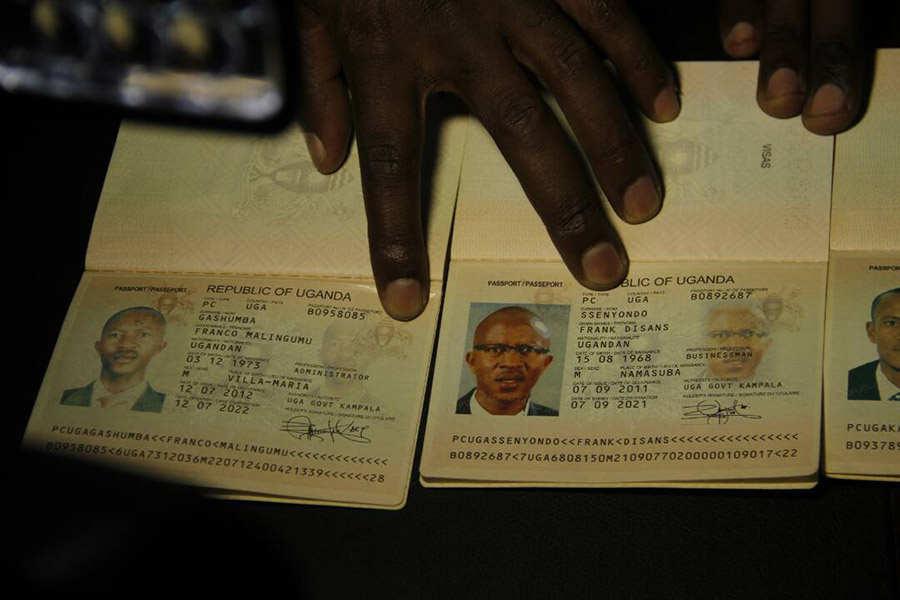 The passport under the names Gashumba Franco Malingumu indicated that he was born in 1973 at Villa Maria in Masaka and that he was an administrator. The passport indicated that it had been issued in 2012. The second passport under the names of Ssenyondo Frank Disans indicated that the holder with Gashumba's photo was born in 1968 at Namasuba in Kampala district and was a businessman.
The passport had been issued in 2011. Among some of the documents that this website was able to peep through was one where Gashumba and his co-accused were to be paid over twelve million dollars from a certain deal to have some items supplied to the army.
The arrest will however raise a number of questions from members of the public especially from Gashumba's followers in regards to the arrest of their icon. Many have since taken to social media claiming that government has planted evidence in a bid to have Gashumba, a renown government critic to implicated.
However, according to the Deputy UPDF spokesperson, the army through CMI is still investigating Gashumba and the outcome of the investigations would determine whether the businessman would be charged by the army court .