The Ministry of Defence has cleared the air on the arrest of outspoken government critic and city businessman Frank Gashumba.
Gashumba was arrested on Monday night and detained by the Chieftaincy of Military Intelligence.
Addressing a news conference on Tuesday evening at the Ministry of Defence headquarters in Mbuya, the UPDF deputy spokesperson Lt.Deo Akiiki explained that following a tip off, CMI operatives intercepted a deal in which Gashumba was about to fleece an investor of huge sums of money.
"Under the cover of a company named Flagship group purported to be contract by the Ministry of Defence for out sourcing, Gashumba and two others had invited investors to Golden Tulip hotel in Nakasero for a meeting over a deal to supply UPDF with hundreds of military trucks,"Lt.Akiiki told journalists.
According to the Ministry of Defence and UPDF spokesperson, one Nasser Mukungu was arrested by JATT operatives at the scene whereas one Innocent Kasumba also known as Simon Mutabaazi escaped the arrest.
Lt.Akiiki explained that on Saturday, Kasumba, who happens to be a brother to Frank Gashumba was arrested and a search was conducted at his house discovering a number of items. Among the items he was found with included two passports with separate identities.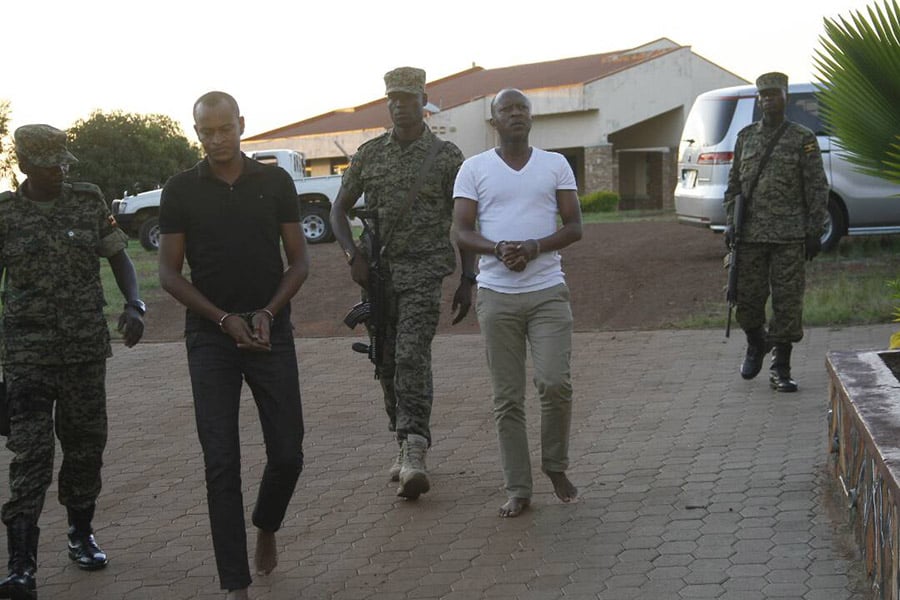 Gashumba arrest
The UPDF spokesperson said that as luck would have it, Gashumba showed up at CMI together with his lawyer in a bid to seek release for his brother he too was arrested.
On arrest, CMI operatives asked him to lead them to his house where a number of documents were recovered. Among the items shown to journalists that had been found in Gashumba's house and his office included passports with his photos but in separate names.
In one passport he was identified as Gashumba Franco Malimungu whereas the other one was in the names of Ssenyondo Frank Dissans.
"We also found him with marijuana and cocaine in his possession, a number of stamps belonging to the ministries of defence and agriculture, stamps from Stanbic bank and office of the South Sudan president among others,"Lt.Akiiki said.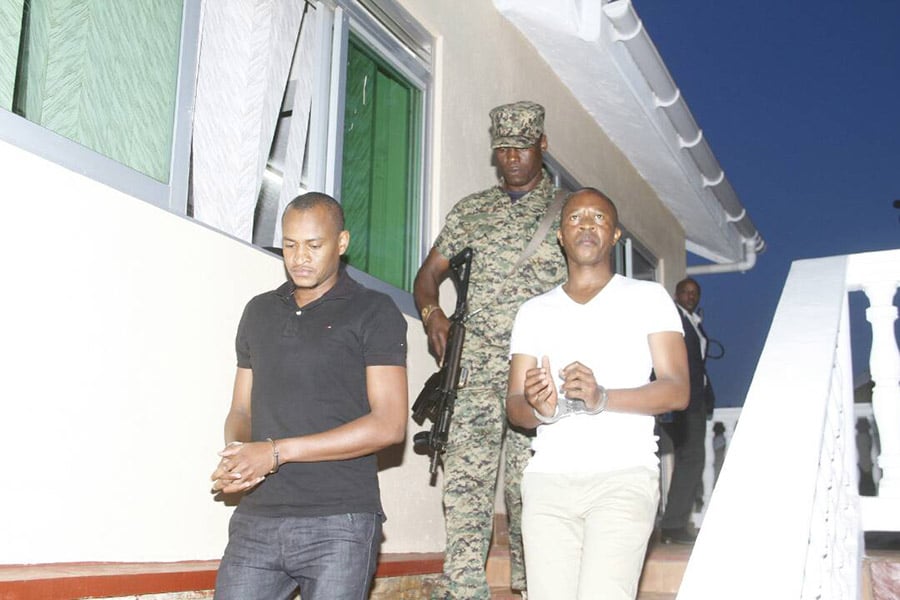 In one document that this website was shown included a deal in which Gashumba and his group would bag over twelve million dollars in a deal. To be charged in court martial Asked on the fate of the flamboyant businessman, the UPDF spokesperson said investigations would reveal the next course of action.
"Investigations will show whether to take him to the court martial or any other court but most of the items he was arrested with have a connection with the Ministry of Defence," he added.
He said that the suspects are currently detained at the Special Investigations Unit in Kireka.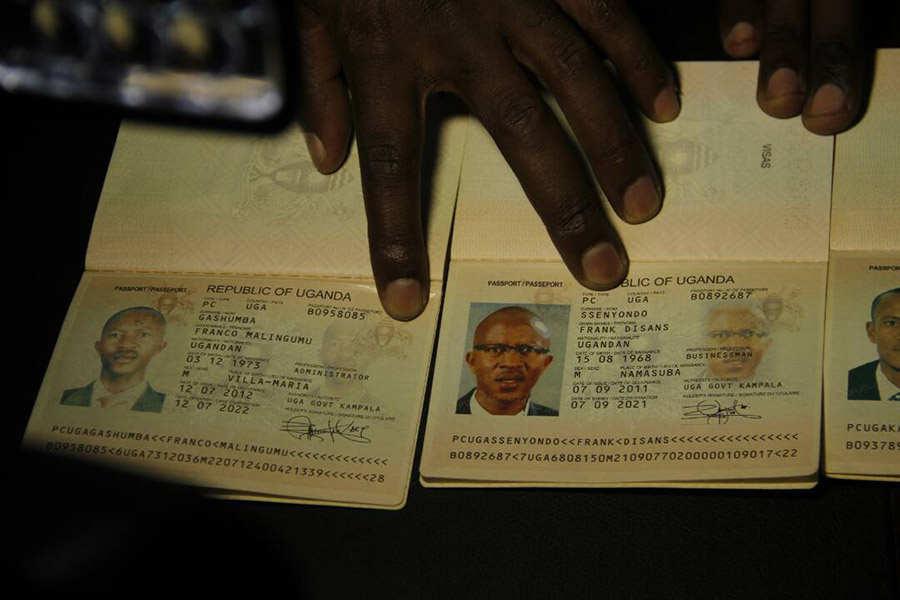 At around 6;30pm, a white double cabin vehicle with Ministry of Defence number plates arrived at Mbuya. Two muscular UPDF officers holding rifle weapons jumped out before taking position in a bid to secure the place. One of them would later open the hind door of the double cabin for a brown skinned gentleman in a white t.shirt jumped out and walked on bare feet with handcuffs on his hands..
This was the always flamboyant and vocal Frank Gashumba who was later followed by his brother and led to the press boardroom of the ministry of defence. At one moment, he tried to hesitate but the muscular UPDF officers forced him to walk.