Additional reporting by Farish Magembe
Ishaka Adventist Nursing School School in Bushenyi has suspended two members of staff  video-recorded caning three students after the videos were shared on social media.
In the videos,  the two including the institute Deputy Principal Lutakoba Joab and principal instructor Isaac Friday are seen canning three students as punishment for wrongs committed by the three students.
In a press release, Ishaka Adventist Hospital under which the nursing school falls, say, "One student who is a first year student, was allocated on the Ward for night duty. At around 10:00pm, she disappeared from the Ward without permission and went to the Boy's dormitory, where she spent the night."
The release goes on to explain that after completing her suspension, her mother pleaded with the school not to expel her and instead compromised on caning her before fellow students as a "lesson."
The second student who is in her first year spent a week away from the school without permission. Her father consented to her being canned instead of expulsion.
The three students have been identified at Edison Nabaasa, Rebecca Mbabazi and Rogers Kale.
One of the students Rebecca Mbabazi, however, challenged the version of events narrated in the release. She claims that, ".I was working during the night shift, but because I was not feeling well, I went and rested for two hours. Efforts to explain to the tutors why I was off duty fell on deaf ears."
Rebecca Mbabazi is the lady seen being beaten twice in the video, by her mother and later the Deputy Principal Joab Lutakoba.
Edison Nabaasa and Rogers Kale where however beaten for trespassing.
The nursing school's senior administrator Lydia Kyomugisha confirmed that the institute has since suspended the tutors.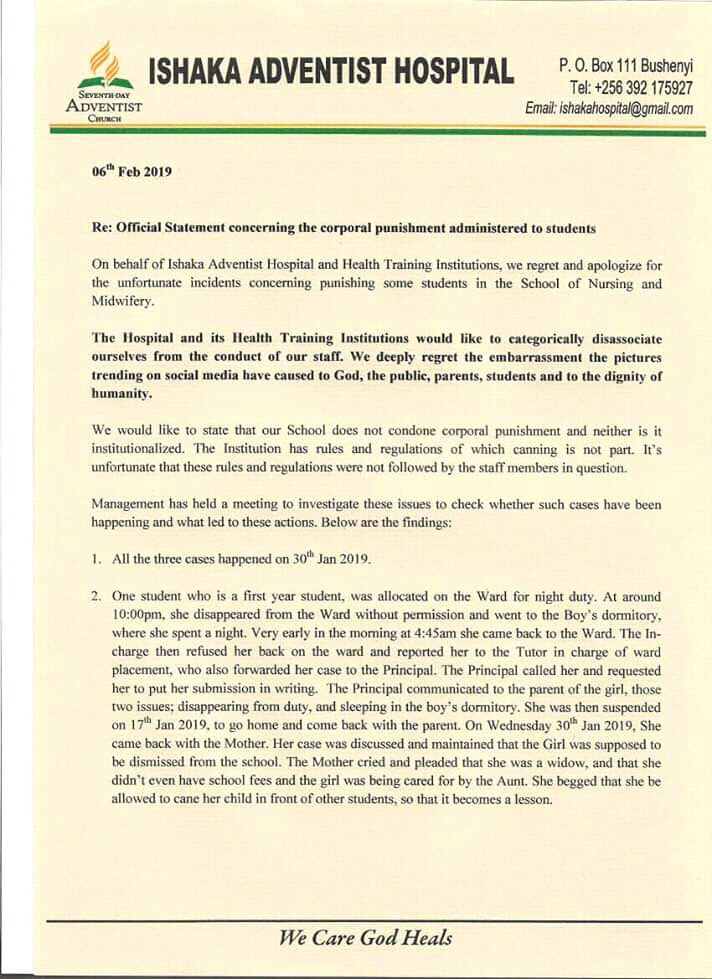 She went on to add that, "Our school does not condone corporal punishment and neither is it institutionalised. The institution has rules and regulations of which canning is not part. It's unfortunate that these rules and regulations were not followed by the staff members in question."
The senior administrator Kyomugisha added that the school had identified a top city pyschologist counsel the students after the unfortunate incident.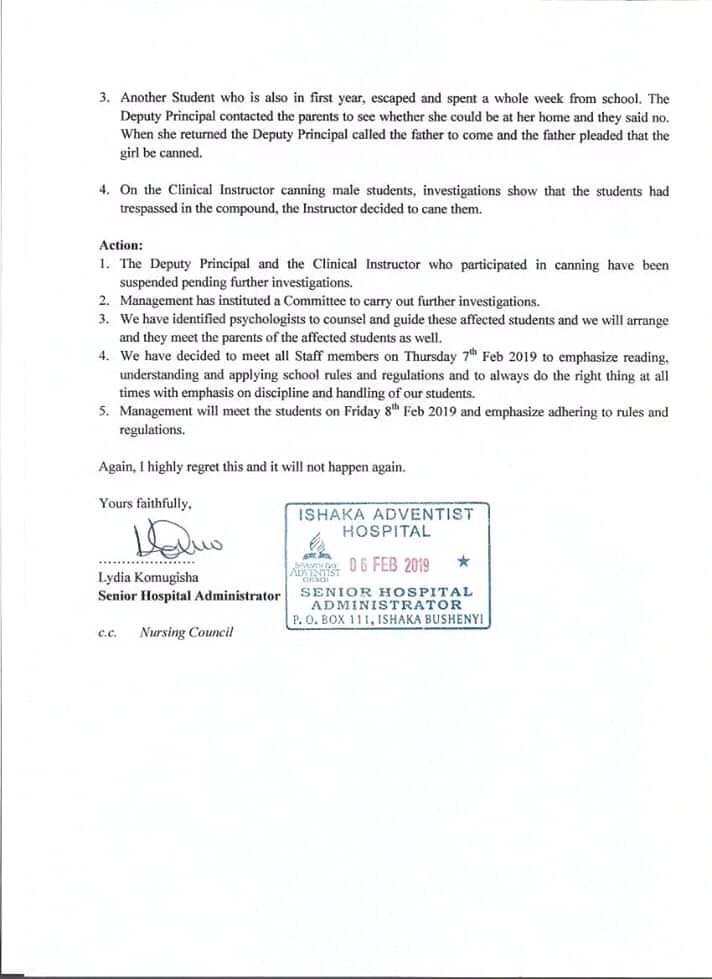 Mbabazi said that though she was embarrassed, she is coping well. She said that she was unaware the videos had been shared on social media. She reasoned that maybe only through exposure on social media could the practice be discouraged and stopped in the school.
Efforts to reach the suspended nursing school staff were fruitless as they declined to respond on their known phone numbers.
In a letter seen by Nile Post, the school has written to the Permanent Secretary Minsitry of Education Alex Kakooza on the matter and awaits his response on the way forward.
Uganda banned the use of corporal punishment in 2016, but these continue to reported raising concerns on whether government follows on implementation of the ban.