The current rain torrents swept the Kangole Bridge, cutting off Karamoja from the rest of the country just yesterday, now the same rains are threatening to cut off Uganda from the rest of the world.
This comes after the only airport, Entebbe International Airport flooded, worrying passengers and the country at large about the state of the facility.
Pictures started circulating on social media showing areas around the arrival lounge submerged in floods and deserted.
Civil Aviation Authority(CAA) confirmed that the airport had indeed flooded but dismissed reports that the passengers should worry over the state of the airport.
MAK don in leaked photo allegedly assaulting student suspended
According to CAA's Public Affairs manager Vianney Luggya, the flooding was a result of the ongoing construction works that ensured a blockage in drainage system. He however said it was a temporary matter that would be resolved soonest.
"It was a temporary situation at the bank offices area facing the landslide near the on-going works area. A partially blocked drainage led to it," Luggya told Nile Post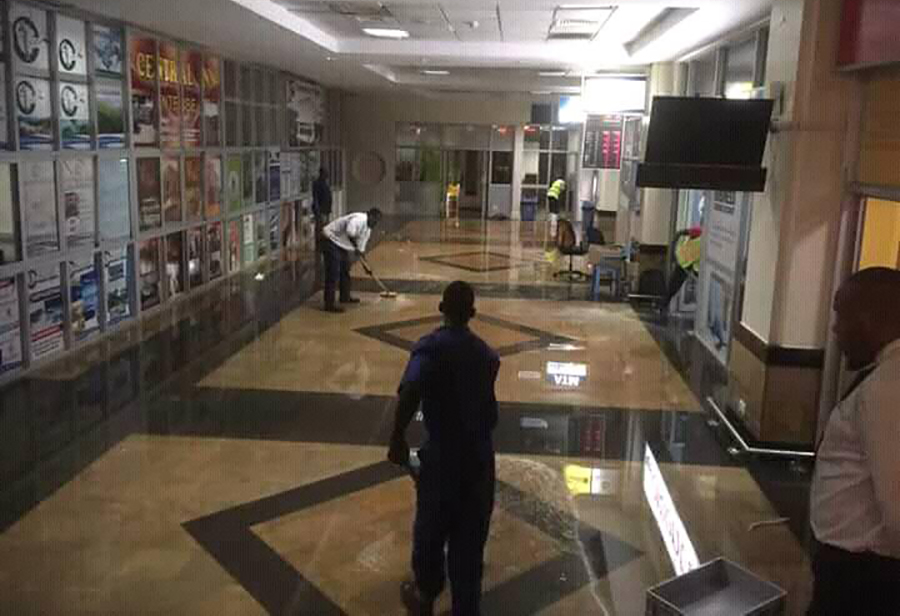 "This is outside the passenger movement areas," Luggya added.
Entebbe International Airport is undergoing upgrade and expansion in order to cope with the growing demands and offer better facilities to users.
The upgrade and expansion of the Airport is a design and build project to be implemented in a phased approach over a 5 Year span.
The Minister of Works and Transport, Monica Azuba Ntege while touring the site last year said the progress on the project was about 28 percent.
Azuba said the project aims at increasing more arrivals, cargos and will boost the country economically in areas such as tourism.
Among things the project intends to achieve include;
Establishment of a new cargo centre complex (10,000m2, capacity of 100,000 tons),
Construction of a New Passenger Terminal Complex (20,000m2)
Strengthening of existing Apron 4,
Strengthening of existing Runway 17/35 and its associated taxiways,
Strengthening of existing Runway 12/30 and its associated taxiways,
Expansion and strengthening of Apron 1 (Expansion of 6 code C parking stands),
Rehabilitation of Apron 2,
On-site water supply system,
Fire water system (excluding works on Aprons) and its associated facilities.
Besigye's son starts protest against police brutality towards blacks in USA