KEMIYONDO COUNTINHO is a writer, actor and director. Her first short film 'Kyenvu' a Luganda word for yellow, won the best short narrative at the Pan African Film Festival in LA last month. She spoke to Brenda Ibarah about her experience as a first time filmmaker and why women's stories need to be told.
Congratulations on your PAFF win for Kyenvu. How did you feel, it being your very first film?
You know I had a huge case of maalo (village excitement)! I had never been to these ceremonies so I assumed there was one prize.
They had announced the programmer's award and I thought that was the only award for Short Films. So when I didn't get it, I texted my friends and told them "thank you for praying, I didn't get the award but I still feel so grateful to have been in this room."
I never understood that saying, "I am just grateful to be nominated" but it is true, the nomination feels like a win already.
So I was happily sitting there then they announce Kyenvu, but because they are pronouncing it in English they say KEE-YEN-VOO. So I didn't realize it was mine because I was texting someone at that moment, then the director next to me was like "girl, isn't that you?!" It felt amazing. Watching the film on a big screen for the first time felt surreal.  Winning the award set ablaze this already fire-filled belly to keep creating. I shoot my next Short Film next month!!
What is Kyenvu about and why is the story necessary?
"An independent young woman lives through the taunts of using public transport on a daily basis. As she struggles to find her footing in a patriarchal society that entitles men to women's bodies, she finds love in a bitter sweet moment."
Stories are necessary for others to see that they are living in them. We don't get to watch ourselves in our daily lives. My hope is that we watch Kyenvu and see ourselves in the story and find ways to change the ending in our own lives.
What was the inspiration behind Kyenvu?
The Anti-Pornography Act was set in Uganda in 2014. Parliament passed it into law, which blamed pornography for the sexual crimes committed against women and children. The law, at its introductory stage had a clause prohibiting women from wearing the mini skirt, hence the media label "mini skirt bill." However, when the final bill was passed, it held no clause on the banning of the mini skirt. The media, who had picked the nickname, failed to inform the public that that particular clause was struck out.
The 'miniskirt ban' was being loosely interpreted by mobs as an excuse to target and strip women thought to be improperly dressed. This was the driving force behind Kyenvu.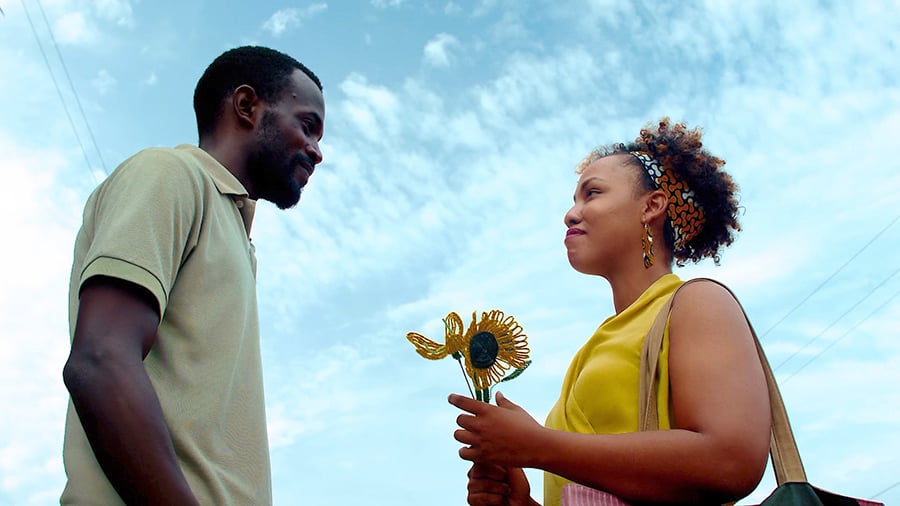 Are there any personal experiences that influenced your decision to make the film?
At 13, I was pulled into a taxi. The taxis to Bbunga had changed their stop from clock tower Shoprite to the taxi park. I was asking around and this man pretended to help me but ended up trying to drag me into a taxi. I screamed and a police man helped me. I should add he also proceeded to laugh at me with tears streaming down my face.
What was the process of making Kyenvu? How long did it take?
 A lot of asking around! I only knew Isaac Oboth who was meant to be the director at the time. He introduced me to everyone on that set. I simply asked for the best of everyone in the field. I wanted Kyenvu to be a professional business card for Uganda's film industry.
It took long! But mainly because all the people working on it do many things. When you are not being paid for a job, it always takes the backseat to paying clients. That said, I think the time we took with it shows.
What challenges did you face as a first time filmmaker?
I was actually freed by being a first time filmmaker. I knew nothing so I couldn't expect anything. I trusted my crew entirely because I had to. I have made a conscious decision to work like that in everything I do. Hire the crew you want, then trust them like you don't know anything.
What elements are important to you when portraying women in film?
 A full story. A real person. Not the perfect feminist. Not the ideal woman. Someone with real flaws and strengths that we can recognise in ourselves.
Women are taking up their rightful places in Hollywood and their voices are finally starting to be heard. Do you think that will happen in Uganda or Africa eventually?
The loudness of a voice is directly related to where you are in the social hierarchy. Straight White men's voices are LOUD.  They whisper and the whole world listens. A gay woman of colour yells and the world has to get a hearing aid to hear her complaints.
Look at who Hollywood is listening to and you will see where they are on that social hierarchy. Not all women's voices are heard. They are still going down that ladder. So yes, I can only hope, eventually that will happen. But what I can do right now is to put those voices on a megaphone and yell them out so we start listening.
What characters or stories would you like to see in Ugandan film and TV that you have not seen yet?
I would love to see a TV show that is done well. Good writing & direction especially. We have great production value and the actors I have worked with are amazing, I think with some good writing (with a proper writers room) and direction that favours actors, we would have some great content.  I just love a good story that is told well. It could be about your rolex guy or the woman who sells you airtime or the slay queen you met the other day, it doesn't matter.
Filmmaking has traditionally been a boy's club but all that is changing. What advice would you offer women interested in filmmaking?
Don't wait to be perfect. Don't wait for the right budget. Use what you have and do it. That is the difference between women and men, we thrive in situations that are not favourable. As a black woman society has not favoured you and yet here you are, thriving. So why not now? Go ahead and thrive sis!
 By Brenda Ibarah
twitter @brendaibarah