9.47 PM: FDC's Paul Mwiru was on Thursday night declared the new MP for Jinja East MP by the Electoral Commission. Mwiru scored 6654 votes while his closest challenger, NRM's Igeme Nabeta scored 5043 votes. Mwiru was declared winner at 9.46 PM
Mwiru thanked God saying the will of the people of Jinja East had prevailed. He dedicated the win to his supporters who were imprisoned on polling day.
9.30PM: With about 30 out of 47 polling stations declaring results so far, Mwiru's lead over Nabeta is at least 1600 votes. However, more results are still streaming in and the EC shall announce the final results.
9.00 PM: Results from a polling station in Masese show that Nabeta has 122 votes while Mwiru has 107 votes
8.58 PM: FDC's Paul Mwiru is contesting the way the results are being transmitted. He wants envelopes to be opened in the presence of all officials.
8.53 PM: Tallying of results is officially underway at Busoga Square. NRM officials not yet in tally centre. FDC leaders led by party president, Patrick Amuriat are already in tally centre.
8.30 PM: Provisional results so far indicate that FDC's Paul Mwiru is still leading in the Jinja East polls. At least results from 20 polling stations out of 47 have declared results. However, the final results will be announced by the Electoral Commission.
16:50pm: Vote counting underway in Jinja East by-elections.
MainStreet polling center
A-L station
Paul Mwiru – 233
Nathan Nabeta – 134

M-F station
Mwiru – 77
Nabeta – 47

N-Z station
Mwiru- 177
Nabeta – 149
____

Kisima island 1
Mwiru – 95
Nabeta 111

Kisima 2
Mwiru – 79
Nabeta – 39

Nabitoke
Mwiru – 29
Nabeta – 33#NBSOnJinja
17:30pm: Scenes at Jinja Main Street as vote counting is concluded at the polling stations around.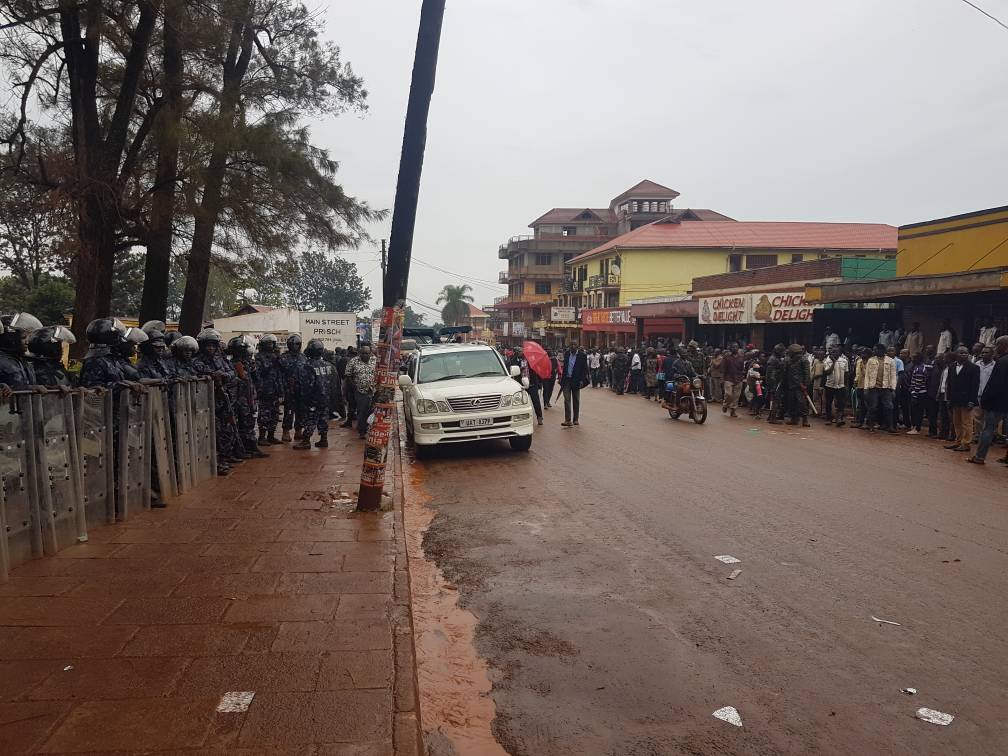 Audio Player
Voters in Jinja East go to polls to elect a member of Parliament following the nullification of NRM's Igeme Nabeta's victory by the court of Appeal. The constituency has 28,000 voters and 47 polling station.
Voting starts at 7.00AM and ends at 5.00PM
It is basically a two horse race between Nabeta and FDC's Paul Mwiru.
The campaigns have been largely peaceful although this week, there were reports of incidents of violence and arrests.
The Nile Post shall keep you updated as events unfold.
UPDATES
7.46 AM: Polling stations have opened but not many voters are streaming in because of bad weather
7.50: Crispy Kaheru, the coordinator for Citizens Coalition for Electoral Democracy (CCEDU) says so far that the situation is calm.
Audio
Audio Player
11:00am: 8000 preticked ballots discovered in Jinja, they all had Igeme Nathan Nabeta ticked ahead of his contender FDC's Paul Miwru.
11:03am.  At Main Street Primary school, Jinja town. Polling commences after 8am.
4 polling stations are gazetted at this school. However, a 5th polling station had earlier been erected here. Voter vigilance exposed the 5th un-gazetted polling station.  This is where Nathan Nabeta (NRM) will be casting his vote.
11:15am: NRM candidate Nathan Igeme Nabeta casts his vote at Mainstreet Primary School.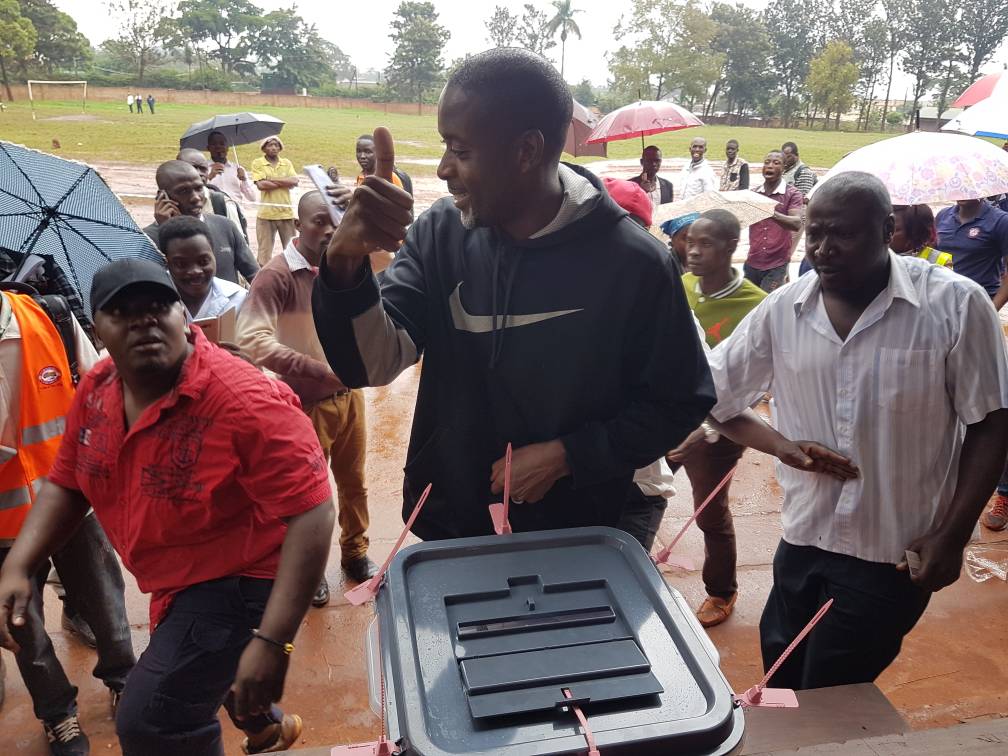 13:00pm: CCEDU cordinator Crispin Kaheru says Jinja East byelections is one of the most policed election.
Audio Player
16:00pm: EC disowns pre-ticked ballots
The Electoral Commission has disowned the pre-ticked ballot papers found hidden in the ongoing Jinja East parliamentary by-election.
Out of 47 polling stations, rampant cases of violence have been reported at Main Street primary school Polling Station, where NRM and FDC party candidates are trading allegations of attempted ballot stuffing.
Thousands of pre-ticked ballot papers in favour of the NRM candidate, Nathan Igeme Nabeta, were discovered from Iganga Road Junction Polling Station, according to election watchdog, Citizens Coalition for Electoral Democracy in Uganda (CCEDU).
And now Jotham Talemwa, the EC spokesperson, says in a statement the ballot papers do not belong to the electoral body.
"We have verified the serial numbers of these ballot papers and found out that they are not EC ballot papers. Security has been requested to follow up on this and arrest the culprits. The good news is that each candidate was supplied with a file containing serial numbers of the ballots in this by election," he says.
The EC statement urges both sides to exercise vigilance during the Electoral process but restrain against violence.
Earlier in the day, voters unearthed an un-gazetted polling station at Main street Primary School in Jinja town
EC's Talemwa admits there have been attempts to stuff which have not succeeded. "The copies intercepted carry serial numbers that are not ours," he says.
Despite heavy down pour, voters turned up in big numbers to vote in a by-election occasioned by a court ruling nullifying Nabeta's 2016 election victory on grounds that he connived with EC to alter results at Danida A-D polling station which put him at an advantage.
The by-election has attracted eight candidates but the real contest is between NRM's Nabeta and Paul Mwiru of the Forum for Democratice Change (FDC). Other candidates include Faisal Mayemba, Francis Wakabi, Christine Monica Abuze, Paul Mugaya and Hatim Isabirye Mugendi.
He beat his closest rival by