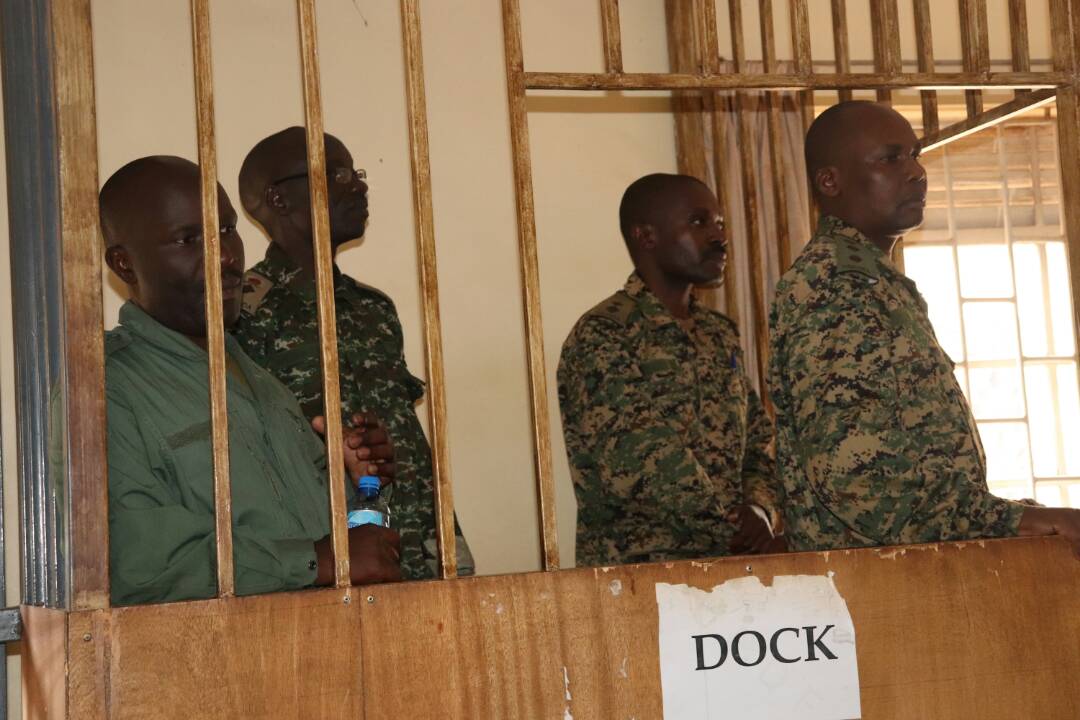 The General Court Martial in Makindye has dismissed four UPDF soldiers from the army for plotting to attack Kabamba barracks in Mubende district.
A few weeks ago , four UPDF soldiers including; Lt Col Philip Frank Eguma 42, Capt. Hillman Bosco Aleper 36, Lt Ronald Waibi Mwavu, 36 and Pt. Kenneth Sekajja,32 pleaded guilty to committing offences related to security when they planned to attack the army installation before being convicted.
The four together with other civilians were in 2014 arrested for holding meetings in various places of Kampala, Wakiso, Masaka, Luweero and in Nairobi, Kenya where they recruited people to engage into the attack.
On Tuesday, the army court chaired by Lt.Gen.Andrew Guti said the offence by the convicts was grave in nature as it touches the security of the country, hence dismissing them from the army.
"The offence jeopardises not only the security of the defence forces but the country as a whole,the reason for it being a capital offence punishable with a non -mandatory sentence of death,"Guti said.
"They are indeed first offenders but courts do not ordinarily send first offenders to long imprisonment sentences unless so compelled by peculiar circumstances of the case."
It was alleged that the group convened meetings and recruited people to join a rebel group known as Uganda Democratic Federation and to successfully do this, they conducted reconnaissance in Karma and Kabamba barracks with intensions of attacking them.
The four officers were formerly attached to the UPDF Air Defence section in Nakasongola,Kimaka and armoured warfare training school in Mubende.
The army court however noted that there are no peculiar circumstances that would warrant them to give a lighter sentence to the convicts for being first offenders as had been argued by the defence lawyer.
"Their conduct prejudiced the security of not only the defence forces but also the country. In the result we sentence each of the convicts to dismissal with disgrace from the defence forces."
The trial for other civilians including a former pilot in Idi Amin's army arrested together with the UPDF soldiers is however still ongoing.
Comments
comments