The army on Monday continued with their onslaught on boda boda 2010 offices within the city.
Following the weekend raid on the notorious group's offices in which 30 people including their chairman Abdul Kitatta were arrested, the army invaded boda boda 2010 offices in Bukesa, before arresting over seven members.
The area offices were also ransacked and a number of items were taken by the army.
There was a jubilation as boda boda riders escorted the army convoy as it drove away with the suspects.
In Nateete, angry riders stormed boda boda 2010 offices, vandalised, then set them ablaze.
It was not long before Nateete police station swung into action firing bullets in the air to disperse the angry boda boda riders.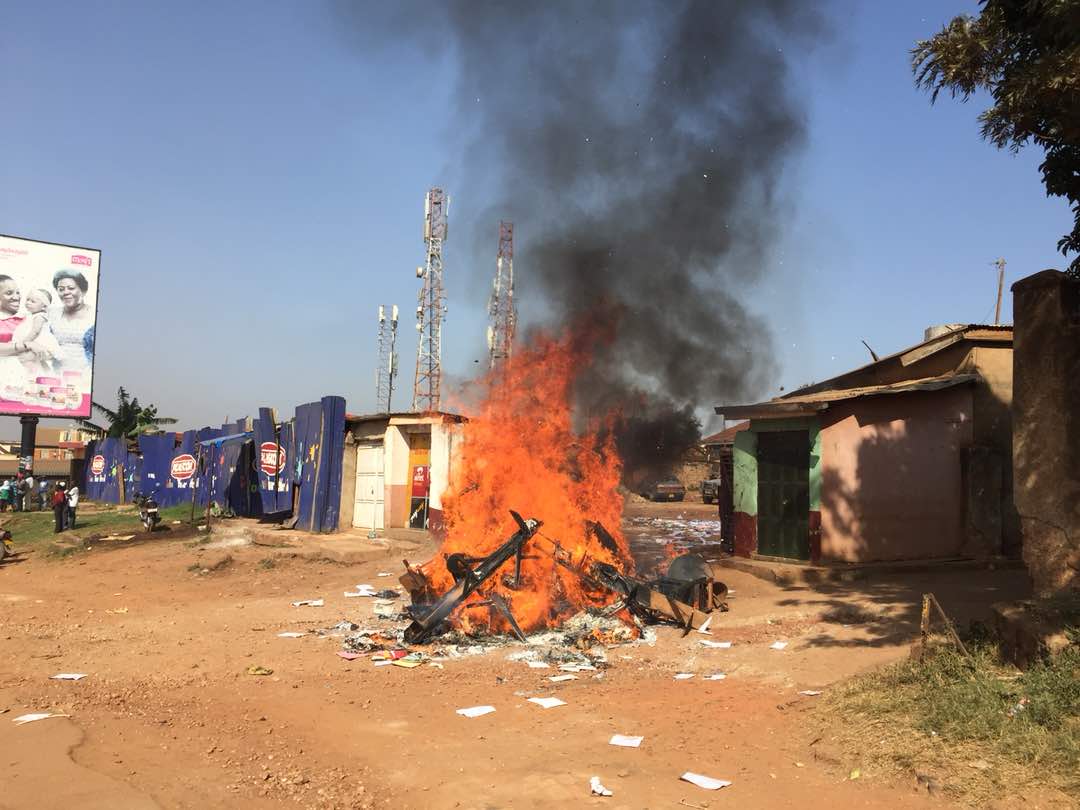 In Makindye, military police saved the situation as motorcycle riders tried to set the group's area offices ablaze.
Joint operations by the Chieftaincy of Military Investigations, Internal Security Organisation and the Joint Anti Terrorism Team that started on Friday culminated into the arrest of Abdul Kitatta, the boda boda 2010 as well as recovery of the vehicle driven by Case hospital accountant Francis Ekalungar who was killed and body burnt.
How Case Hospital accountant's murder led to Kitatta's arrest
The deputy UPDF spokesperson Lt.Col.Deo Akiiki, security agencies have since the murder of Ekalungar, a few weeks ago been working together to bring the suspects to book until Friday when they mounted an operation that yielded results.
"Acting on very reliable information, on Friday, an operation was conducted to arrest one of the suspects Huzairu Kiwalabye ," Lt.Col.Akiiki said on Sunday.
He said that after interrogating Kiwalabye , he would divulge more information that led to the arrest of his brother Abdul Kitatta, the patron of Boda Boda 2010.
"More detailed investigations will be conducted with a view of arresting all those still at large and prosecuting them. Currently those arrested are held at a police post in Kireka,"Lt.Col. Deo Akiiki said.
He noted that the army will continue working with other security agencies to guarantee peace in the country.