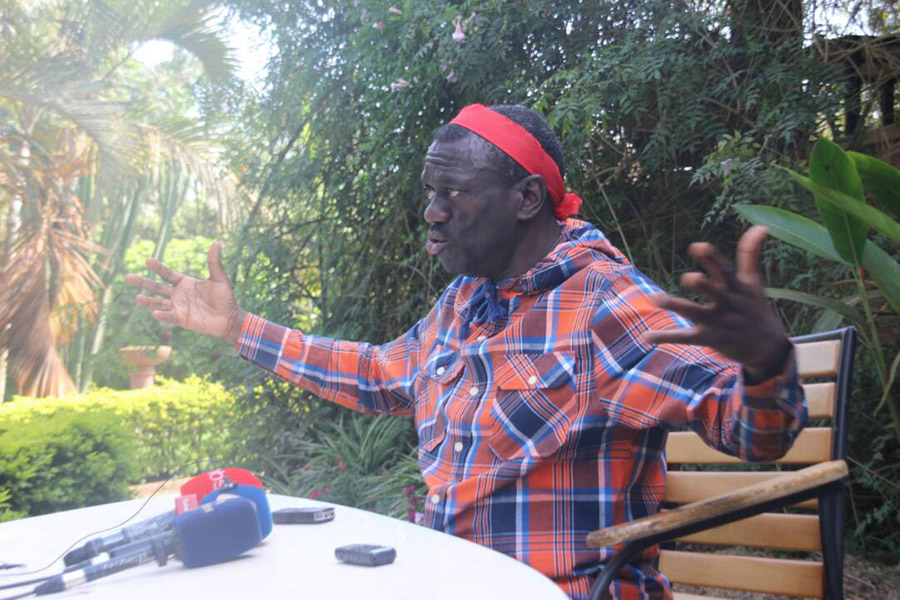 Forum for Democratic Change and opposition strongman  Dr.Kizza Besigye has said that 2017 has not been an easy year for Ugandans.
Addressing journalists at Katonga road in Kampala on Friday morning, Dr.Besigye said that the ending year has seen a big number of unprecedented incidents including deaths.
"Apart from the perennial problems of corruption, poverty and poor services, we have seen unexplained murders to Ugandans by unknown people, "Besigye said .
"Machete wielding people killed many  residents but up to now we have no knowledge of who is killing these people."
Early this year, a number of people were attacked by machete wielding people in the areas of Masaka, Wakiso and Kampala leading to death and other people were left injured.
The  four time presidential candidate expressed concern over a number of senior people in government who lost their lives in unexplained manners, citing the former police spokesperson AIGP Andrew Felix Kaweesi who was showered with bullets by unknown people as he left his home in Kulambiro.
"Up to now, we have got no explanation to who killed him (Kaweesi)."
Besigye  added that this year has also seen unprecedented strikes by public servants including judges, prosecutors and doctors over pay.
Age limit
Besigye was also concerned over the people killed during consultations by Members of Parliament in regards to the contentious age limit bill.
He cited a youth killed in Rukungiri on October 18th when police fired bullets to quell a rally by himself and now FDC president Patrick Amuriat in Rukungiri stadium.
In the scuffle, one person was killed and others left injured.
Police would later claim that the deceased had been hit by a stone only to be betrayed by a postmortem report that pointed to a bullet in the head of the deceased.
Besigye said that a number of people got injured in various parts of the country during the violence meted out especially to opposition politicians during the age limit debate.
He however said all this stems from bad leadership predicting that more of such will continue in the forthcoming year.
Comments
comments