The Chief Executive Officer of Stanbic Bank Anne Juuko has said the bank has registered Shs 1 trillion in gross revenue and a profit after taxes of Shs 366 billion in the year 2022 representing year-on-year growth of 33%.
She made the remarks as the bank unveiled the 2022 annual results for its Stanbic Holdings Limited.
Juuko attributed this performance to the multiple bank channels and Flexi Pay that cover over one million customers, adding that the bank paid shs 272 billion in tax.
She said the bank saw a 30% increase in the volume of transactions in  2022 and grew its customer base to over a million through its combined traditional bank accounts and FlexiPay, this, attributed to its investment in financial inclusion efforts.
The lender also collected Shs 7.5 trillion on behalf of the government representing 33% of total remittances by banks.
Customer deposits grew by 6.8% year on year to Shs 6.1 trillion from Shs 5.7 trillion; net loans and advances rose to Shs 4.1 trillion from Shs 3.7 trillion while total assets grew by 3.9% to Shs 9.0 trillion.
Juuko, said the lender manifested its purpose of driving Uganda's growth in ways that directly and indirectly benefited millions of Ugandans and engineered the economic recovery of customers from effects of the Covid-19.
She said despite the emerging challenges in the economy, the bank is pleased with its contribution towards economic recovery success stories of its customers registered in 2022, most of which are a result of sustained dividends of Covid-19 interventions implemented between 2020 and 2021.
"As a result of the economic recovery of our customers, we saw a 9.8% growth in demand for new credit in 2022 with the volume of disbursed loans increasing to 77,819 worth Shs 4.0trillion from 63,639 approved applications worth Shs 3.7 trillion disbursed in 2021," said Juuko.
The bank further reported that through its Stanbic for Her programme launched in 2022 with support from the International Finance Corporation (IFC), over 18,500 women received training in the fundamentals of bookkeeping, tax reporting, and accounting, giving them the confidence to run their businesses.
"It gives us great pleasure to also report that over 11,000 small businesses have opened accounts with us in the past year, and that over 1,800 of them have already benefited from access to affordable credit at rates as low as 15.5 per cent, to the tune of over Ush. 30 billion," said Juuko.
272 billion paid in tax, 7.5 trillion collected for government
The Chief Executive of Stanbic Uganda Holdings Limited (SUHL) Andrew Mashanda, said this performance shows the resilience of their business and should reinforce the confidence of their shareholders in their ability to continue growing their value.
"Despite the prolonged uncertainty of the global and local economy, we closed the year with robust performance, and grew our shareholder value with a Return on Equity of 21.6% well above our 20% target, an improvement from 19.4% in 202," he said.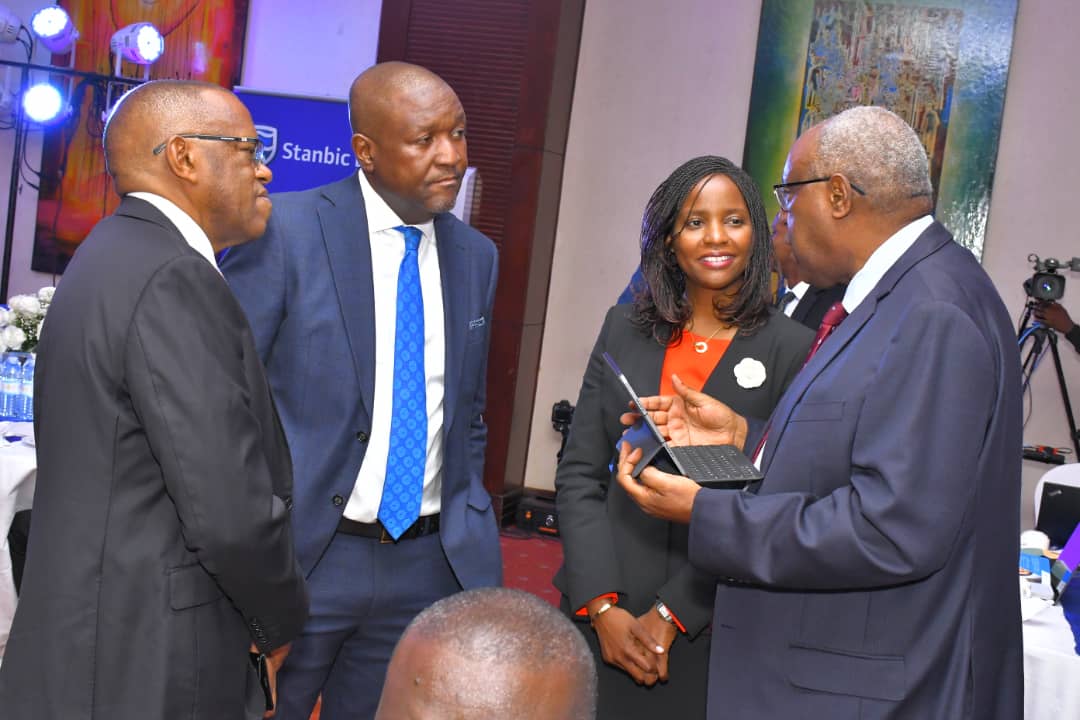 Ronald Makata, Stanbic Bank's Interim Chief Finance Officer said in 2022 the bank significantly supported the government's efforts to mobilise tax revenues in line with the lender's purpose of driving Uganda's growth.
"In 2022, we paid a total of Ush. 272 billion in taxes, making us the biggest taxpayer in the country's banking sector. We collected another Ush. 7.5 trillion on behalf of the government by enabling taxpayers to remit through our expansive channels network, representing 33 per cent of total remittances to the government by the entire banking industry," said Makata.
In terms of lending, Stanbic reported that the agriculture sector remained in the top five recipient sectors of the bank's credit in 2022, accounting for Ush. 437 billion, and this is in line with the country's key growth drivers.