The Uganda People's Defence Air Forces(UPDAF) has passed out a total of 12 pilots and 52 engineers who have completed an eight months training course in flying Mi-28 attack helicopters.
The commander of the UPDAF, Lt Gen Charles Okidi officiated at the pass out on Wednesday at the Soroti Air Force Wing.
Speaking on behalf of the Chief of Defence Forces, Lt Gen Okidi commended the trainees for their good discipline and resilience that they exhibited since the training started and argued them to ensure safety of the newly acquired strategic assets.
He applauded the pilots for their job in providing air power during operations.
"There is no doubt that the introduction of the attack helicopters into the battlefield changed the tides of war in Northern Uganda against the Lord's Resistance Army (LRA) in favour of the UPDF and continues to do so in the subsequent operations. So, with the acquisition of new air assets, we are ready to serve our beloved country more in that capacity," Lt Gen Okidi said.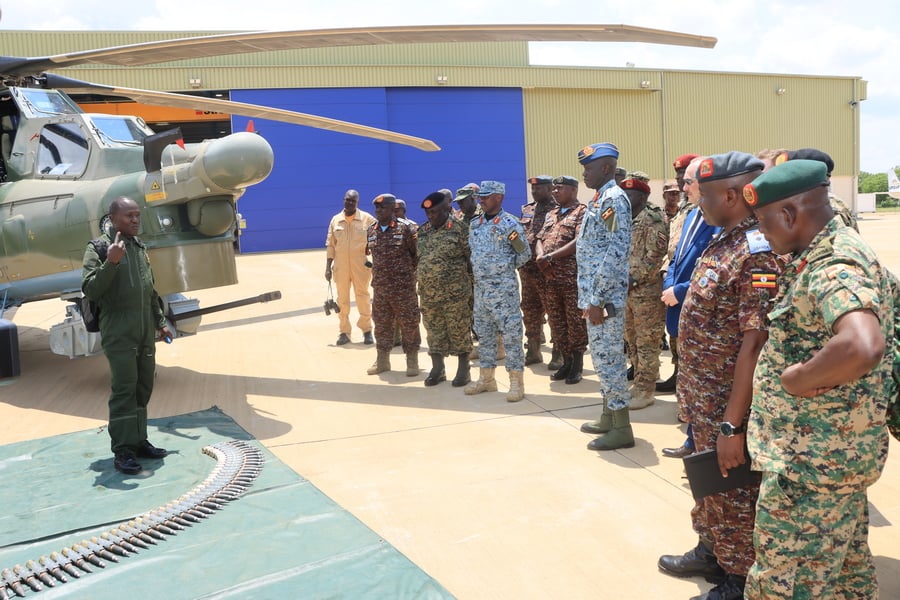 He reaffirmed the air force's capacity to provide the much-needed air power that the joint operations require since it is mandated to provide and give support to the ground forces and this can only be achieved through continuous training.
Gen Okidi also noted that the Soroti air force wing will soon be elevated to the level of managing the Eastern sector, aviation deployment center as well as dealing with the insecurity in the Karamoja region.
Lt Col Collins Nkwasibwe the Soroti air force wing commandant urged the graduates to continuously train in order to achieve perfection and stay relevant to the institution.
"Training is a continuous process, perfection takes time, effort and determination. Therefore, in war prepare for peace and in peace prepare for war," he urged.
Earlier, the pilots demonstrated the skills learnt in operating the choppers at Olilim demo grounds in Katakwi District.
The function was attended by Chief of Staff-Land Forces Maj Gen Jack Bakasumba, Chief of Staff-Air Forces Brig Gen David Gonyi, Chief of Staff-Reserve Forces Brig Gen Mwanje, Brig Gen Isimbwa among others.
Mi-28 attack choppers
The  Defence Web, a South African-based website which monitors military purchases on the continent, last year reported that purchased new Mi-28 attack helicopters from Russia.
The Mi-28 first flew in November 1982 as a replacement for the Mi-24/25.
The Mi-28N Night Hunter day/night version flew in November 1996 and features a radar mounted on the rotor mast.
Last year, President Museveni commissioned a helicopter maintenance, repair and overhaul (MRO) facility to refurbish Mi-24 helicopters at Nakosongola Air Base.
It is a joint venture by the UPDF's commercial arm, the National Enterprise Corporation (NEC), and Pro-heli International, a Russian company.
Uganda has used its choppers to support its operations in Somalia, DRC against the ADF as part of Operation Shuja.