President Museveni did not shake hands with his Tanzanian counterpart John Pombe Magufuli throughout the entire visit to the latter's country home in Chato, Tanzania yesterday.
But thats not all.
Upon return from Tanzania, Museveni's strictness with safeguarding Covid-19 SOPs ensured all the staff he was with were tested as they got off the plane and later transported to different ''unknown quarantine centres".
Museveni paid an official visit to Magufuli and the two leaders signed an agreement allowing for the construction of a 1,445 km (898 miles) crude oil pipeline.
The $3.5bn (£2.7m) project will connect Uganda's oil fields to Tanzania's port of Tanga.
However, Museveni's visit to Magufuli marked a big different between the two states, with Museveni and all his entourage sticking to putting on masks and ensuring social distance with their hosts.
Given the prevailing Covid-19 situation, Museveni also did not greet Magufuli with a handshake like he normally does.
On alighting from his aircraft, Museveni stood about two meters away and bowed in respect to Magufuli.
He also waved to the group of people that had been lined up to welcome him, without moving any closer to them.
During the course of the over 2-hour event, Museveni stayed with his mask on, only removing it for the time he was giving his speech and putting it back on immediately.
Magufuli, from the photos, did not wear a mask.
The two presidents also maintained a huge social distance while seated, unlike the previous meeting they had at the same venue last year.
Also, while all Museveni's security detail maintained their masks on, none on Magufuli's team had their masks on.
Speaking about the matter, Magufuli said that he was aware Museveni and his team were coming with masks and that is fine provided the agreement is not delayed.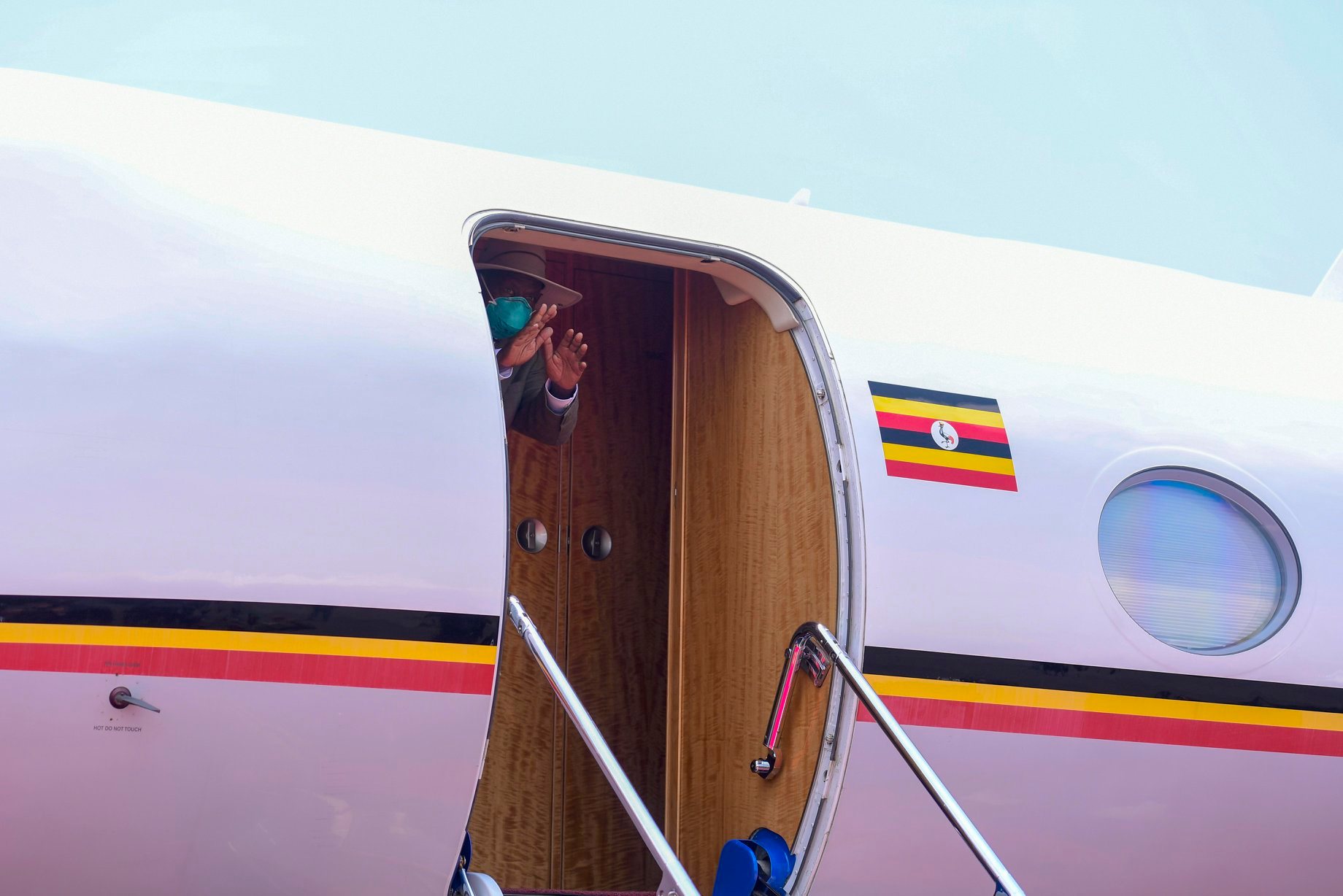 "He (Museveni) called me and said we have corona but I don't want it to be the reason to delay development of Uganda and Tanzania. He told me he is coming with a mask and I said you can even come with a blanket, provided we sign this agreement for the better of all our countries," Magufuli said.
This website understands that Tanzania stopped reporting Covid-19 cases on April 29. At the time, the country had recorded 509 infections, 183 recoveries and 21 deaths.
President Magufuli went ahead to declare that the coronavirus pandemic in Tanzania was officially over, urging the country to resume normal lives without having to put on masks and any other virus related guidelines.
Magufuli said that the pipeline project is another victory for both Uganda and Tanzania and it represents the cooperation that both countries are striving for.
Magufuli said: "We are going to use Ugandan expertise to search for oil in several regions of Tanzania. When we strike oil, we will simply connect those areas to the East Africa Crude Oil Pipeline EACOP. That is the Ugandan & Tanzanian cooperation we are striving for."
Museveni on his part said Coronavirus should not be the reason why the two countries could not make a historic agreement as the pipeline deal.
"Covid-19 should not be the reason to stop anything as important as this," he said.