Even as the whole world came to a near standstill during the height of the Covid-19 pandemic, Stanbic Bank did not sit on its laurels and wait for what next but pushed ahead with its 5th annual National Schools Championship.
With observance of all the Standard Operating Procedures as prescribed by the Ministry of Health strictly adhered to, an earnest search nationwide started for the most outstanding and gifted young entrepreneurs.
The championship kicked off with 100 schools- after a pre-selection analysis process, 4 schools were selected from each of the four regions to do presentations to the first time panel of 3 judges- a much more needed twist in the production from previous years, this particular change made the competition more lively, fun and engaging owing to the judges humour and in-depth understanding and connection to the business pitches.
Regional Winners
From the central region Nabisunsa Girls School came top with their Glow & Glam paper soap and disinfecting wipes, while Mpumuude Seed Secondary school represented Eastern region with their ingenious Reusable sanitary pads.Mentor SS represented the North and fronted Edutele-an E-learning teleconference application and Kyebambe girls school represented Western region, with their authentic miracle flavoured Ghee.
Enter the Finals
It was a charged and warm atmosphere in the Rwenzori ball room at the Sheraton Kampala as the grand finale went down. With all regional winners putting up their A-game to clinch the coveted national accolade.
The event was graced by Angel investors interested in ensuring these budding entrepreneurs got the investment to bring life to their ideas, the investors were Ronald Mukasa, Amos Wekesa of Great Lakes Safaris and Meralyn Mungereza country manager of the Agha-khan Foundation.
Making a cameo apperance, Reuben Gasansule an Investment Analyst, William Tendo an Edu-tech Consultant and dark horse Donald Wasake hia seasoned Business Consultant and Data analyst from research firm-Brothers Intelligence LLC completed the judging trio.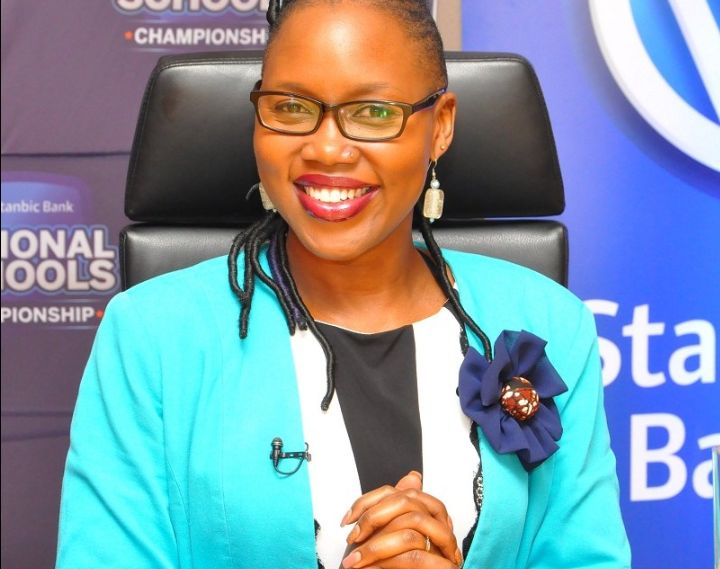 It was evident the chemistry and entertainment value they breathed into the show, especially each-time William and Donald Wasake went back and forth with their rants on anything and everything- a much needed comic relief from the somewhat tense and serious atmosphere of the finals.
The trio put the young entrepreneurs to task, asking all the right questions until they got the best out of them.
After all the numbers were crunched, parameters checked, and consultations done, the cumulative results from Audit firm PWC and Judges scoring unilaterally agreed that Mentor SS with their Edutele e-learning teleconferencing technology were worthy of the Stanbic National Schools championship crown 2020.
The gallant- fantastic four ladies of Nabisunsa came 2nd, while 3rd and 4th were Mpumuude Seed Secondary school and Kyebambe girls school, respectively.
The future of Uganda's entrepreneurship class is surely being built and anchored through this competition which is part of Stanbic's Corporate Social Investments led by firebrand Barbara Kasekende and the Investors Club of Uganda.
Twitter:@michaelkanaabi
Email: michaelkanaabi@gmail.com