At least ten (10) employees of the Uganda Broadcasting Corporation (UBC) have tested positive for COVID-19, the national broadcaster has confirmed.
In a statement from Senyanga Wilfred who is the Public Relations Officer at UBC, the three members of staff have since embarked on the recommended health care management process and tracing for their contacts has commenced.
"UBC has ten confirmed cases of Covid-19. The cases are from 332 samples that were taken on 21st August 2020 from staff at our Kampala office for which results of 160 samples have been received," the statement reads in part.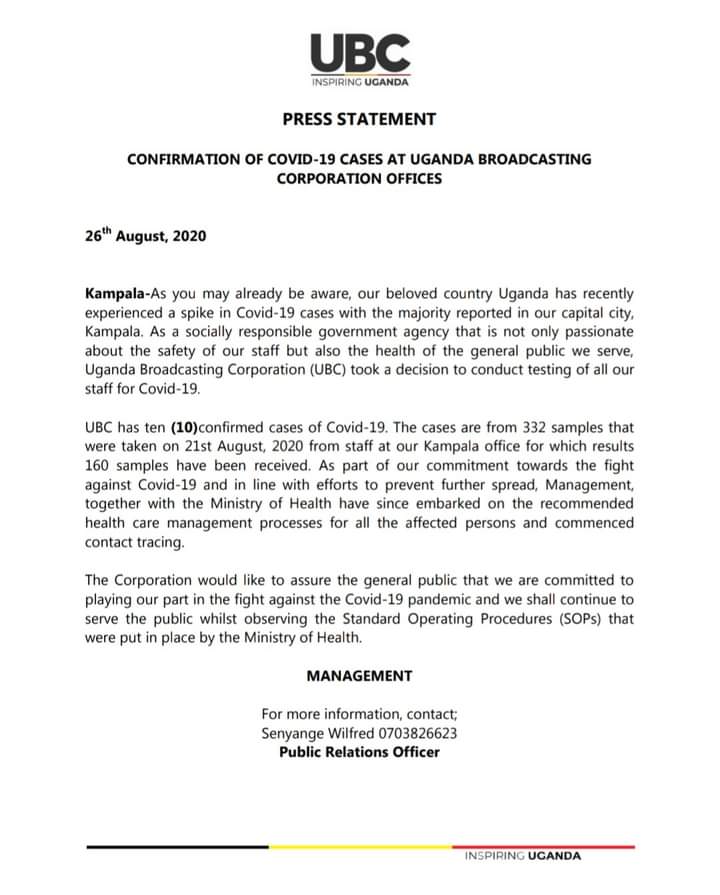 UBC now joins the growing list of media houses who have has some of their staff test positive for Covid-19.
Pacis Radio in Arua, New Vision, NBS TV and NTV are some of the media houses that have already confirmed cases of Covid-19.
Journalists urged to follow health guidelines as media houses record more COVID-19 cases
Minister for Information and Communications Judith Nabakooba on Sunday, while addressing the press, urged media houses to protect their journalists at the frontline of covering the pandemic because they are very crucial in the fight against the spread of the Coronavirus.
The minister also asked journalists to follow all the necessary guidelines from the Ministry of Health as Covid-19 cases in the country continue to surge.