Uganda Wildlife Education Centre formerly known as Entebbe zoo has unveiled a statue for Zakayo, an iconic chimpanzee that passed on in 2018.
The sculpture was unveiled by the Minister of Tourism Wildlife and Antiquities Col. (Rtd) Tom R. Butime at UWEC as he recognized Zakayo as a primate conservation ambassador in Uganda.
He also appreciated UWEC's commitment to wildlife conservation education and encouraged the institution to breed species which are at risk of extinction in the wild.
UWEC Executive Director, Dr. James Musinguzi, hailed the late Zakayo as a great ambassador to wild animals out in the field.
"Zakayo was an icon at UWEC .He is a testimony of UWEC's education and conservation programs. He attracted a lot of tourists to UWEC, but also Uganda at large. He was a respected elder, great father who protected the young chimpanzees and settled family conflicts,"Musinguzi said.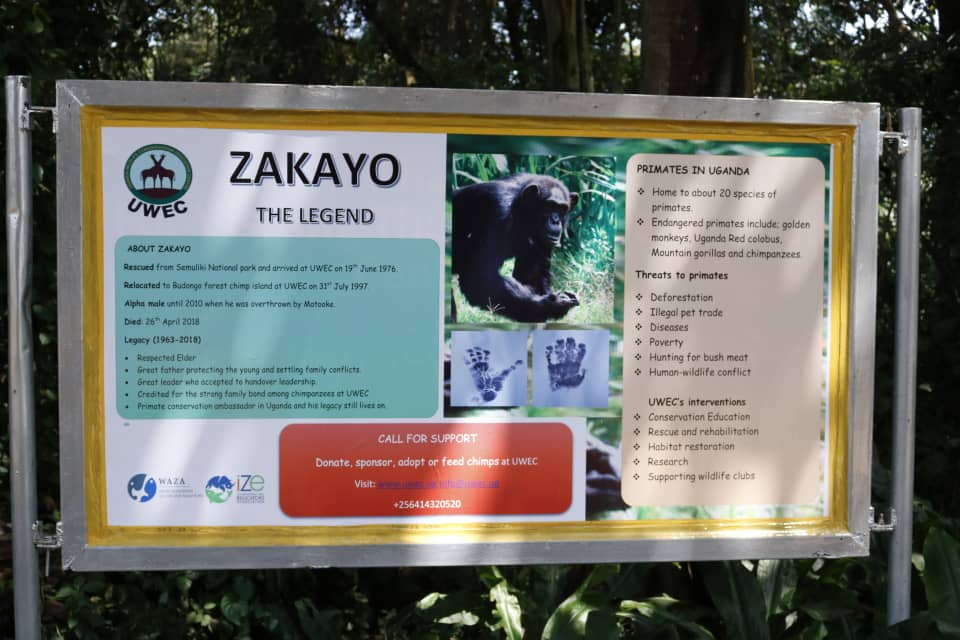 "He is also credited for the strong family bond among chimpanzees at UWEC. It is, therefore, befitting for us to recognize the efforts and contribution to Uganda's conservation."
Zakayo, the country's oldest chimpanzee died in 2018 after succumbing to chronic gastroenteritis, a sickness that affected his intestines and brought his 55-years illustrious life to an end.
Last year, UWEC established the Zakayo legacy day on October 27 as a way of honoring Uganda's oldest known chimpanzee who was a beneficiary of off-site conservation (Ex situ conservation) for 42 years at the model zoo.
The UWEC Executive Director last year said they would construct a museum in honor of Zakayo as a token of appreciation for the role played by the iconic chimpanzee in increasing the number of tourists in the country.
The museum, according to Musinguzi, will have conservation education messages about Zakayo, chimpanzees and other wildlife.