As news spread like wildfire that landslides in Bundibugyo were claiming lives and property as roads and homesteads were also cut off, along with it came the pictures of a man rescuing people who were trapped by floods. I managed to locate Corporal Hannington Agaba, a Uganda Wildlife Authority community conservation officer at Kirumya wildlife offices.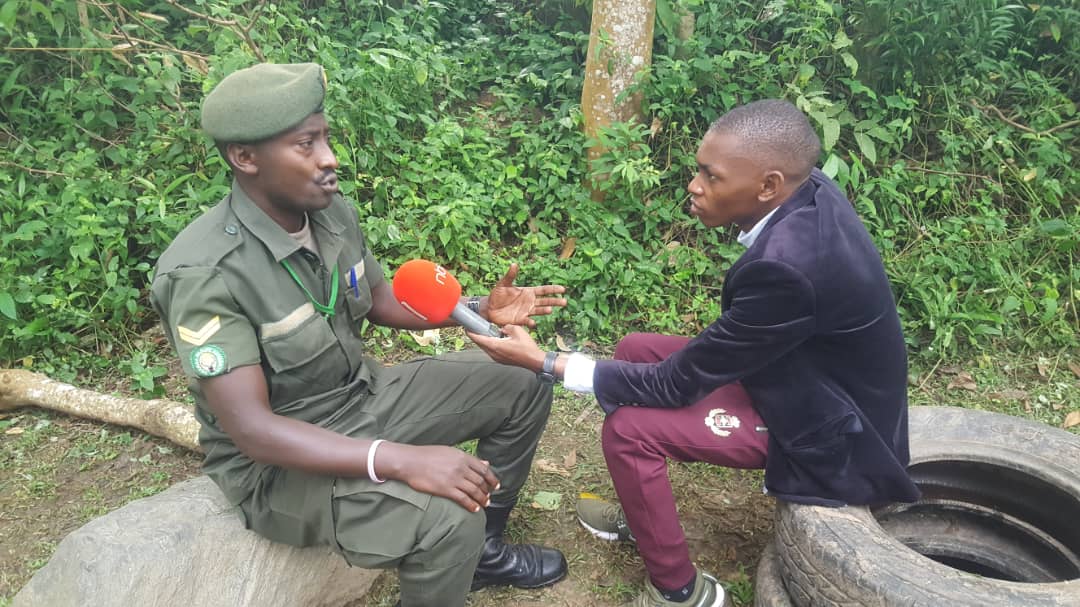 Agaba is based in Semliki National Park.
Agaba explains how he came to put his life at risk to save others, "I was coming from an outreach. It had not rained here but it had rained in the mountains the previous day. When it rains in the mountains even if it doesn't rain here, water always comes. So, all of  sudden I hear screams and I see water levels going up quite fast and trapping people. I had to enter the water and save those helpless children and women."
Corporal Agaba would end up saving the lives of more than 30 stranded people as he waded through water sometimes upto his waist. 
To the locals here, Agaba is a celebrated local hero who not only has made a name in rescuing lives in danger but also conserving the environment. Consistently, he engages the communities on peaceful existence with nature and this has earned him a name here. 
As the world watched and wondered where the other men in uniform were as lives were lost in other parts of the district, Agaba was not paying attention to who was doing what. The youthful conservation officer says patriotism, dedications and doing the right thing rather than blame games is his DNA
He attributes all to how, "I was trained to serve. Patriotism guides me and all I care about is serving my country in whatever way."
While he is at the centre of an adoration frenzy, Agaba is not moved by his recent status despite the fact that, "People have been calling, my phone is full of messages and am really thankful that the media took my gesture positively but that has not changed my character. I will keep conserving the environment, helping people and making Uganda better. That is what I stand for, not the ranks, not the publicity or media buzz about me."
Thank you to everyone 4 your kind praise and support, I am truely humbled by the response I have seen
All I did was my job, I saw people needing help and did what I could. Also a big shout out to the chapat vendor who helped as well@ugwildlife @nbstv @snduhukire#duty #service

— Agaba Hanington (@AgabaHanington) December 8, 2019
Be that as it may, there is another unsung hero here in Kirumya, a chapatti vendor who was also seen helping along with Agaba. John Kamara had to let go of everything including his merchandise to save lives
Together, dozens of lives were evacuated to safety and although property was destroyed by flooding water, no life was lost here in Kirumya where the two guardian angels were on duty