Ugandans Phillip Kiplimo and Nyakisi Adero were the winners of the 2019 MTN Kampala  Marathon in the 42 kilometre category for men and women respectively on Sunday morning.
The races flagged off by the Health Minister at the Kololo independence grounds saw Kiplimo post a time of two hours and  13 seconds to bag the shs20 million cash prize, followed by Fred Musoba  who posted 2:15:23 second whereas  Anthony Ayeko came  third with 2:15:52 time.
In the women's 42km race, Nyakisi in the first place posted two hours and 42 minutes, Vanis Chemutai came second after  crossing  the finish line at 02:45:42 whereas Eritrea's  Kidist Fiseha Tesla came third at  02:47:01 and last year's winner Lydia Wafula came Fourth.
" I wanted to win his for my country. When I saw foreign  marathoners, I felt  I should work hard to win for Uganda and I am very happy that I did it," Kiplimo said.
21km race
In the 21km half marathon, Jacob Kiplimo who missed out on the  World Cross Country championship in Dhoha due to injury eased with a one hour and one minute time on Sunday morning.
He  was followed by Felix Chemonges at 1:2:57 whereas Titus  Chebit came third.
"I missed gold in Doha but I am happy that i have come back with victory here,"Jacob Kiplimo said shortly after winning.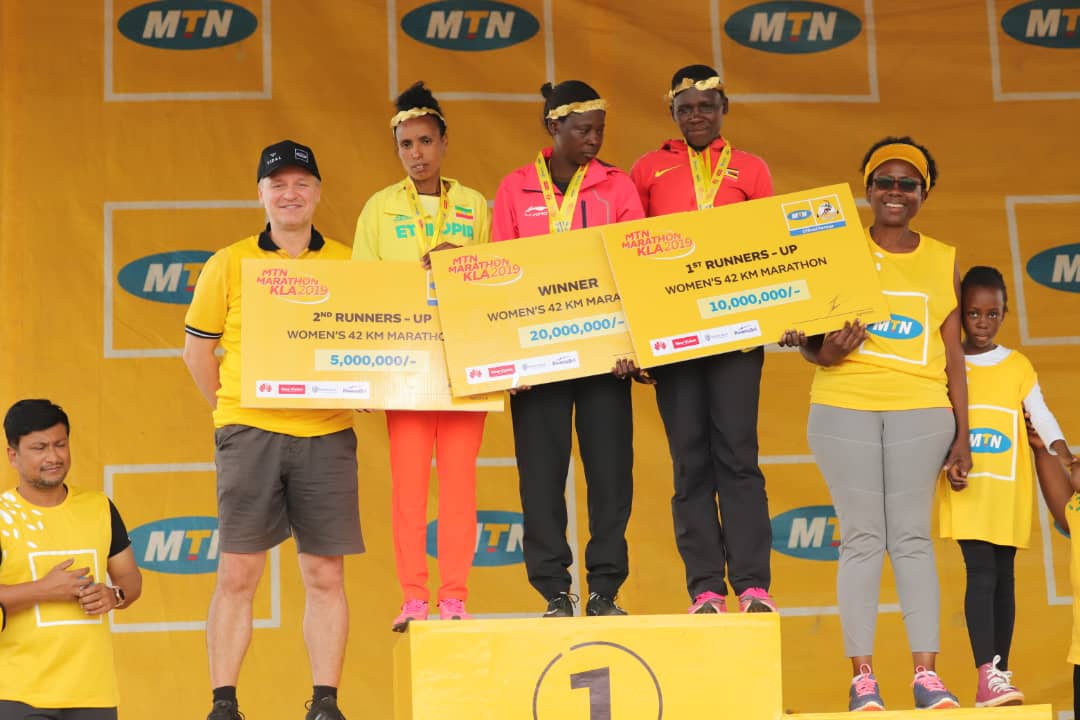 In the women's category, Juliet Chekwel triumphed after posting one hour and one minute whereas Doreen Chemutai came second with a time of 1:13:09 in the 21km half marathon.
Jacob says that he is happy to have returned with bang. "I missed Gold in Doha, am happy that I have camback with this victory. Mtn Kampala Marathon is helping us young athletes to realize our dream. Kiplimo said.
Proceeds from this year's MTN Marathon will be used to improve maternal health facilities in a Health Centre IV hospital to be selected in the region.