The Speaker of Parliament Rebecca Kadaga has said that October 29 should be declared a public holiday in Uganda in memory of martyred Bishop James Hannington.
Bishop James Hannington was killed on October 29th 1885 on orders of Kabaka Mwanga at present day Kyando village.
On this note, the speaker of Parliament of Uganda, Hon. Rebecca Kadaga in her speech during the celebrations held on Tuesday at the martyrdom site in Mayuge district asked the Anglican Church and the Uganda Tourism Board to mark the date for the event to be celebrated yearly.
Kadaga wondered why the day was not being commemorated as a public holiday yet it was already declared one by President Kaguta Museveni when he visited the site in 2018.
"Last year the president declared this day a public holiday, but the Minister of Public Service David Karubanga failed to implement it even after tabling it to parliament. I sent him reminder letters but in vain. "
"How can a president give orders and a minister fails to deliver? How come the Archbishop Janan Luwum day was gazetted and now it's known by everyone but the first martyr bishop James Hannington is not. I want you to work on it, if you thought it was a joke, now it's not. "Kadaga angrily told the minister of public service.
"I'm going to call the president today and let him know that his orders were never effected, maybe he can find better alternatives." She added.
Kadaga was also disappointed with the low turn up of government officials and the Anglican bishops saying this will bring about disunity and the spirit of togetherness will die out in Church.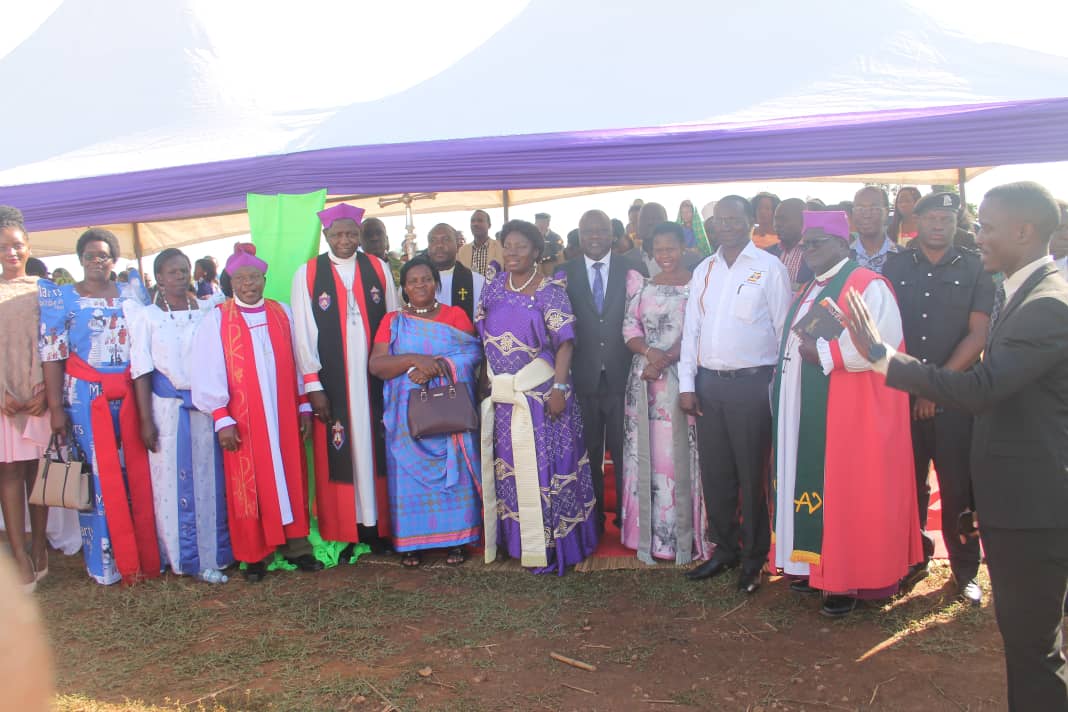 "I am so disappointed, I don't see the bishop of Kigezi, the bishop of Gulu and the bishop of Mbale. Where are they and what are they thinking? Are they not concerned?" She asked.
She added that people in Canterbury on every 29th October hold special sermons to honor the soul of Bishop Hannington but she was frustrated to see that people here take it as a joke yet he was the first martyr in Uganda.
Among the plans strategized among others include, re-constructing the road that leads to the Hannington memorial site, putting up a church on top of Kyando hill where masses from far and wide will come together for a service but Kadaga was dismayed by the slow pace at which things are getting done.
"I talked to the president about your plea to have a church built here, he assured us of 88 billion but you said it's little just for chicken feed," she said.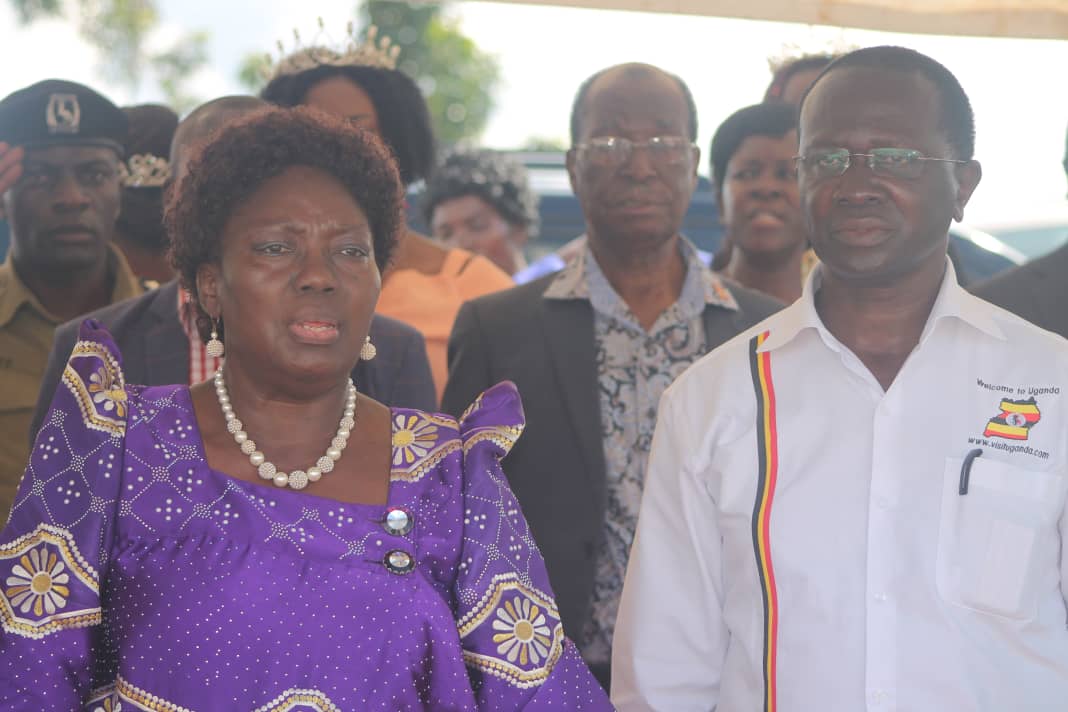 Daudi Migereko Mpabulungi, a board member and chairman of Uganda Tourism Board talked about the opportunities that can be explored at the martyrdom site including putting up luxurious hotels as well as design and development of the area, the church's efforts in making tourism a priority.
"This is one of the major attractions in Busoga and Uganda at large, we have taken steps to promote this place in bid to promote local tourism and religious tourism combined. We hope to work closely with all church leaders as team to ensure that religion and cultural tourism are uplifted."
"As Uganda Tourism Board, we come on board because this is one of the platforms that help us boast tourism and also increase earnings of people in the area, those who sell souvenirs, food and those that will come go back and spread the message do a great job."
"We shouldn't wait for investors from other countries to come and grab up opportunities here, we should take them up instead. We should mobilize ourselves and put up lasting adventures in this place and UTB will come in to help." Migereko said in his speech.
The outgoing Archbishop of the Church of Uganda, His grace Rt. Rev. Stanley Ntagali asked the folks to emulate the life led by Bishop James Hannington and also called for peace and unity to prevail within the family unit.
"Bishop Hannington left his luxury life in United Kingdom and came to Africa to spread the gospel, but he was killed because of his faith. The world is now drifting away from the light, cases of land grabbing, corruption, hatred and grudges but always stay true to yourself and your Lord." Ntagali said.
"We are celebrating this day but some marriages are breaking, others are divorced, some wives are contemplating to divorce and some men who move away from their families. Keep peace, sanity and unite as a family." He urged the family.
Aggrey Bagire, the state minister for transport and also the Member of Parliament for Bunya West constituency said that his ministry will ensure they work on the transport network that leads to the martyrdom site and also asked the church of Uganda to put up a church at the site to attract more believers.
About Bishop James Hannington.
Bishop James Hannington was born on 3rd September 1847 at Hurstpierpoint in Sussex, England, about eight miles from Brighton, where his father ran a warehouse, and was part of the family that ran Hannington's Department stores. His father, Charles Smith Hannington had recently acquired the property known as St. George's. During Hannington's childhood, he blew off his thumb with black powder. As a boy he was a collector.
For Hannington's early education a tutor had been engaged, but when he was thirteen he was sent to the Temple School at Brighton, where he remained for the next two and a half years, although he was an indifferent student.
Hannington left school at fifteen to work in his father's Brighton counting house. He obtained a commission in the 1st Sussex Artillery Volunteers and rose to the rank of major. Under his training and supervision, his detachment won prizes at the annual camp competitions.
In 1867 the chapel which Hannington's father had built in the grounds of his property was licensed for Anglican services.
At twenty-one, Hannington decided to pursue a clerical career, and entered university at St Mary Hall, Oxford, He was President of the Red Club and captain of the St. Mary Hall Boat.
In 1872, the death of his mother spurred a change in Hannington's life; he was awarded his B.A., and on 1 March 1874 was ordained as a deacon, and took charge of the small parish of St Peter in Trentishoe, Devon.
In 1875 James became curate-in-charge at St George's, Hurstpierpoint where he stayed until volunteering for missionary work in east Africa in 1882. He had by then been married for five years.
Around 1882, Hannington heard of the murder of two missionaries on the shores of Lake Victoria. This led to him to offer himself to the Church Missionary Society (CMS) and he left England on 17th May, setting sail for Zanzibar on 29th June, as the head of a party of six missionaries. Crippled by fever and dysentery, Hannington was forced to return to England in 1883.
In June 1884, having recovered, Hannington was ordained bishop of Eastern Equatorial Africa, and in January 1885, at age thirty-seven, Hannington again departed for Africa. His diocese included missions of the CMS at the coast and inland in Buganda. While there Hannington collected a number of shells which were described by E. A. Smith in two papers in the Annals and Magazine of Natural History.
After arriving at Frere town, near Mombasa, in Kenya, Hannington determined to pioneer a shorter and healthier highland road to Buganda, using Christian porters and undercutting the Arab slave route to the south. He was oblivious to the political consequences of traversing Busoga, a strategically sensitive area for the Buganda state. The sudden intrusion of German imperialism at the coast made the Bugandan ruler, Kabaka Mwanga, even more suspicious of Hannington's motives.
An oracle (emmandwa) had said that Buganda's conqueror would come from the east. Mwanga forbade Hannington from continuing through Busoga eastern region of Uganda and sent boats to take him to Sukuma land, but Hannington refused.
Together with his team, he safely reached a spot near Victoria Nyanza on 21st October, but his arrival had not gone unnoticed, and under the orders of King Mwanga II of Buganda kingdom, the missionaries were imprisoned in Busoga by Basoga chiefs by the orders of the Kabaka of Buganda kingdom.
After eight days of captivity, by order from Mwanga II, Hannington's porters were killed, and on 29th October 1885, Hannington himself was speared in both sides . As he died, his alleged last words to the soldiers who killed him were: "Go, tell Mwanga I have purchased the road to Uganda with my blood."