Uganda Revenue Authority (URA), has commenced the implementation of the digital tax stamps on select products.
The revenue body will place stamps on six goods that are; beer, soda, spirits, wines, water and tobacco products.
The implementation of the digital tax stamps solution was confirmed by the URA spokesman, Vincent Seruma.
A government gazette issued last week from the ministry of finance planning and economic development announced that the solution would come into force on 1st November and companies that manufacture the products have a three-month grace period to install digital stamping machines.
Nile Post understands that leading manufacturers like Mukwano and Harris International that bottles Riham cola, have already installed the machines at their factories.
URA's Assistant Commissioner for Public and Corporate Affairs Mr. Vincent Seruma in a statement said; "We would like to urge our stakeholders and manufacturers to embrace the digital tax stamps as they are a critical tool in the fight against illicit trade and counterfeit goods. They also improve the accountability of production and protect local manufacturers."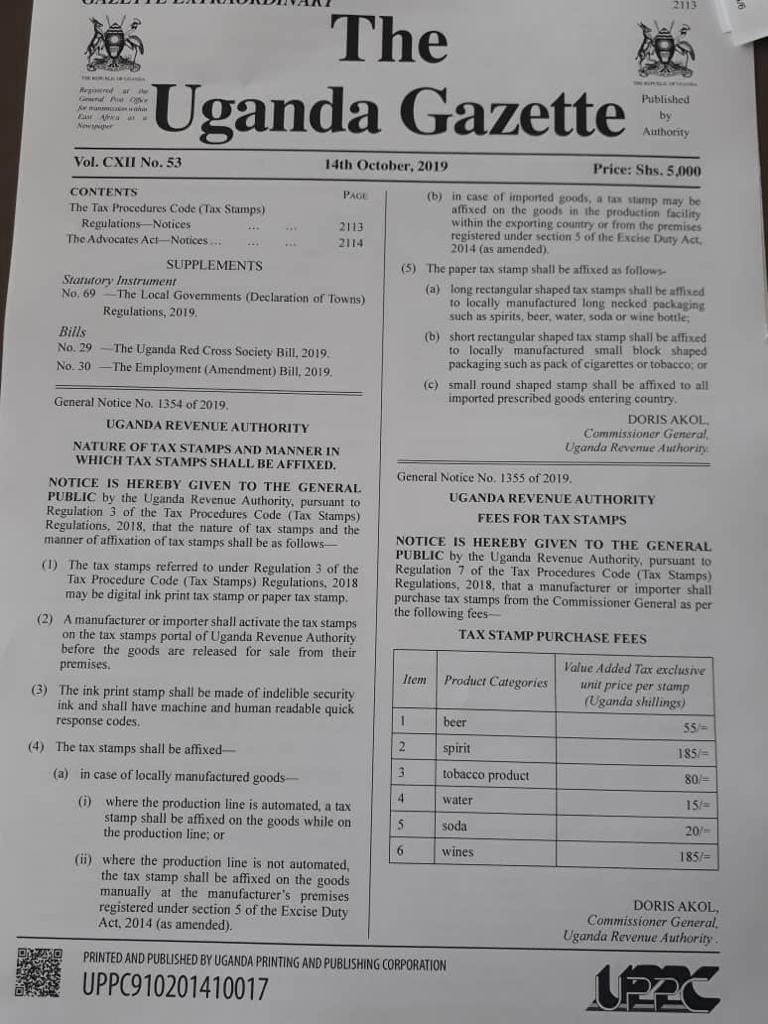 "Uganda isn't the first in the region to embrace the digital tax stamps, it has been implemented in Tanzania, Rwanda, and Kenya and they are benefiting from the solution," he added.
Digital tax stamping is a 21-st century technology that allows revenue bodies to monitor in real-time the production capacity of manufacturers and also allows consumers to cross-check if products are genuine.
It has been implemented in Kenya and Tanzania and has been credited there for improving tax collection.