In 1975, a young girl in her vacation who had always loved serving her country gave a shot at joining the Uganda Police Force but as they say, the rest is history, 44 years later.
Fast forward, it was a perfect independence day for Detective Inspector of Police Christine Olar as she retired from the force she had served diligently for 44 years.
"My Mother has served in Police since 1975 under the Counter-Terrorism Unit (CTU) and today is her last day at work as she will be retiring. She has received numerous medals including that of good service and I celebrate her today! Well done Mother. Thank you for serving the nation," Olar's daughter Serah Adong tweeted.
The police force through their Facebook page also followed suit to congratulate her for serving them diligently for at least four decades.
Olar treats herself as any other ordinary and humble Ugandan that she does not want anyone to heap so much praise on her.
"I am a simple and humble Ugandan who loves Jesus with all my heart, mind and soul," she narrated to the Nile Post in an interview at her home in Nalukolongo, Lubaga division.
She adds that her story is one of any ordinary Ugandan, born to the late Amos Okwi, a former signals officer in the King African Rifles Army and Edith Ruth Amonding Okwi.
She is the last born of a family of four children.
My education journey wasn't long. I only achieved my Primary level certificate from Omatenga Primary School in Kumi and later got married in February 1982 to the late Emmanuel Ogwang Ochela, who was the third born to the former Brigadier of Police, Brig. Ogwang Emmanuel.
God blessed us with 7 lovely children. 4 handsome boys and 3 beautiful girls," she adds.
Joins Police
Olar narrates that it was her love for service that saw her admire police officers and later drove her to give a shot at joining the law and order enforcers in 1975 shortly after completing her Primary Leaving Examinations.
"Because I loved serving people, I thought I could serve my nation too, with honour. I therefore went and registered myself at the recruitment centre and was later given an interview, along with all the other applicants and I passed it. That marked my journey of 44 years," Olar said as she put a smile across her face during our conversation.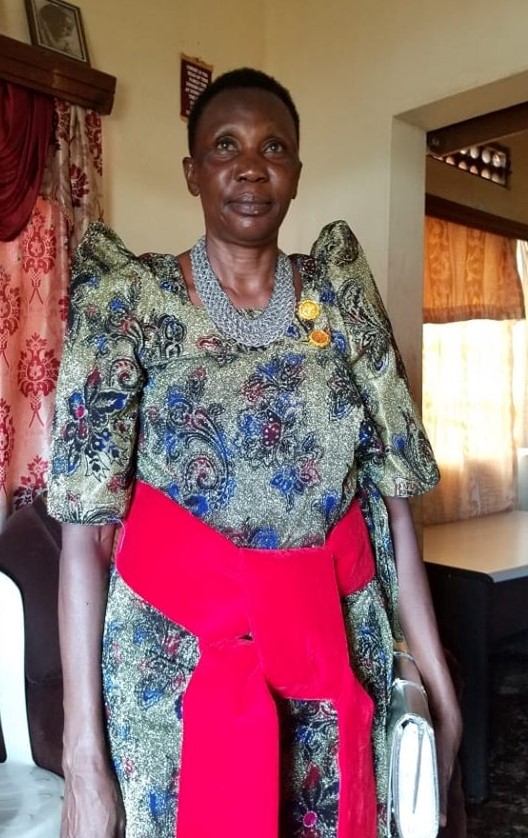 She adds that joining the force was a rare opportunity for her at that time and that she always kept on thanking God throughout her career for having got the chance to join the Uganda Police Force.
She says, back then, recruitment in the force was not a common happening and that when an opportunity presented itself, she grabbed it with both hands even before her PLE results were out.
"I was taken for training after in Naguru in the same year, and was passed out in December."
Pioneers police netball team
Olar in January 1976, she was posted to Kawempe Police Station as her first workplace and together with one Margaret Madudu, they became the first female officers to be posted to the station in its history.
"We then pioneered the Police Netball team where I played for the force till 1979," Olar adds.
She, however, notes that she was later posted to Mbale Police Station but because she was a talented netballer, she was later returned to Kampala and posted at the Central Police Station.
It didn't take long before Olar was returned to Mbale because she had a family that side and needed to join them.
"I stayed in Mbale from 1983 – 1989 and in 1984 I joined the Police Special branch and I was brought to Kampala for a special training that lasted for 2 weeks then I returned to Mbale."
Journeywoman
Just like many other police officers, Olar's 44-year career saw her being moved from a number of places around the country.
From Mbale, she was transferred to Jinja Railways where she served between 1989 and 1992 from where she joined the Uganda Railways up 2003 but in 1994 she completed her corporal course and was promoted after 15 years of service.
In 2003, after 24 years, Olar, now a corporal was returned to Kawempe Police Station as a special branch personnel but this time she lasted only two years and was again transferred back to Kawempe special branch office.
Here, she returned as the officer in charge of Special Police Constables who had been recruited to take charge of security during the 2006 presidential elections.
Special Branch dissolved
The Special Branch, a unit mandated to gather security intelligence was in 2008 disbanded on allegation that it was duplicating the work of Internal Security Organisation.
Despite being regarded as one of the best intelligence gathering units the country has ever had whose disbandment saw police struggle with detecting increasing crime, the then Inspector General of Police, Gen.Kale Kayihura said the unit was paying more allegiance to foreign governments.
It died a natural death and this saw its officers like Olar integrated into other Police units.
Joins Counter Terrorism Police
Following the disbandment of the Special Branch, the Counter-Terrorism unit was formed in the Police force and its main duty was to deal with terrorism incidents.
Olar was integrated into the unit and served here until her retirement.
"Counter-Terrorism is indeed an elite unit. The training is quite different from other units and befits the name given to it,"Olar says.
Missed family throughout her service
Despite having holidays off her work busy schedule, Olar says she never had enough time with her family and that she always missed them.
"I missed my babies at home. This mostly happened on special days like Christmas when I got deployed to work at different celebration points like concerts to ensure that there are no bombs or terrorist threats," she says.
She retired police officer says she found a hard time coming to terms with leaving her family to go for courses where she spent a long time away from them.
"There was really no consolation because and I had to work because of the police oath I had sworn. I always held on to the hope that I would always reunite with them after work or training."
Changing policing times
Olar admits a lot of things have changed in the police force from the time she joined in 1975 to the time she retired from the active service of the force.
"When we first joined police we were given blankets after the training, housing (barracks) which had a bed, table and four chairs with free water and electricity. We would receive two pairs of uniform annually. While in the barracks, inspections would be carried out and the most hygienic house or family would be rewarded with gifts among others, which isn't the case today," she said.
She says this has changed that the living conditions for police officers is very poor.
According to Olar, there is not so much respect for police officers in society as it was by the time she joined the force.
"If you were clad in Police uniform and walked on the main road, you wouldn't fail to get a lift from a civilian. This was a period when cars were not as common as today and it would really be a great pleasure to be driven around. I am speaking of the periods where your one shillings weighed a big deal."
The retired police officer said young police officers are no longer so much inspired to serve the force diligently like it was during her time because society has less regard for police.
She adds that the crime rate is high and police officers are blamed for everything which she says is wrong and demotivates them.
"They are blamed for things they haven't even done. They can't walk with their heads high anymore because society no longer has high regard for the force."
She, however, urges fellow police officers that the force is an organisation that keeps one alert and strong and that they need to be polite, obedient, lenient, intelligent, cautious and efficient.
Proud Police officer
Olar said she has achieved a lot as a police officer including being able to educate all her children.
"I have a mechanical engineer, an I.T specialist, an Industrial Artist, a Social worker, a clearing agent, and a Social scientist. My last born is now in S.5," she says as she points to a photo where all her children are.
The police officer displayed a beaming smile when I pointed to a photo hanging on her wall where President Museveni is shaking her hands.
"That was in 2016 during the Labour Day celebrations when I was awarded the medal of the distinguished officer for serving my country," she says.
She notes that despite earning a meagre salary, she was able to educate her children through hardship.
"My responsibilities were always greater than the salary. When you look at the meals, clothing, school fees, medical fees, and so much more. I was sometimes pushed to get loans so that I could cover my children's tuition especially those at the University."
"In all this, I thank God my children all went to good schools and acquired better education than I did."
Olar says despite all the hardships she went through, she put her trust in God but also her superiors always advised her accordingly on what to do.
"The fact that I had children that always came running to welcome me whenever I returned and were always proud of the fact that their mother was a police officer kept me going," she says.
She adds that after retirement, she will now have time for friends, family members, grandkids and also do some farming.