Mubarak Ssenteza, one of the members of the NRM Poor youth group has said he survived death by a whisker when he was stabbed by unknown people after being suspected of spying on them.
According to the 37 year old, he was on the night of September 21, he was attacked while in Matugga by unidentified men leaving him unconscious.
"On the fateful night, two boda boda riders approached me and accused me of mobilizing them to stage protests as part of the Kawempe Republic but at the same time working for government behind their backs. From there, two other men joined them and the next thing I realized was myself on the hospital bed,"Ssenteza claims.
A closer look at his head shows injuries occasioned onto him and a brain CT scan done by Mulago hospital further confirms the allegations of stabbing.
Efforts to quiz him for more details about the alleged attack, Ssenteza says he can hardly remember events on the fateful day because he was left unconscious and only regained consciousness while at Mulago hospital undergoing treatment.
When asked who could have been behind the move, Ssenteza claimed some of his group members could have orchestrated the attack after suspecting him of spying on them on behalf of government.
"My colleagues have been accusing me of spying on them for government but I have always explained myself out that these are mere allegations that are unfounded. I suspect it is the reason I was attacked and stabbed,"Ssenteza, who was found at his home in Makerere Kikoni said.
Police says otherwise
However when asked to comment on the matter, Kampala, Metropolitan Area Police spokesperson, Luke Owoyesigyire confirmed that Ssenteza was saved from an irate mob.
"The officer in charge of Matugga Police station says the information police got was that there was a thief being beaten and they rushed to rescue him,"Owoyesigyire told the Nile Post.
"Police came and picked him unconscious, before dropping him at Mulago for medication."
The police mouthpiece said police would be willing to get Ssenteza's side of the story to know what transpired on the fateful day.
"If he is now okay, he should come and give us his side of the story and why he was being beaten because our officers thought he was a victim of mob justice for being a robber."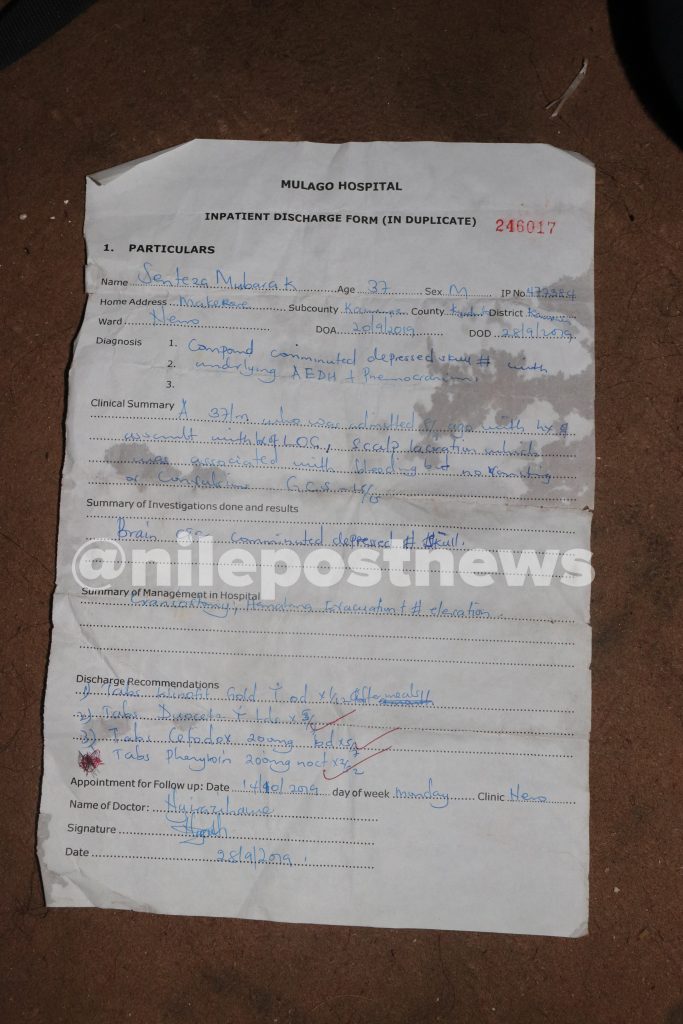 Owoyesigyire advised Ssenteza to make a statement at Matugga police station so that allegations of being attacked are investigated.
About Ssenteza
The 31-year- old was one the NRM youths royal to former Prime Minister and presidential aspirant, Amama Mbabazi under the NRM Poor youth who staged a number of protests around Kampala, prior to the 2016 general elections.
He says the group was later named NRM for justice and later former the Kawempe Republic.
Past incidents
In the past, a number of incidents have been reported when people have allegedly been attacked over their political affiliations and especially for supporting the ruling NRM party.
Isaac Katoogo, 36, was allegedly nailed through the cheeks for composing a song for President Museveni.
The ruling NRM party leaders have since disowned Katoogo saying he is not known by the party leadership.
In another incident last month, Baker Kasumba, a resident of Kivuulu in Kawempe division reported to Kibe police post in Kalerwe with two-inch six nails in his palms after claiming that he had been attacked by two men accusing him of supporting the ruling NRM party who drove two 6-inch nails in his hands.