Irish potato farmers and traders have noted with concern that they may suffer big losses if the market for their produce continues to be so unpredictable despite the bumper harvest.
The farmers blame the price fluctuation for Irish potatoes on the closure of the Uganda-Rwanda border. They say that highest percentage of buyers for the tubers are from Rwanda.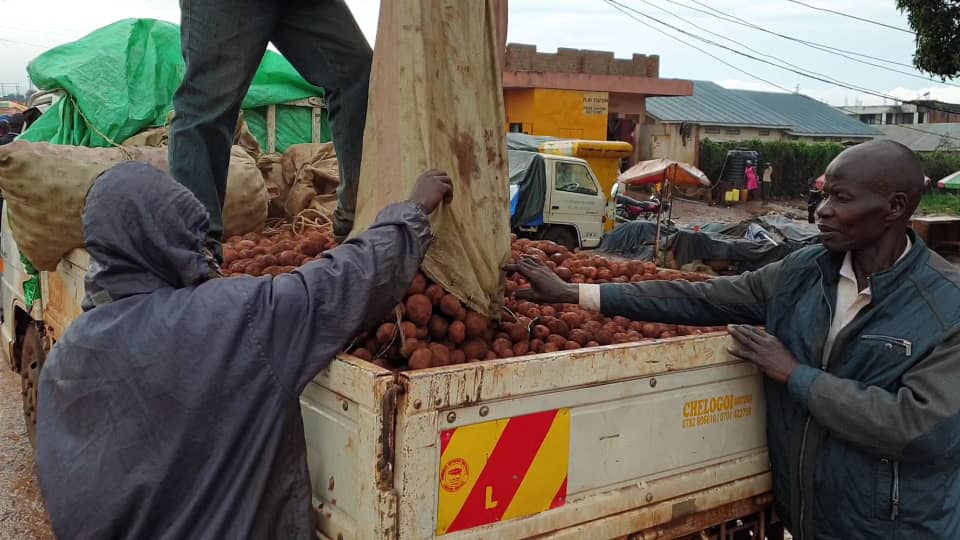 The pending market disruption comes close on the heels of a drop in maize prices in 2018. The low maize prices forced many farmers and youth in the Elgon region to try irish potato growing which seemed a better prospect for profit.
To their dismay, the reverse has become true.
A bag of Irish now goes for UGX35,000 down from shs 60,000 last year. This has left farmers in a state of regret.
At Bugwere market in Mbale Municipality, a central market place for irish potatoes in the region, Irish potatoe dealers are equally stranded due to low sales.
Siraji Manana, who deals in irish potatoes and heads the dealers association, says, "We have been selling at 60,000 but we have gone down to 55,000 because the buyers are few."
Manana attributes the low sales and its consequent price cuts to the ongoing border tension between Uganda and Rwanda. Manana says that a big portion of the region's Irish produce ends up in Rwanda. The traders are now relying majorly on the local markets.
He has appealed to authorities to resolve the tension between the two states for the smooth flow of business.
Uganda issues travel advisory to drivers as border row with Rwanda rages on
Rwanda closed its border with Uganda in March 2019. There have been several meetings between the countries two presidents to resolve the standoff unsuccessfully.
The price of irish potatoes is usually expected to quadruple shortly after the harvest season. This seems unlikely this year.
Traders have appealed to government to support them with storage facilities which in their view could enable them store the excess to balance the forces of demand and supply and ensure price stability through the year.