Uganda Freight Forwarders Association (UFFA) is partnering with the National Logistics Platform (under Private Sector Foundation Uganda), the Ministry of Works and Transport and Uganda Revenue Authority (URA) to host the second Regional Logistics Expo 2019 on August 21'st and 22'nd 2019 at the Sheraton Kampala Hotel, under the theme "Innovative and Sustainable Solutions for Freight Logistics."
In this interview, UFFA Chairman, Hussein Kiddedde, explains why the freight logistics industry and the economy in general need this summit:
What is the RLE2019 meant to address?
This second Regional Logistics Expo timely, as it will address several pertinent needs. A lot is happening around us as an industry, a nation and a region in general; some of which are opportunities while others are challenges that occasion both risk and prospects depending on stakeholder response.
It is expected to attract over 500 local and international participants, the expo will examine how the industry can keep realigning in an ever shifting business environment through human resource skilling and reskilling, professionalism and self-regulation, as well as embracing disruptive innovations like blockchain technologies, artificial intelligence, the internet of things and big data.
Also to be addressed is the fragmentation at both enterprise and regulatory level within the freight logistics industry.
This division has resulted in a disjointed industry with limited information sharing and difficulties in quantifying practicing professionals.
Apart from the local issues highlighted above, what international matters will come up for discussion at the RLE2019?
Several developments are unfolding in the region and on the continent that will undoubtedly impact how we do business in freight logistics and generally as an economy.
Cross-border issues have acquired prominence in the region and across the continent, including a half-year long border dispute between Uganda and Rwanda.
In the meantime the Democratic Republic of Congo, with a population of over 80 million people, has applied to join the East African Community (EAC).
As you may know, the Africa Continental Free Trade Area (AfCFTA) is being fast tracked.
With 55 countries and a population of 1 billion people, the AfCFTA is undoubtedly the most complex and elaborate regional integration project undertaken in human history.
A month ago, Nigeria put pen to paper, which now begins to seal the agreement.
I think it is only left with Eretria, which should also join soon.
We intend to align our views on whatever is happening in the East African Community (EAC) and beyond so that we can position freight logistics better, to meet the dynamic demands of these projects and opportunities.
What are some of the gains from the first RLE in 2017 and the Global Logistics Conference held last year in 2018 so far?
The conferences have given us a platform to hold focused internal discussions as a country.
We were selected to host the Global Logistics Convention in 2018, because of the success of the first RLE.
Together with the government, we in the private sector are examining various innovative ways that can help the industry progress.
The speed of execution remains a challenge and needs to be addressed. We are still building on the achievements from the inaugural REL2017, including the launch of the National Logistics Platform (NLP).
Among the many positives the NLP has brought to the industry is addressing the fragmentation issue by allowing us to remain in our various associations while at the same time coming together to address concerns that cut across the industry.
In 2017, we also conceptualised the idea of transforming Uganda into a trade logistics or distribution hub. Uganda is well positioned to become so, not only for the region, but for Africa as well.
It is on record that Uganda can easily become the Dubai of Africa because of our location and the resources that we have.
There are crucial issues we must organise and put in place as a country in order to move into that direction.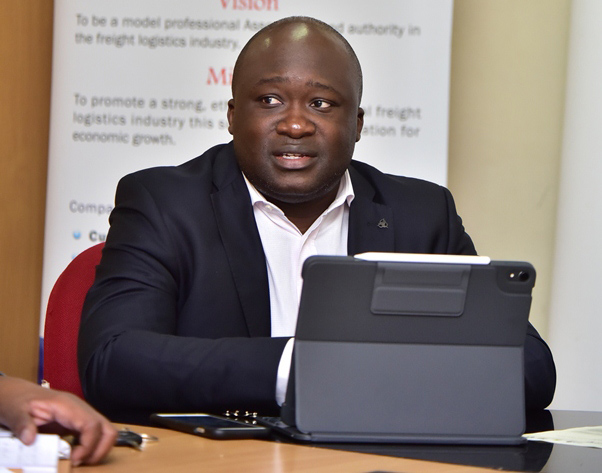 When are the logistics hub plans starting to take shape?
As we speak today, momentum is on.
Development partners, Trademark East Africa (TMEA) have started funding the initial development phases of the Gulu Logistics Hub.
We are also aware that other development partners and government are looking at more areas to be developed as industrial parts but with logistics facilities.
That will support what we already have naturally, and therefore positioning Uganda as a transit country, to serve the over 140 million people in the region.
It implies that the private sector needs to seriously engage with government on how best to position for these opportunities.
The deliberations over this ought to take place now otherwise, what is supposed to be a win-win situation, for all stakeholders involved, may not be realised.
How is the professionalisation of the industry coming along?
There is good progress.
Recently, Twenty five (25) logistic experts in Uganda completed a demanding, FIATA, "Train-the-Trainer" course in international logistics and freight forwarding, which will see them become certified FIATA Diploma instructors.
Once the 14 FIATA minimum standards are well understood in our industry, we will be able to boast a strong modern human resource base in the country and region, with international expertise.
The journey towards professionalism of the logistics and freight forwarding industry in East Africa dates started way back.
In 2006, the National Curriculum Implementation Committee (NCIC) was tasked with overseeing the implementation of capacity building programs in the industry; with the blessings of the Federation of East Africa Freight Forwarding Association (FEAFFA) and the East African Community Directorate of Customs and Trade.
The East African Customs Freight Forwarding Practicing Certificate (EACFFPC) has been implemented with 6,600 graduates across the region to date, with 1,387 of these, coming from Uganda.
Currently, another 438 participants are undergoing this certificate training in Kampala, Mutukula and Entebbe.
The leadership of Uganda Revenue Authority (URA) particularly the customs department has and continues to be instrumental in supporting this progress.
What are other the challenges to be urgently addressed?
As already mentioned, there is a challenge of fragmentation in the industry and now the National Logistics Platform (NLP) is helping us overcome it.
However, there are issues we still need to address, as a result of fragmentation.
For example, it is impossible to quantify the number of people operating in freight logistics in Uganda, today.
No government agency can possibly tell you how many trucks and/or truck drivers we have on Ugandan roads today or how many trained warehouse operators and space we have.
We also do not know how many dangerous goods experts we have among other data.
But with regional integration and the AfFCTA, upon us, we expect business to open up across the continent and with significant movement of labour, goods and services. We therefore cannot afford to ignore this wave.
Issues of skilling are key, as well as registration of industry players. As regards industry laws, we are proposing self-regulation.
We are not taking away any authority but are making ourselves accountable.
Nobody makes an industry more accountable than the stakeholders themselves.