There is an old adage that states; 'Disability is not inability," and this fits perfectly in the description of Roy Rusa and his six friends all of which have hearing impairments.
At Nasser Road in Kampala is where I met Roy Rusa, 27, with his team doing printing and competing fairly with the rest of the operators that are into this business.
Unlike their competitors however, Roy and his team have hearing impairments and they can only communicate through writing and sign language for those that can interpret it. At first glance, you will not realise this until you try to make an inquiry.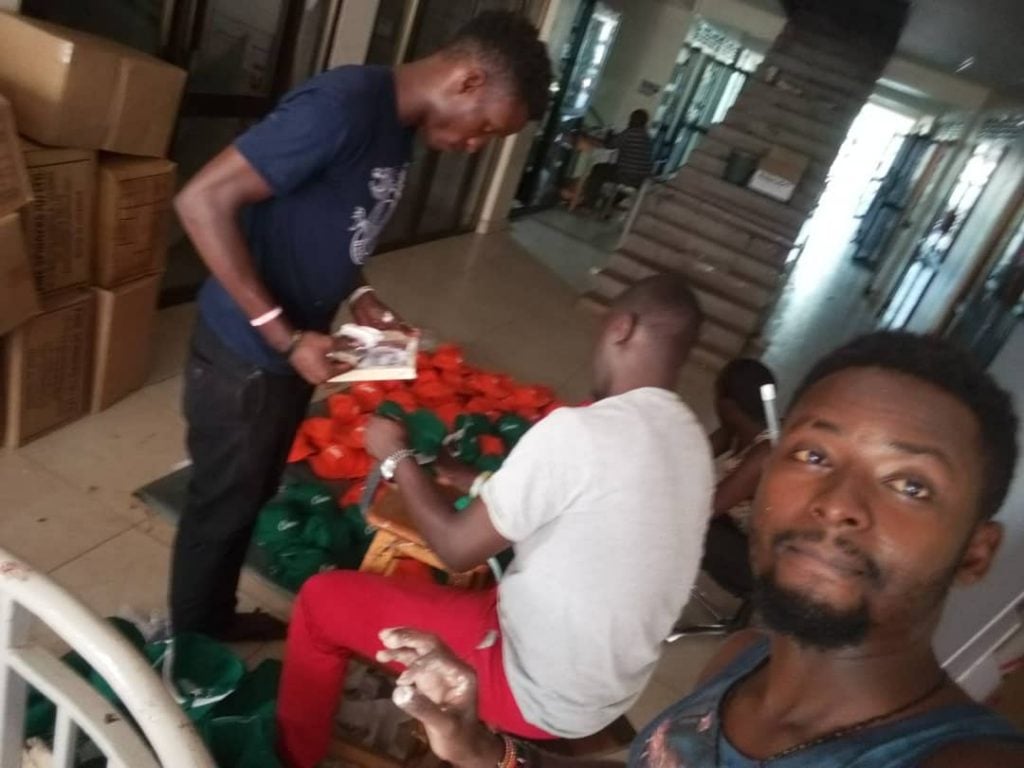 One of the them rushes to get a book where they interact with their customers to pick their specific orders and work commences immediately until it's delivered to the customer.
Roy tells me that they were lucky to attain some education and this is how they try to overcome the barrier of communication through writing and sign language for those that can interpret it.
"Communication is our main challenge because of our disability. But we attained some education and we managed to overcome it by writing," He said.
Roy is a recent graduate having graduated last year from Michelangelo College Of Art in Kisubi,Entebbe with a Diploma Of Art andmy Design. He leads a team of six other young people who like him, all have hearing impairments.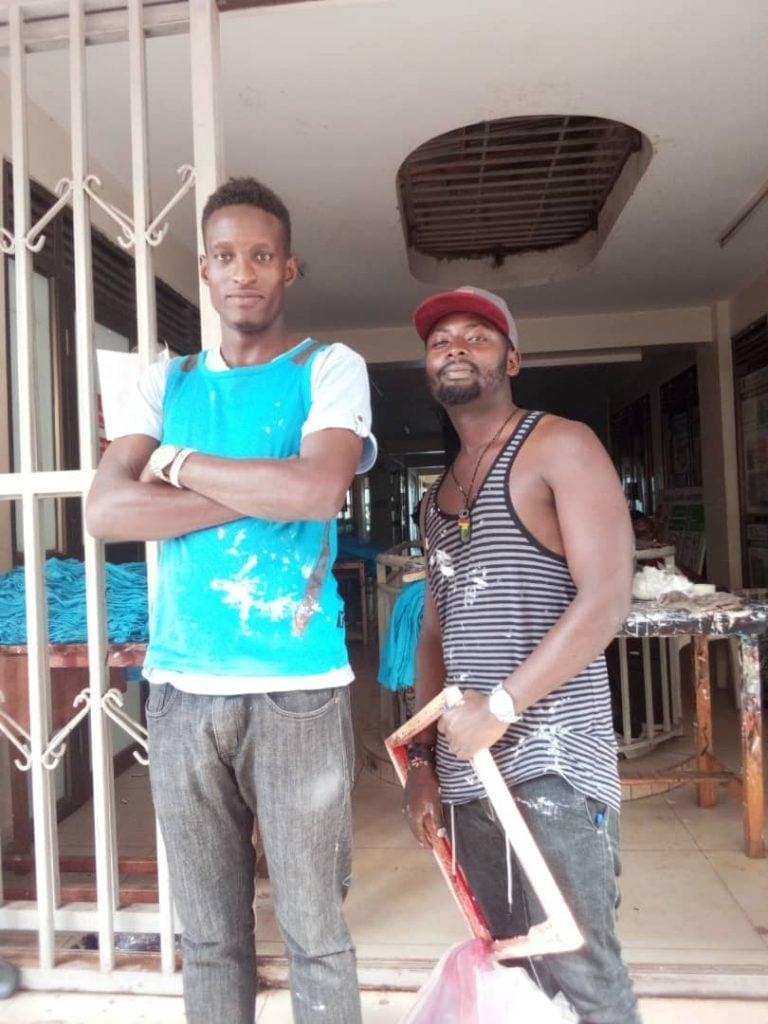 Luckily, they have friends who we only identified as Vincent and Bernadette who help them communication with some of their clients once in a while when they are around.
Asked how they started out, Roy told me that he started at a friends office along the same road – Nasser, with a small capital of Ugshs 30,000 until he managed to secure some savings to to start up his own business and called on his Old Boys to join him in the trade.
He said that they have now managed to attract a big clientele due to their work ethics and extra motivation.
He tells me that their work ethic has enabled them to follow the trends which brings them profits that they use to pay their personal bills.
"I started at my friends office along Nasser road and we are still here. I started with a small capital which my friends and I combined to make screens for printing. It was Ugshs. 30,000 if I can remember,"
"We are seven in number and they are all my OBs from primary and secondary school. We have now managed to secure a relatively big clientele base which has enabled us to become independent and manage to pay our bills," Roy said in writing.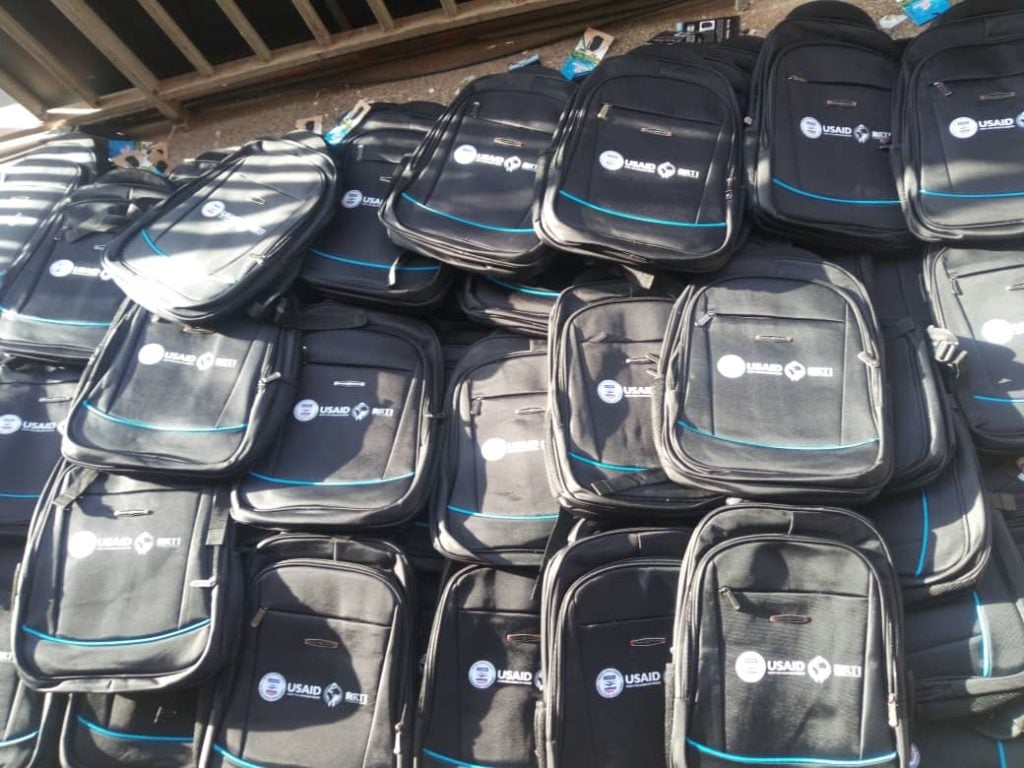 He says that the tides are high but he has felt like giving up at any one moment and he advises people not to look out for excuses but rather work hard.
"I advise people not to look for exuses but rather work hard. I believe disability is not inability. If I can do it so can you. Last but not least pray to God in good and bad times and never give up," He adds.
Their workshop offers printing services, designing services and blending material.
According to figures from the Uganda Bureau of Statistics, people with disabilities made up to 18% of the total population. These find a lot of hurdles and challenges while seeking for official employment.
Even in entrepreneurship or self employment however, many customers are however not comfortable with the idea of transacting with people who have hearing impairments. Roy says that he has lost business on several occasions because of this.
" Sometimes when I try to engage customers by writing to them, they walk away. They think we're stupid and especially those that are seeing this for the first time. I don't have a sign language interpreter yet, so it's hard."
He said that he at times fails to bargain for better deals because of his inability to engage customers.
Roy appealed to government to support people with hearing impairments and different disabilities to start small and grow their business.
" Much of the attention is given to politicians but they've not been able to help us. I call upon government to help us financially so that we can compete favorably." Roy said in a statement.