Newly promoted Startimes Uganda premier league side Wakiso Giants has this morning unveiled a 62 sitter bus that is reportedly a donation from one of the club's ambassadors and Musician Joseph Mayanja, alias Jose Chameleone.
The musician says explained that the bus was a gift from an American friend that he decided to donate to his beloved club.
"I met this friend of mine in London where we became friends, shared different ideas and he even told me he loves African music but later parted ways. So he did research about me, he saw many pictures of me in Wakiso Giants jersey and asked me about the club, and I told him it's the one I support back home so he picked interest."
He also asked about my dreams and what I would love to achieve but like you all know me, I couldn't say money since its not my problem. He told me how he would like to make an impact on my life saying whatever he will want to give will be for Wakiso Giants, invited me to his home, he is a very rich man who owns like 40 0f these buses. He showed me and said one bus is for Wakiso Giants. I was very happy, came back home and told CEO Musa Atagenda about everything and we had to ship the bus into the country ourselves," narrated Jose Chameleone.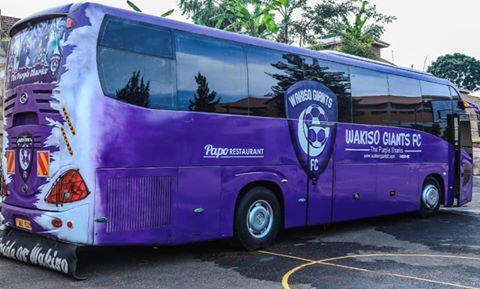 Federation of Uganda football Associations, FUFA,'s boss Moses Magogo also credited the club management for the good work done to ensure that the Wakisha stadium meets the required standards to host league games.
"I have also been invited to this event to look at works going on the proposed stadium and the people in FUFA who are technically qualified in club licensing will also come and plan evaluation but from my point of view whatever is missing can easily be done, and to be more specific only the pitch if its worked on, there wouldn't be a challenge to host the games here," said the FUFA president, Moses Magogo.
Wakiso district's LC 5 chairperson Hassan Lule also pledged full support to the club.
"I had everything in Wakiso except a football club, and now that its here I will work hand in hand with the management to ensure its growth and as for the pitch I will do everything to have it leveled and to FUFA standards since I have all it takes like the engineers and the equipment, I pledge my full support to the team," affirmed Hassan Lule.
The developments come at a time when the Purple Sharks are preparing to face Proline FC in the final of the Startimes FUFA big league on Saturday at the Startimes stadium in lugogo.
The club's assistant coach Andrew Lule confirmed the absence of injured striker Norman Ojik who won't be a part of the title match.
"We are well prepared for Saturday's game which is our last in the FUFA big league, we have been training but team will be without some key players like Norman Ojik who is still injured.
Wakiso Giants was the first team to be promoted to the Startimes Uganda Premier League having led the Elgon group of the big league with 41 points.