Prominent businessman Capt. Roy Zziwa has called for President Museveni intervention in a matter in which he accuses a South African national working with a high ranking official in State House, of trying to grab part of his land in Nakasongola district.
Zziwa whose business interests span real estate and aviation sector says that Angella Genade, a South African national and executive director of the Rhino Fund Uganda (RFU) wants to takeover 16,000 acres which he leased to her husband in 2010 to construct lodge facilities.
This is part of the land houses rhinos which have been on the sanctuary since 2002.
Through his representative, Zziwa told The Nile Post that Genade has the support of an official in State House as well as the security apparatus.
Apparently, Zziwa has received threats to his life if he does not give up the land. This official has worked tooth and nail to ensure that the businessman does not access the president to table his concerns.
We have been reliably told that he has met with Gen Salim Saleh recently and raised the same concerns. Saleh reportedly told him that the matter will be handled.
Earlier in a letter to President Museveni dated February 7, 2019 Zziwa had laid down the genesis of the issue.
"She [Genade] has made allegations that we want to remove the Rhinos and RFU has nowhere to take them. The local communities and international community are being mobilized to intervene in this matter, which is threatening the endangered species of the Southern Rhino only found at the Zziwa Rhino Sanctuary and only two in at the Entebbe Zoo," Zziwa wrote.
"I and my family would like to state clearly that, it's not true we are threatening the existence of the Rhinos in any way. We have not stated at any single day that the rhinos should leave Zziwa Rhino Sanctuary but we should be allowed access and enjoy endeavours without being dragged to court."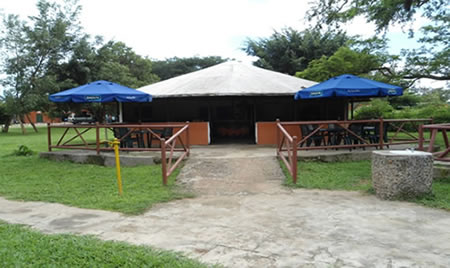 Zziwa writes in the letter that the Rhino sanctuary attracts over 100,000 visitors a year but that there has been little or no benefit to the people of Uganda.
Genesis
It all stemmed from a 2010 concession agreement that Zziwa signed with Angella's husband, Genade who also served as the Executive Director of RFU to operate a lodge at the ranch through his company D & D International.
According to the agreement, D & D was supposed to pay 10% from accommodation and 10% from the restaurant business to Zziwa.
Zziwa said to date, no payment was made and instead D & D created another company called Amuka Lodges to run the activities of the lodge in the ranch.
In 2017, Capt. Roy decided to terminate the concession with RFU and D & D but Genade ran to the Arbitration Court.
She also blocked them from accessing their own property and she has denied them the right to upgrade their lodge and ranch.
Zziwa alleges that Genade has the support of a senior official in State House and has compromised local police and district officials of Nakasongola.
He also accused her of conflict of interest and denying the RFU funds by entering into an illegal contract with some of her family members.
Currently Zziwa is in Europe recuperating from an injury he got while skiing.
Sources told The Nile Post that he is expected back in the country in May.