Truck drivers coming from both Uganda and Rwanda have said the ongoing impasse and frost relations between the two  East African countries  have had a major impact on their businesses. 
On Wednesday, Rwandan authorities blocked trucks from accessing the country via the Katuna border to pave way for construction works on the road.
"We are considering reducing the traffic of heavy trucks to allow completion of the OSBP infrastructure," read a letter signed by Rosine Uwamariya, the Commissioner for Customs at Rwanda Revenue Authority.
"In view of the above, Rwanda Revenue Authority would like to inform you that with effect from February 28, 2019, all heavy trucks carrying goods destined and those transiting via Gatuna shall be temporarily diverted from using Gatuna Border Post to Kagitumba/Mirama Hills border posts," she added.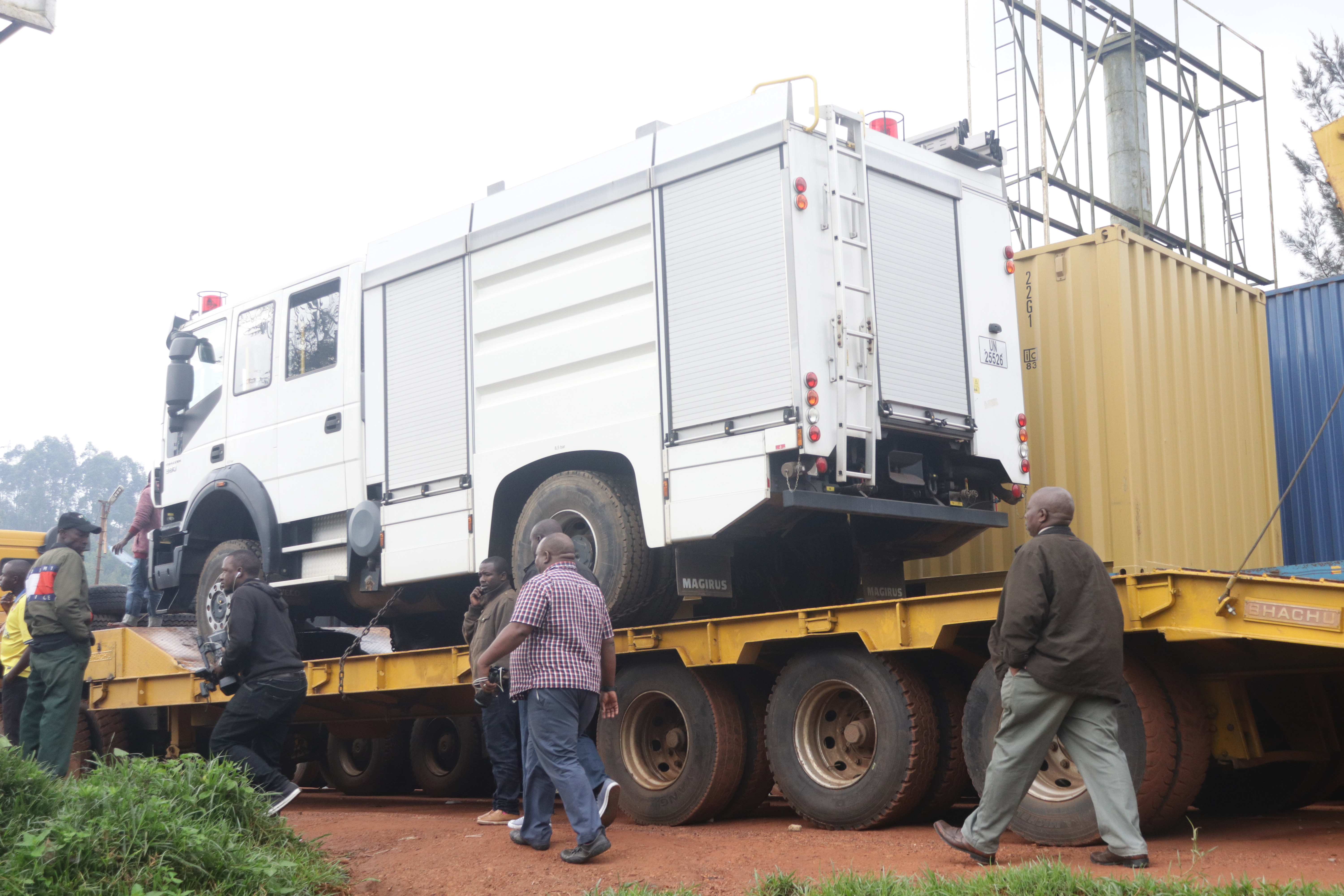 On Saturday, the Nile Post visited the border post at Katuna and found over 130 trailers camped at the Ugandan side after being stopped from proceeding to Rwanda, despite being cleared by the customs .
"I have spent over 3 days here. When we first came, we were given no reason for stopping us from proceeding to Kigali.They insisted they were working on something, "said Bright  Biryomumaisho a truck driver.
According to Jamil Mugoya,his truck was destined  to Democratic  Republic of Congo but he was not allowed to continue with his journey  following the impasse.
"They only allow people crossing on foot . We have slept in our vehicles for over 4 days,"Mugoya said.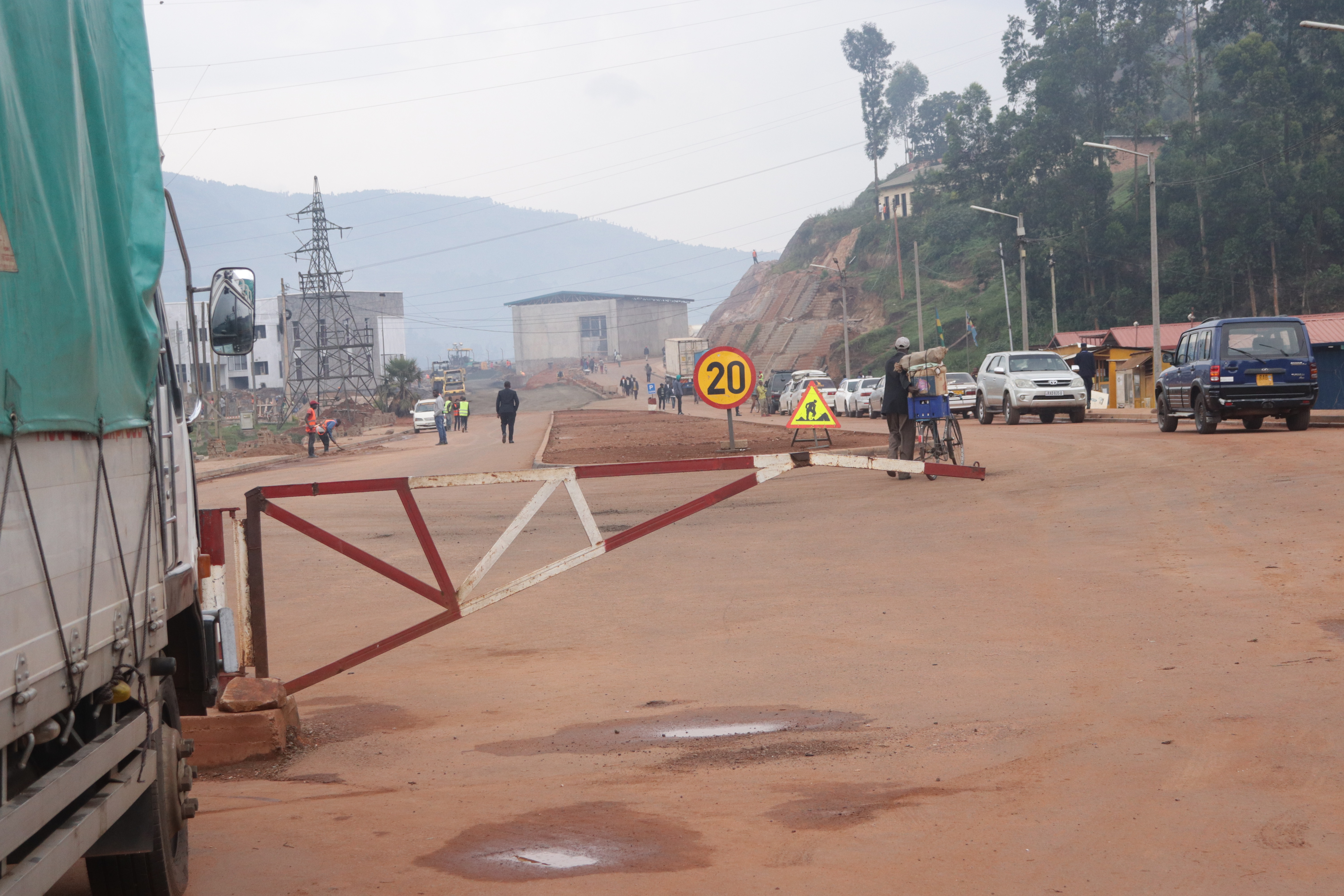 The truck driver expressed concern that he is left with no money to use after using what he had budgeted for .
Sam Baligwa said his truck carrying  fish worth  shs30 million is among those stuck at the border as he ponders the next move.
"For three days we have been stuck here but fish is soon getting spoilt. We now don't know what to do next.
There are other truck drivers carrying perishable goods including tomatoes and mangoes which have since gone bad and they are counting losses.
In one incident, a driver was seen selling the mangoes to locals at a giveaway price.
At the Katuna border, more than a kilometer long queue of trucks destined to Kigali remain stuck on the Ugandan side.
Conundrum 
In their communication, Rwanda Revenue Authority urged truck drivers to use the Kagitumba/Mirama Hills border posts as works on the road via the Katuna border are ongoing.
The drivers are now stuck in a conundrum on whether to wait until the Katuna border is opened or use alternative borders.
"The fuel we have was meant to take us up to Kigali and going via the Mirama hills border post would mean more fuel that we don't have," said Sam Baligwa.
According to Samuel Sserwanga, the head of clearing agents at the Katuna border,it is not practical for drivers to use the Mirama hills border post because of its long distance.
"From here (Katuna) to Kigali is only 90 kilometres but moving from here (Katuna) via Mirama to Kigali that the drivers are being asked to use is almost 200 kilometres. It makes it difficult for the drivers to use that route due to logistical  issues," said Sserwanga.
According to Emmanuel  Bamanya, the in charge for the customs teams at Katuna, they had cleared over 50 trucks out of the 130 at the border and they were destined for Kigali when they were stopped.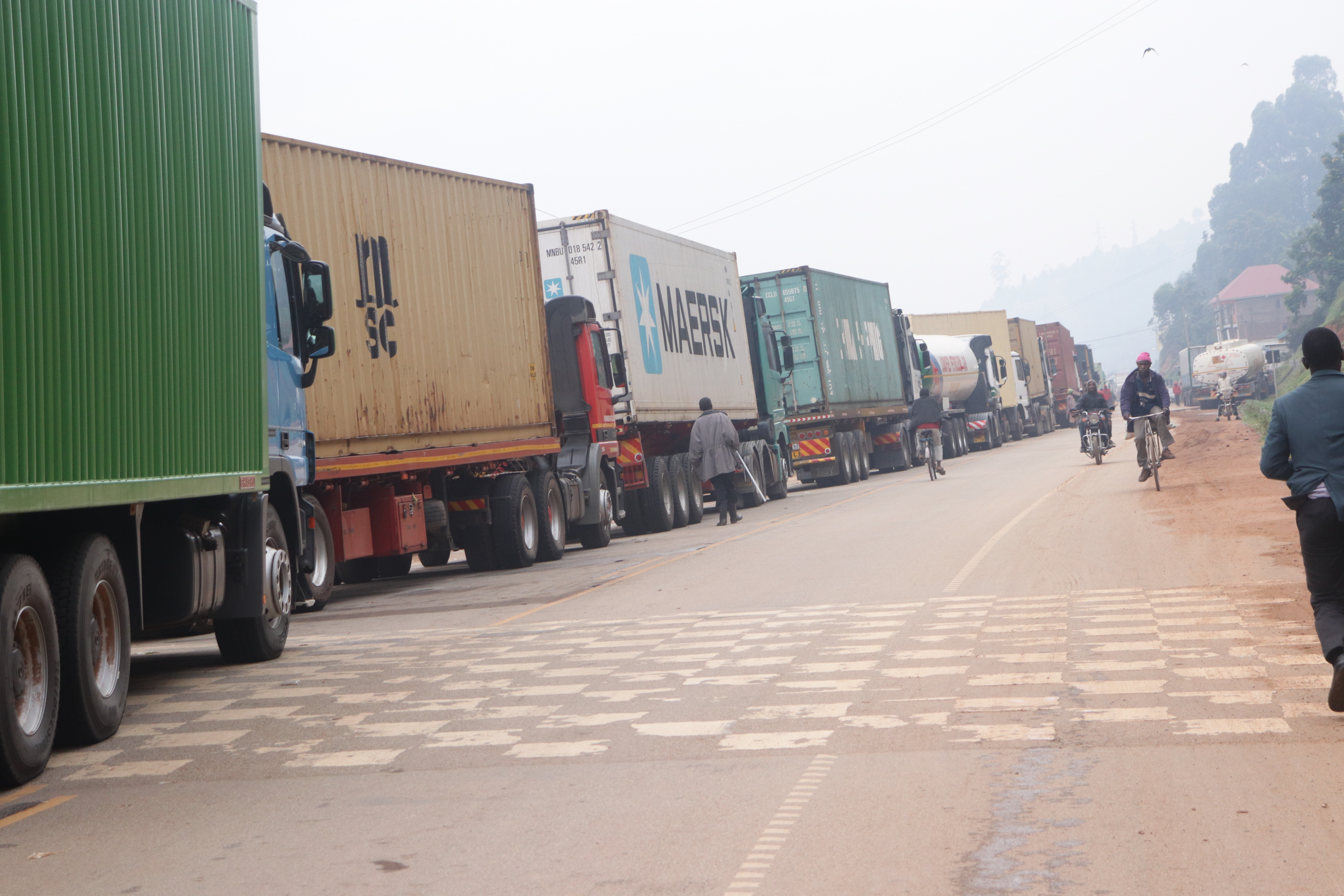 "The problem with using another border is that we have to remove the trucks that have already been cleared from our records and it's another logistical nightmare that we are to face,"said Bamanya.
He noted that vehicles would now need to be escorted to Mirama hills since they had been cleared at the Katuna border to enter Rwanda.
According to officials from Katuna town council, the impasse has greatly affected their revenue collection since businesses stalled.
"No business is going on now because shops and kiosks are no longer selling anything and that way we collect get no revenues in form of taxes," said the Katuna town council speaker  Patrick Katwesigye.
At the Cyanika border, the situation is the same with a number of vehicles parked on the Ugandan side.
Drivers say fees for clearing trucks have been doubled on the Rwandan side without any clear explanation.
"A truck of maize that usually cost Rwandan Francs 150,000 to be cleared has been increased to 300,000 Rwandan Francs, one for fish rose from 200,000 to 400,000 Rwandan Francs whereas one for cassava which usually cost 140,000 Rwandan Francs has been increased to 280,000 without any proper explanation,"said William Kiwalabye, a driver of a truck carrying fish from Jinja to Gisenyi in Rwanda.
According to Rogers Baingana, the URA customs station head at the border point, on Tuesday, they cleared seven vehicles destined for Kigali but up to now only 3 of them have been to continue with their journey.
"The other vehicles we cleared have been stopped at the Rwanda border side and are stuck there since Tuesday. It is an unusual occasion which has forced many truck drivers to park on the Ugandan side as they closely monitor the situation,"Baingana said.
He said in the past, business was booming on the Ugandan side partly because of traders from Rwanda but noted that since the impasse, these are no longer coming and trade in agricultural products has stalled.
What both governments say
On Friday, the Uganda government spokesperson, Ofwono Opondo said Rwanda was not allowing its nationals to cross into Uganda including pupils and students who study in Uganda.
"Yesterday we had the weekly market at Kisoro at Cyanika border. They did not allow Rwandese to bring their merchandise or to come and buy. The impact is not openly felt in Uganda but also on the Rwanda side because many of the people buy essential goods from here. Apart from temporary closure as a result of construction, we have not received official communication as to why Rwandese are not allowed to cross to Uganda," Ofwono told journalists during a media briefing at the Uganda Media Centre in Kampala.
He said there was no witch hunt of Rwandese in Uganda.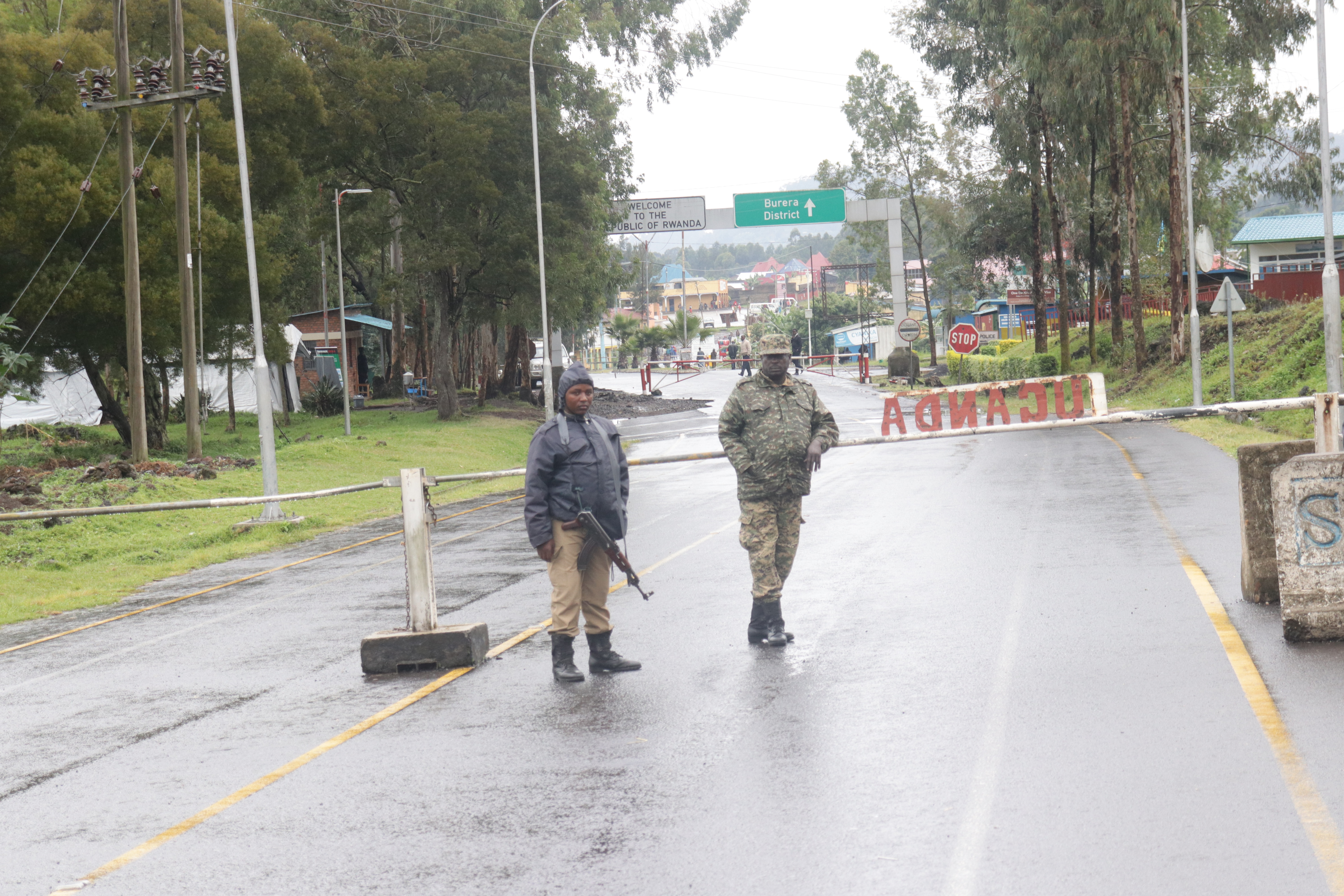 "They [Rwandans in Uganda] are doing their normal activities as they have done. There is no Rwandan in police custody outside the jurisdiction of the law. Any Rwandan in custody has been processed through the police system or judicial system," he said.
He added that government has summoned Rwandan envoy to Uganda, Maj Gen Frank Mugambage, to explain the diplomatic standoff at the two countries' border.
However, on the other side, Rwanda's foreign affairs minister, Richard Ssezibera said they had only closed the border to facilitate the ongoing road works.
"As explained to many journalists, all Rwanda's borders are open. Trucks and heavy vehicles are advised to use Kagitumba due to ongoing construction at Gatuna,"Amb Ssezibera said.