Last week, Robert Kyagulanyi (aka Bobi Wine), the Kyadondo East MP, declared during an interview with the CNN that he would consider challenging President Museveni in the 2021 elections (for the record, Museveni is yet to declare whether he will stand).
In his words, Kyagulanyi said: "We have been discussing this with my team and I must say we (I and my team) are seriously considering challenging President Museveni in the next presidential elections."
It was the first time Kyagulanyi, the leader of People Power, a pressure group that has no well defined leadership structure, had openly discussed his presidential ambitions. Previously, he has been coy.
People Power has ratcheted up pressure on the NRM government, attracting the support of the mainly unemployed youth and catapulting Kyagulanyi to national and international stardom.
Yet Kyagulanyi's early declaration of presidential ambitions has divided political analysts.
Some analysts have said the move was ill-timed and will attract more hostility from the government towards him.
Ndebesa Mwabutsya, a political historian told The Nile Post that Kyagulanyi's early declaration could push away those who would have wanted to join him.
"He could send away potential supporters who would have wanted to come and contest for the flag bearer within his party. He is telling them that it has already been decided that he will stand, so these people could go elsewhere," Mwambutsya said.
He said that the same thing happened to the Uganda Patriotic Movemen (UPM)t in 1980 when Ephraim Kamuntu and Tarsis Kabwegyere decamped to their parties (UPC and DP respectively) after it became clear that Museveni was intent on being the party's presidential flag bearer at all costs.
Others, like Omar Kalinge Nyago, a veteran political activist, have urged him on, saying People Power should not listen to naysayers and doomsday prophets.
"Derailing an opponent through psychological means like "it is impossible, you are not ready, your opponent is very strong", etc is called demobilisation. If you are determined to do your thing, smell the demobiliser from far and pay no attention to them…because the demobiliser's mission is to sow doubt in your mind and to keep you busy on self defence," Nyago wrote on his Facebook wall on February 3.
Whatever the case, the battle lines between Kyagulanyi and President Museveni were drawn in 2017 when after winning the Kyadondo East by-elections, he started agitating for political change at the top.
With his symbolic Uganda Flag and accompanied by a band of fervent youths, he traversed parts of the country, asking people to use their power to cause change.
His activism and burgeoning political influence have had registered some short term gains: such as the election of Asuman Basalirwa in Bugiri Municipality and Kassiano Wadri in Arua Municipality.
Taking on Museveni
Yet ultimately, the bigger prize remains the 2021 presidential elections that will most likely pit him against President Museveni (should he choose to stand like it is widely expected).
Political analysts have constantly opined that Museveni has never been one to take his opponents lightly both within and outside the NRM.
He firmly dealt with former Prime Minister Amama Mbabazi in 2015 employing the carrot and stick method.
Between August and December 2014, Mbabazi was sacked from cabinet, removed as secretary general of NRM in a hastily organised delegates' conference, had his bank National Bank of Commerce closed and his grassroots structures were destroyed and compromised. Mbabazi has largely retreated to private life.
As for Dr Kizza Besigye, he has had a stint in exile, been confined under house arrest, he has been slapped with rape and treason charges, has been in and out of jail more than 50 times, and continues to be trailed by security operatives. He soldiers on.
Certainly the cost of opposing Museveni are high and it might not be a different story for Kyagulanyi who has already suffered physical and psychological torture in the aftermath of the Arua Municipality by-election debacle.
"Bobi Wine should expect many things including being beaten and framed on trumped up charges," said one activist who preferred to remain anonymous because he is a supporter of the NRM.
"You don't take on Mzee [President Museveni] and expect that things are going to be smooth."
Museveni has also largely thrived by exploiting both the formal and informal structures of the state to his advantage.
He uses the elaborate LC structures, operatives from DISO (District Internal Security Organisation); GISO (Gombolola Internal Security Organisation), PISO (Parish Internal Security Organisation) and RDCs as tools of political mobilisation.
He also has the ability to outspend his opponents.
According to a survey by the Alliance for Campaign Finance Monitoring (ACFIM), a civil society organisation, conducted in 16 districts between May 2015 and February 2016, President Museveni and NRM spent Shs 333 billion in those districts, almost 30 times more than FDC's Besigye who spent Shs 12 billion.
So the real test for Kyagulanyi between now and 2021, some analysts believe, will be whether he will be able to surmount these challenges or whether he will give up along the way.
The Besigye Question
While many people have largely focussed on Kyagulanyi's likely duel with Museveni in 2021, looming heavily in the background is Dr Kizza Besigye, the doyen of the opposition.
Besigye has contested four times against Museveni, emerging loser on all occasions. But he remains the most influential and consistent opposition politician in the country.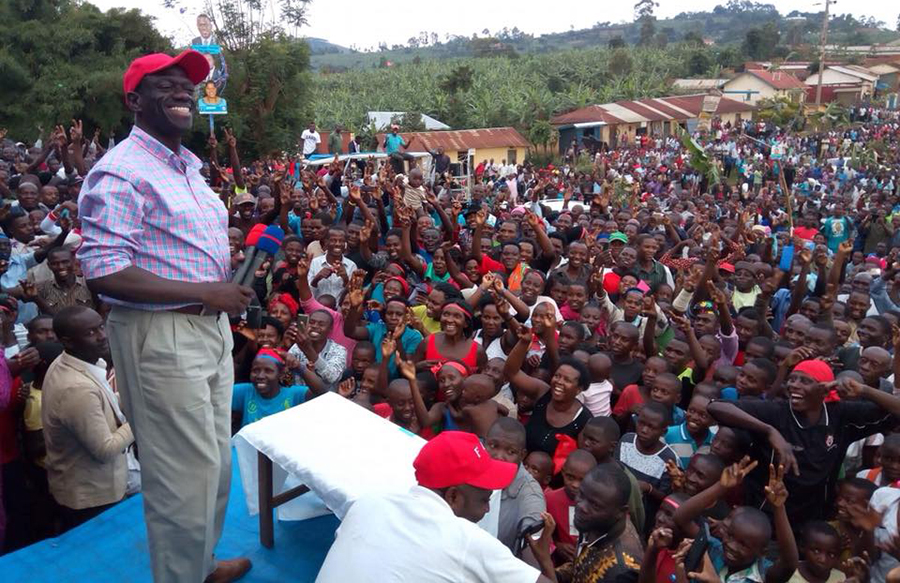 Besigye has not yet declared that he will contest again in 2021. He has often said that it is premature to talk about elections when there are still road blocks in the path of democracy that need to be removed.
Should he choose to stand again, it will be interesting to see how Kyagulanyi's ambition will affect his political fortunes.
Besigye has said severally that he is a good friend of Kyagulanyi and the two have no rivalry of any sort.
In an interview with Nile Post last year, the former FDC leader welcomed him into the political fray but cautioned him not to think that he will easily coast to the presidency because the political ground is not yet level.
But tension and open hostility remains among supporters of Dr Besigye and Kyagulanyi as evidenced on various social media platforms.
Some of Kyagulanyi's vocal supporters like Ashburg Katto have been lampooning other politicians saying it is time for Bobi Wine to be president.
Some people have pointed out that a Kyagulanyi candidacy will hurt Besigye more than Museveni because the two draw from literally the same fan base: the core of their support comprises of people who are vehemently opposed to Museveni.
An official from FDC declined to comment on Kyagulanyi's likely impact on the fortunes of FDC fearing that it could inflame tensions further.
Some people have been quick to point to the 2011 elections when the candidacy of DP's Norbert Mao and UPC's Olara Otunnu affected Besigye's vote margin there.
In 2006, Besigye scored 82% in Gulu, 75% in Kitgum and 77% in Pader.
In 2011, the former FDC leader scored 20% in Gulu, 15% in Kitgum and 14% in Pader.
From the results, it is clear that Besigye's vote margin in Acholi declined largely because of Norbert Mao (DP) and Dr Olara Otunnu (UPC) entry into the race. The two political shots hail from Acholi.
In 2011, Mao won in Gulu with 42%, against Besigye's votes (20%).
Therefore in 2021, Kampala and Wakiso, which Besigye won handily in 2016 and which have the highest number of voters, could become the main battle grounds for the former FDC leader and Kyagulanyi.
In the end, Museveni may be the main beneficiary.
Yet given all that, Mwambutsya says in politics you can't rule out anything.
"Politics is the art where the impossible can become possible," he said.