By Ritah Tugumisirize

Grace Lindsay Mbabazi has become the first journalist to win the inaugural best female sports journalist of the year award at the sports journalist choice awards beating BBS/ CBS's Peace Diane and Vision group's Olivia Nakate.
This was at the awards ceremony held at Route 256 bar and restaurant in Kampala.
Mbabazi left 300,000 Uganda shillings richer and also took home a flat screen TV.
She attributes her success to God, hard work and Next Media for the opportunities that have groomed her into the award winning journalist she is today.
Mbabazi explained what the award means to her, "God is Good . Am the Sports Female Journalist of the year 2018 of the Sports Choice Journalists awards and the first female to win this award. It's been a tough year and as well a good year for me .Being the only journalist that managed to get an exclusive interview with former Liverpool player Kolo this year I knew that God loves me .
She recalled some of the stories that got her the award like, "The human interest stories, the story of a young boy who sells scrap to take care of his family and football being his only hope to make it in life and supporthis mother who spends the whole day crashing stones in a stone quarry working for 1000 Uganda shillings a day totake care of her eight children and many more."
She added, "I thank Next media for grooming me and believing in me to becoming the person I am today in my Sports Journalism career especially the entire newsroom and sports desk. And each one of you that has contributed to my journalism career."
Mbabazialso had a word of encouragement for her competition, "To you Olivia Nakate of Vision group and Peace Diane of BBS/CBS , you may not have won today but am grateful to God I made it to the top 3 with the best two hardworking female sports journalists.This is for us the women."
There was also special thanks to the organizers Leone Senyange and the judges.
Ahab Bwesigye was also awarded a certificate in the best sports news report category and says although he didnt win the overall award, he is happy about the achievement, "I didn't win the over all award but am so happy I wasnominated, that shows that my work is recognised."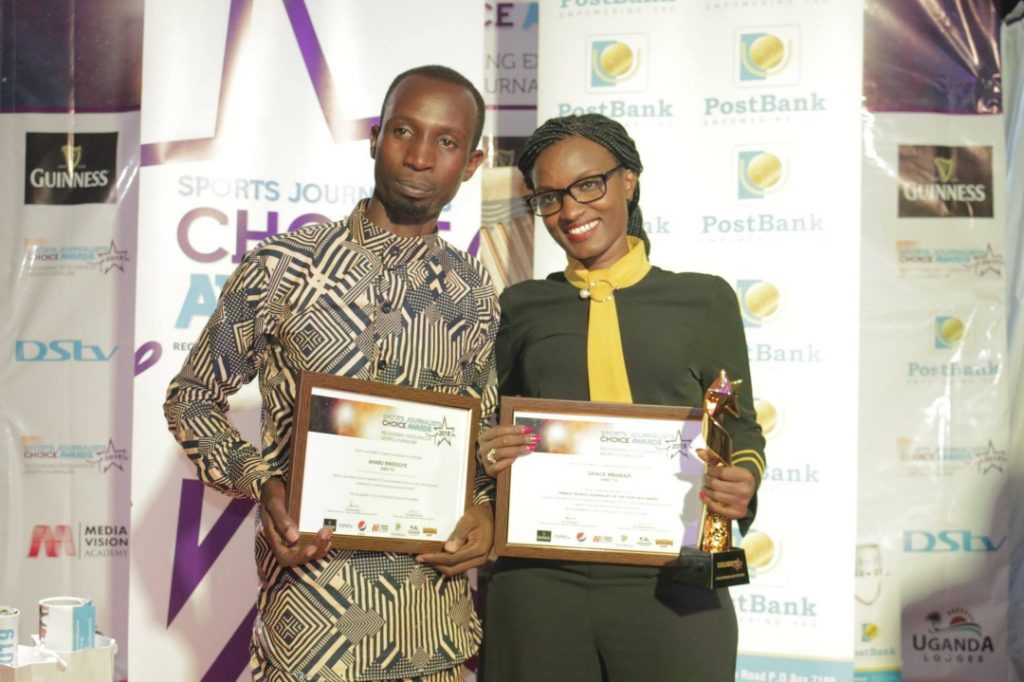 Am happy for my colleague Grace, she is so hard working and she deserved it." he added.
The Sports Journalists Choice awards have been held for the 3rd consecutive time with several competitors in categories like sports feature of the year won by Abdul Nasser Semugabi, best news report scooped by UBC's Among Ngabo, best social media journalist that was successfully defended by Allan Darren Kyeyune who was also named the best sports journalist of the year for a second successive time, among other awards.