Uganda has a garbage disposal problem. The country produces tonnes of plastics, polythene bags, and broken electronics without a systematic disposal plan.
The poor national garbage disposal habits are a recipe for environmental challenges for future generations. Some Ugandans, however, have spotted an opportunity have taken to minting money from garbage collection and disposal.
Kitezi is the major waste dumping area for Kampala metropolitan area and has been managed for years by the Kampala Capital City Authority (KCCA).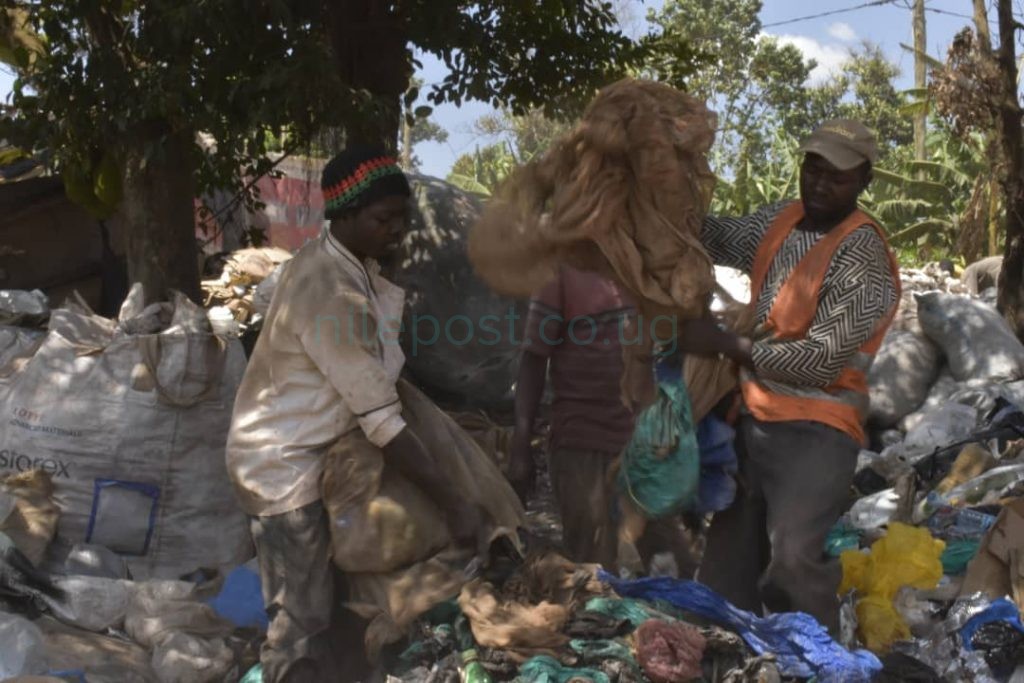 At Kitezi, you will find tens of young men and women rummaging from the garbage looking for various items to reclaim from the rubbish mounds. Saul Nambale from Bugisu region is one of these young people.
Nambale, a father of three, spends his day turning over the garbage in a hunt for plastic bottles, polythene paper bags, boxes, and other plastic material for recycling.
Nambale says this job has dramatically changed his life. He says he would not have been able to pay his rent, buy food or meet the scholastic demands of his children without the daily 8,000 shillings he earns from this job.
The Mayuge native has been able to construct a family home in his village that is near completion.
Yahayah Humail, the chairman Uganda Plastics Recycling Association (UPMLA), says many of their members share a similar story of how this humble job has impacted their lives.
Humail is proud of his job and what UPMLA has been able to achieve. He says UPMLA has exposed him to many investors large and small interested in the recycling business. He is able to save 50,000 shillings a day after paying off his workers.
He calls upon the companies involved in the recycling business to continue to investment in their technological practices as they are playing an important role in preserving the environment.
KCCA publicist Peter Kaujju notes that though the authority has gave licences to three garbage disposal companies to use Kitezi, more than 30 are using the site unofficially.
Kaujju says that KCCA plans to add value to garbage collection and dumping by licensing an energy processing company among other companies that process products out of garbage.
Kampala metropolitan area expels 2000 tones of garbage and only 1300 tones are collected and dumped at Kitezi landfill.