The Chief of Defence Forces, Gen.David Muhoozi on Friday paid a courtesy visit to the UPDF troops serving the under the AMISOM in Somalia.
Speaking to the Nile Post about the visit, the CDF said he had found them in fine mood and carrying out their duties diligently
"Everything is so far so good. The men and women of the UPDF in Somalia are in high spirits,"Gen.Muhoozi said.
Asked about the plan to start withdrawal of troops from Somalia that was scheduled for this year, the Chief of Defence Forces for the UPDF said the subject is still on the table as discussions about the same are still ongoing.
He said negotiations are on course to see their mandate extended so as to enable for capacity building of the Somali National Army by the UPDF to avoid putting their gains in Somalia to waste.
Asked whether the deployment in Somalia was worth it, Gen.Muhoozi said that the entire world has been able to know that what was once described as a mission impossible has been made possible by Uganda.
"Despite the challenges, we have done excellent work. Some people coined the mission dead on arrival but we turned around pessimism to optimism and proved it was doable."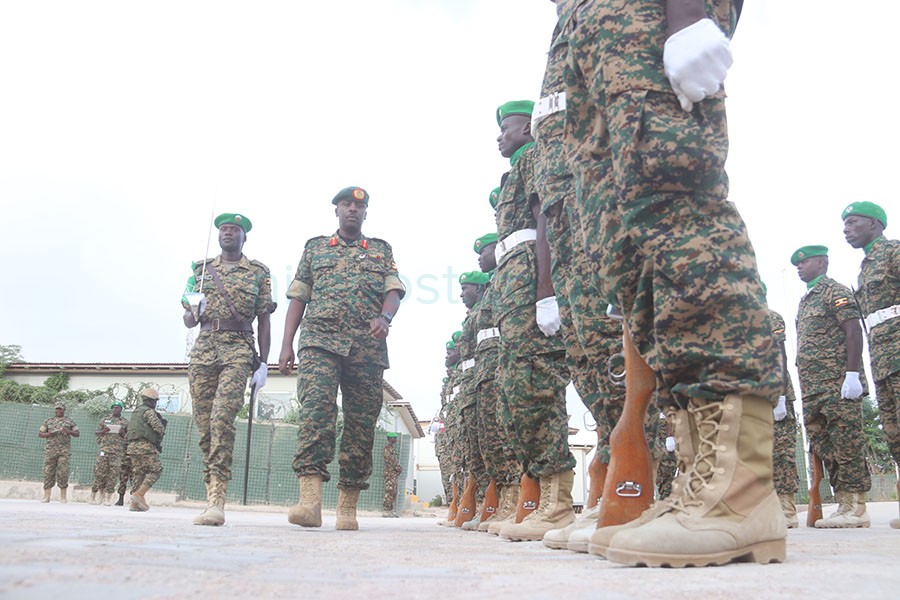 "We have been able to extend the liberation barriers beyond Mogadishu, turned around Somalia and business is thriving, thanks to the peace we ushered in,"Gen.Muhoozi boasted.
He however said they still a challenge of having a big task for the troops yet their number is small making them get stretched, a thing he said is not good in terms of their security.
Tribute
The Chief of Defence Forces in a special way paid tribute to soldiers who have either died or have sustained injuries while in Somalia, describing them as heroes for the country whose woes did come for nothing.
"It is an honorable mission worth their blood and we treasure the men and women who have been part of this struggle."
He described the AMISOM mission as one that showed the entire world that African can deal with their own problems without necessarily calling for the help of whites.
AMISOM
Uganda was the first African country to deploy troops under the African Union Mission in Somalia in 2007.
The entry of the Ugandan troops into Mogadishu saw them break Al Shabaab's backbone and later their withdrawal from Somalia's capital that they once controlled.
Meanwhile, it triggered a turnaround of the capital that was once ruined by war and anarchy.
Following Uganda's deployment in Somalia under the AMISOM, other countries including Kenya, Ethiopia, Djibouti and Burundi followed suit.
Currently, Uganda is the largest troop contributor of the 22,000 strong AMISOM force since 2007, contributing roughly 80 percent of the number.