The First Lady and Minister of Education Janet Kataaha Museveni has visited the scene of the Rakai school inferno.
On Sunday night, tragedy befell St. Bernard Secondary School, Manya in Kifamba sub -county, Rakai district when a boys' dormitory was set ablaze by unknown people killing ten students instantly.
On Monday afternoon, the education minister visited the school and conducted a tour of the scene of the gruesome incident in a bid to ascertain what could have exactly happened.
She commiserated with the students who lost their colleagues in the inferno and parents who had lost their children during the gruesome incident.
"On behalf of President Museveni , the Ministry of Education and Sport and on my own behalf, I wish to express my heartfelt condolences to the parents who lost their children in the fire," Janet Museveni said.
The Education Minister and First Lady condemned the act saying there should never be place for such inhumane people on earth but noted that government will do everything to ensure the culprits are brought to book.
"It is our responsibility as Government to search and find the people who did this, so that they be judged accordingly; and we shall do it," she vowed.
"These people may think they can run away and they are not traced I assure them, they will pay the price."
Board members for the school insisted that there were some student who had been previously expelled from school whom they blamed for the incident.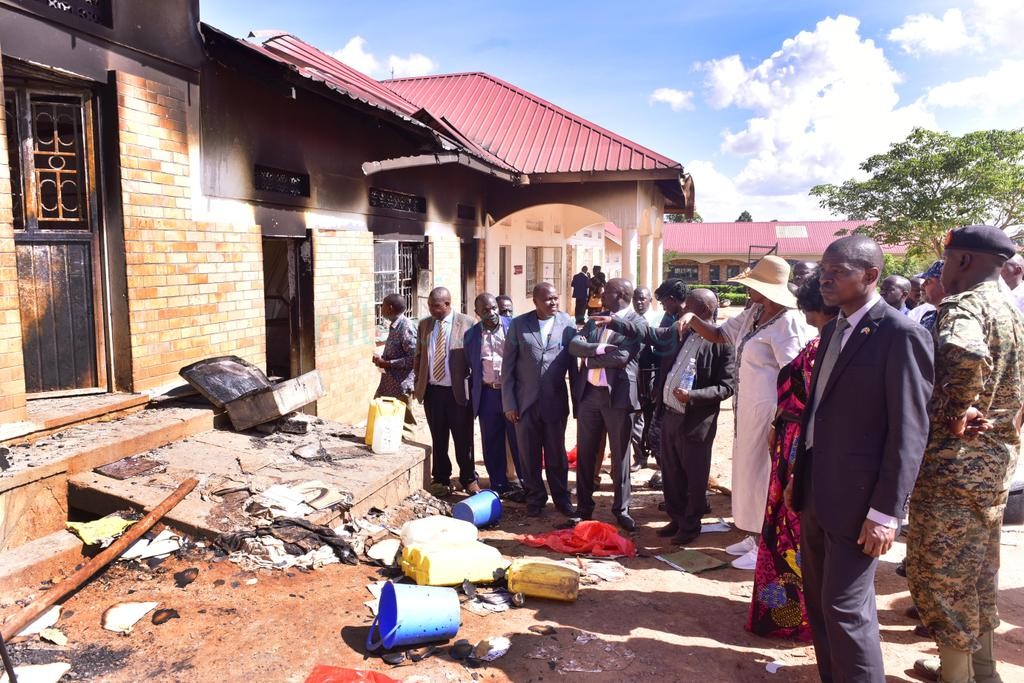 Locals also pointed fingers to some students whom they said had rented rooms in the nearby trading centre and were always seen frequenting cinema halls during times of school.
The Education Minister however urged the public to always help in nurturing and counselling children so they can be good citizens for the country.
"I implore members of the community to guide such children so that we do not raise children who are insensitive and self- centred."
Investigators insist that the fire was lit by people known to the school and specifically the dormitory and this is supported by the presence of two padlocks founds on the outside of the dormitory door.
Four people including three S.4 students who had been expelled over indiscipline and the dormitory warden have since been arrested to assist police in investigations.
Ten students died instantly whereas over 30 others were admitted to Kotovu hospital on a critical condition following the fire that gutted the senior three boys' dormitory at around mid -night on Sunday.
The Security Minister, Gen.Elly Tumwine also visited the school before ordering all students apart from S.6 candidates to vacate the school to allow investigations continue smoothly.